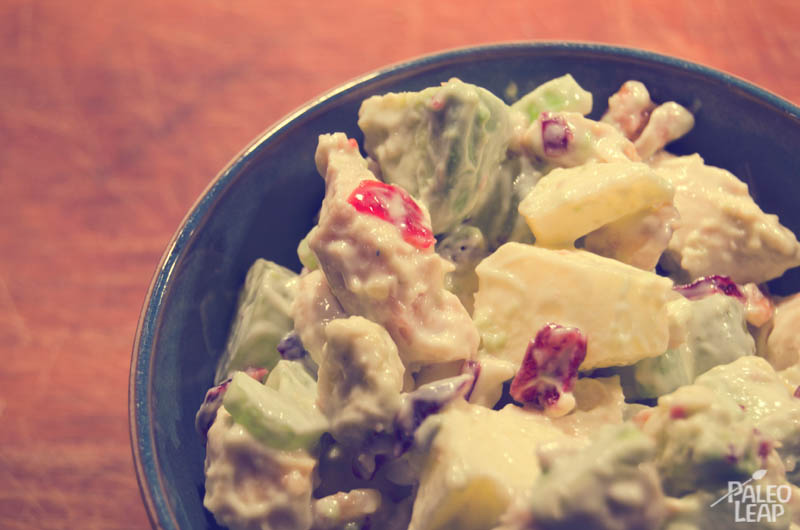 How about the best chicken salad you'll ever eat? You're totally going to have to take a step on the wild side with trying this one out as it is certainly a far cry from a traditional homemade chicken salad. It's an excellent combination of chicken, fruits and vegetables (if you can even comprehend such a combination) and I think you could totally still add more to it if you wanted. The chicken, mayonnaise and avocado add a savory side to the salad while the cranberries, apple and grapes add a contrasting sweet side. On top of that, the addition of walnuts and celery bring a great crunchy texture to it.
Chicken is not the best choice of meat to be consuming on a regular basis and red meat from ruminants such as beef or bison are far better choices. By no means is it bad, but it lacks in the nutrients and healthy saturated fat that is usually found in red meat. That being said, it is the perfect choice when it comes to a recipe like this one, as there are not very many meat choices you can "dress-up" this way. Chicken is fairly bland tasting on its own, making it much easier to pair up with other stronger flavors, especially sweet ones. You can always build on this recipe, or if you prefer, you could eliminate some ingredients and use some of the following instead: ham, cooked turkey, cucumbers, bell peppers, bacon and hard boiled eggs. The list could really go on and on. But give this combo a shot before you get too carried away.
For the dried cranberries, just make sure that they don't contain any other ingredients than the cranberries themselves. Some brands add some kind of vegetable seed oil or extra sugar to the mix. Dried fruits on their own are perfectly healthy, as long as they are consumed in moderation like with regular fruits. The only problem that can happen is due to the fact that they are often very easy to overeat as the lack of water, which is usually found in regular fruits, can delay the sensation of satiety.
This salad can be enjoyed on its own as a meal, but it can also be paired with a multitude of main courses. It's also a great choice of easy packable meal to bring to work or school for lunch. Kids will absolutely love it. I often prepare that one when I have some leftover cooked chicken looking for a purpose. It can then be thrown together in a matter of minutes.
Chicken salad with grapes, apples and cranberries recipe
Values are per portion. These are for information only & are not meant to be exact calculations.
Ingredients
1 lb chicken breast;
½ cup dried cranberries;
1 cup celery, chopped;
¾ cup green grapes, halved;
½ cup walnuts, chopped;
1 avocado, peeled, pitted and diced;
1 apple, peeled cored and chopped;
1 cup Paleo mayonnaise;
1 tsp lemon juice;
Sea salt and freshly ground black pepper to taste;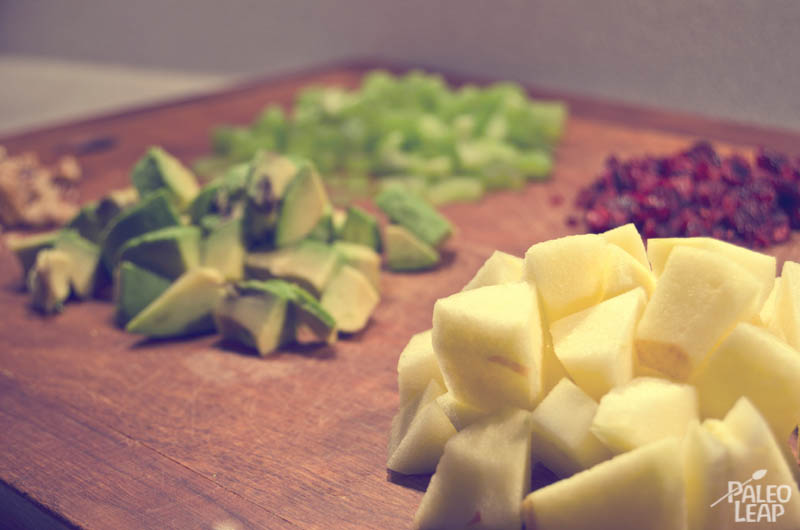 Preparation
It's completely up to you how you wish to prepare the chicken. Oftentimes, this salad is the best recipe to make with leftover cooked chicken, but you can also prepare the chicken from scratch and pan fry it, boil it or roast it. I chose to boil it, as I was pressed for time; however, I find that roasting the chicken generates a much more flavorful end result. Either way, once it is cooked, chop it finely, or even shred it if you prefer.
In a large bowl, combine the chicken, cranberries, celery, grapes, walnuts, avocado and apple. Give everything a good toss.
In a separate small bowl, combine the mayonnaise with the lemon juice. Season to taste with salt and pepper.
Pour the dressing into the large bowl with the chicken, fruits and vegetables and combine everything well so that all the ingredients are coated in the dressing. And there you have it, an easy yet extremely tasty chicken salad! Enjoy it right away or store it in the refrigerator.