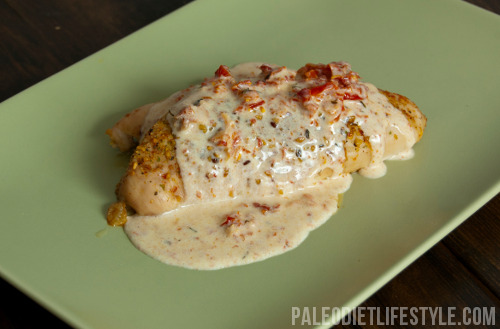 This recipe has run in my family for many years; however, it was traditionally used as a pasta sauce. To enjoy it in a healthy way, I had to find a creative way to use it. I opted to top a roasted chicken breast with this creamy sun-dried tomato sauce and it was fabulous! That being said, there are always other ways it can be used. For instance, pork or fish would be a great meat alternatives. Chicken and white fish are especially great because the subtle taste of the meat is well augmented by the sauce . The sauce is also fabulous on roasted or pureed vegetables. Something else to keep in mind is that this recipe calls for thyme. It is the only herb used; thus, you should try use it fresh for an optimal flavor. If you are not a fan of thyme or if you don't have any available, I highly recommend rosemary as an alternative. In the summer months, these herbs are usually very abundant and cheap.
For the creamy sauce, you can use either good quality heavy cream or coconut milk. For those who wonder why I use heavy cream in some of the recipes while dairy products were certainly not consumed by our ancestors, head over at my article on the place of dairy on a Paleo diet as well as the one about Paleo 2.0, where I explain why not every food choices that were not available to our ancestors are bad. Basically, almost all the calories in heavy cream come from dairy fat, which is very similar to beef fat, healthy and highly beneficial for most people. Of course, if you're going to use heavy cream, I urge you to find one without any added preservatives or thickeners like Carrageenan. Raw, unpasteurized cream would be even better.
Here on the chicken, in addition to the usual salt and pepper seasoning, I added a good quality steak seasoning for even more bite. That seasoning is completely optional though and I didn't add a lot in order not to overpower the flavors or hide the delicious taste of the sauce.
Finally, make sure that the sun-dried tomatoes you buy are packed only with spices and extra-virgin olive oil and not some other vegetable seed oil.
Chicken with creamy sun-dried tomato sauce recipe
Values are per portion. These are for information only & are not meant to be exact calculations.
Ingredients
2 whole chicken breasts, bone-less;
1 ½ cups heavy cream (use coconut milk as an alternative);
Good quality steak seasoning, optional;
4 fresh thyme sprigs;
½ cup homemade chicken stock;
10-12 sun-dried tomatoes, pureed in a blender or food processor;
½ tsp fresh thyme leaves
Sea salt and freshly ground black pepper to taste;
Preparation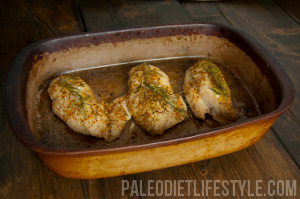 Preheat your oven to 375 F.
Season the chicken breasts all over with sea salt and freshly ground black pepper. Optionally, also season them with a good quality steak seasoning. Look in your local health food store for a brand that is gluten-free and doesn't contain any vegetable seed oil.
Place them in a baking dish, place a sprig of fresh thyme on top of each and place in the preheated oven for about 45 minutes, until the juices run clear.
Meanwhile, in a large skillet over a medium-low heat, bring the cream or coconut milk and the two remaining thyme sprigs to a light boil.
Once boiling, lower heat and let simmer. Allow the cream or coconut milk to reduce by approximately 1/3 of its volume. This should take close to 10 minutes.
Remove the cream or coconut milk from the heat and allow it to sit at room temperature for about 10 minutes. Do not  remove from skillet.
Remove the thyme sprigs and return to heat. Add the chicken stock and allow to simmer for another 5 minutes.
Add the purred sun-dried tomatoes, season with salt and pepper to taste and the fresh thyme leaves.
Pour on top of the cooked chicken breasts and enjoy!
During the hot summer months, serve this dish up with a light salad and you have yourself an easy yet delicious meal!