Can't decide whether you want chili or a burger tonight? Have both! The chili sauce here is a nice change from ketchup and mustard; it's technically optional, but it really makes these burgers stand out from the crowd.
In fact, you might actually want to make extra sauce, so you can enjoy it over grilled chicken breast, fish, or anything else later (just freeze it if you're not going to use it right away).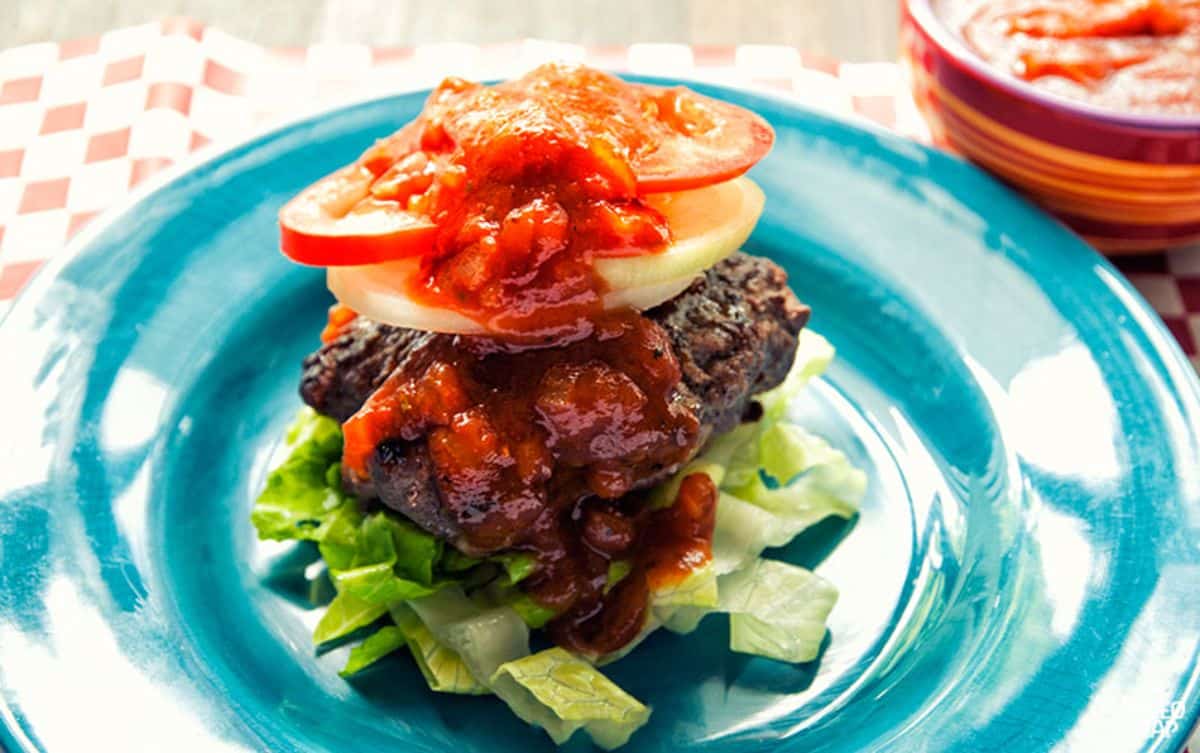 In this recipe, the burgers also get a special flavor boost from Italian sausage mixed right in with the ground beef. You can either buy loose sausage meat that isn't in a casing (ask your butcher for it) or just take the casing off ordinary sausages.
If you're buying store-made sausages, just remember to check the ingredients carefully: a good butcher or farmer should carry sausages made with Paleo-friendly ingredients.
To top off your chili burgers, you can add whatever you like: go with the classic lettuce/tomato/onion combo or makeup something completely different.
Throw a big pile of spicy sweet potato wedges on the plate, grab some kind of vegetable for a side, and you'll be set.
Chili Burgers Recipe
Serves: 4 Prep: 20 min Cook: 22 min
Ingredients
1 lb. ground beef;
½ lb. Italian sausage, casing removed;
Sea salt and freshly ground black pepper;
Toppings: shredded lettuce, sliced onion, sliced tomato, ...;
Ingredients for the chili sauce
1 onion, minced;
1 ½ cup tomato sauce;
¾ cup chicken stock;
1tsp. chili powder;
½ tsp. paprika;
½ tsp. dried oregano;
¼ tsp. cayenne pepper; (optional)
Sea salt and freshly ground black pepper;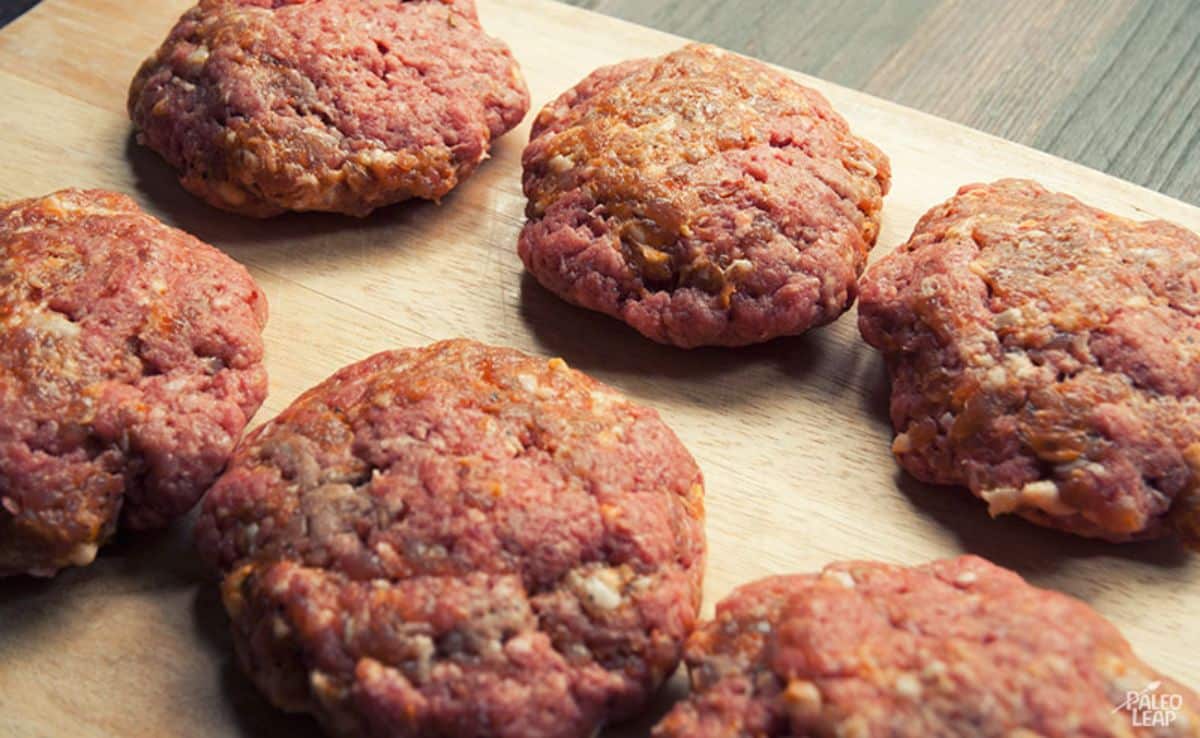 Preparation
Preheat your grill to medium-high heat.
In a bowl, combine together the Italian sausage and ground beef and season with salt and pepper to taste.
Form 6 to 8 patties of equal size with the meat mixture.
Combine all the ingredients for the chili sauce in a saucepan placed over medium heat. Season to taste and bring to a boil.
Lower the heat and let the sauce simmer for about 10 minutes. Remove from the heat.
Place the burgers on the hot grill and cook for 5 to 6 minutes per side until just cooked through.
Serve the burgers with your choice of topping and drizzle the chili sauce on top.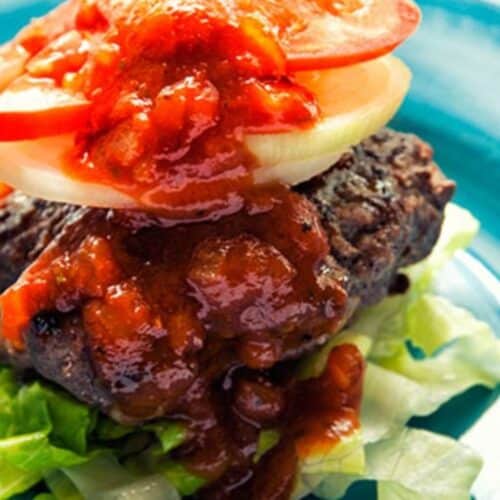 Chili Burgers Recipe
Combine the rich taste of chili with the convenience of grilling up a burger for dinner in these extra-juicy patties.
Ingredients
1

lb.

ground beef

½

lb.

Italian sausage

casing removed

Sea salt and freshly ground black pepper

Toppings: shredded lettuce

sliced onion, sliced tomato, …
Ingredients for the chili sauce
1

onion

minced

1 ½

cup

tomato sauce

¾

cup

chicken stock

1

tsp.

chili powder

½

tsp.

paprika

½

tsp.

dried oregano

¼

tsp.

cayenne pepper

optional

Sea salt and freshly ground black pepper
Instructions
Preheat your grill to medium-high heat.

In a bowl, combine together the Italian sausage and ground beef and season with salt and pepper to taste.

1 lb. ground beef,

½ lb. Italian sausage,

Sea salt and freshly ground black pepper

Form 6 to 8 patties of equal size with the meat mixture.

Combine all the ingredients for the chili sauce in a saucepan placed over medium heat. Season to taste and bring to a boil.

1 onion,

1 ½ cup tomato sauce,

¾ cup chicken stock,

1 tsp. chili powder,

½ tsp. paprika,

½ tsp. dried oregano,

¼ tsp. cayenne pepper,

Sea salt and freshly ground black pepper

Lower the heat and let the sauce simmer for about 10 minutes. Remove from the heat.

Place the burgers on the hot grill and cook for 5 to 6 minutes per side until just cooked through.

Serve the burgers with your choice of topping and drizzle the chili sauce on top.

Toppings: shredded lettuce
Nutrition
Calories:
541
kcal
Carbohydrates:
11
g
Protein:
30
g
Fat:
42
g
Saturated Fat:
15
g
Polyunsaturated Fat:
3
g
Monounsaturated Fat:
18
g
Trans Fat:
1
g
Cholesterol:
125
mg
Sodium:
1012
mg
Potassium:
862
mg
Fiber:
3
g
Sugar:
5
g
Vitamin A:
1207
IU
Vitamin C:
10
mg
Calcium:
67
mg
Iron:
5
mg