Turn your fries up a notch or three with a sweet-spicy glaze: rich ghee, mouth-tingling chipotle peppers, and just a hint of lime juice.
The honey tones it all down with just enough sweetness, and the result will have you licking the extra sauce off the roasting pan. If you really want a plate of sweet potato fries that kick it up to 11, here's the answer.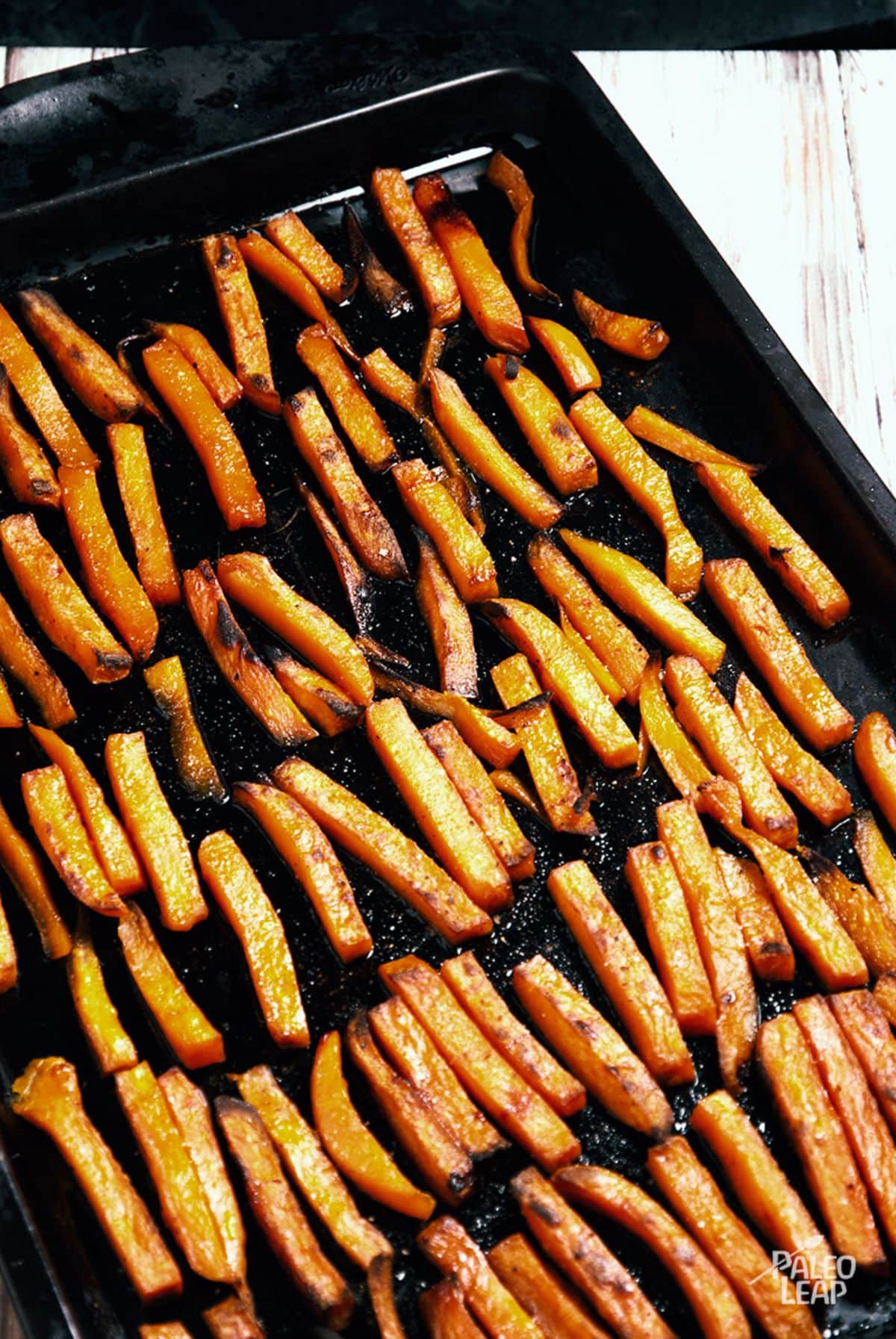 You can cut your potatoes into a more classic French fry shape or into thicker wedges, depending on how you like them. Or for a more fork-friendly dish with the same flavor, just chop them into bite-sized pieces.
Fries with burgers is a classic combination, but these would also go well with all kinds of meals: try them with Southwest-inspired pork chops, steak, or your favorite kind of chicken.
Of course, fries are also an ever-popular hit with the kids and a perfect way to get some more vegetables and safe starches into the daily rotation.
Chipotle-Glazed Sweet Potato Fries Recipe
SERVES: 4 PREP: 15 min COOK: 40 min
Ingredients
4 lbs. sweet potatoes, peeled and cut into fries or wedges
¼ cup ghee
1 to 2 tsp. chipotle powder
¼ cup honey (optional)
⅓ cup fresh lime juice
Sea salt and freshly ground black pepper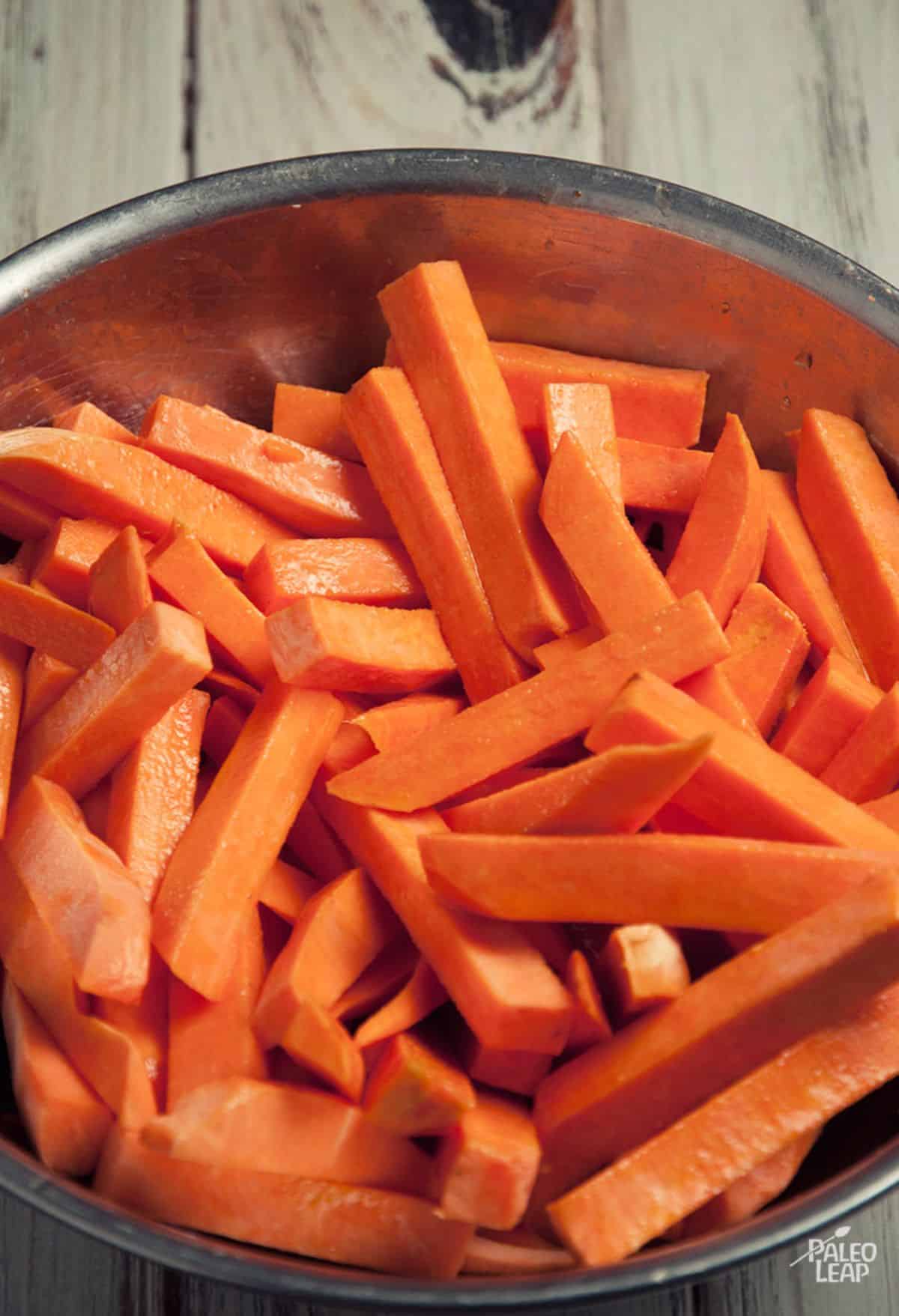 Preparation
Preheat your oven to 400 F.
Place the potato fries or wedges in a large bowl.
Melt the ghee and whisk in the lime juice, honey, and chipotle powder in a saucepan placed over medium heat.
Bring to a boil and then let simmer for 2 to 3 minutes.
Pour the sauce over the fries and mix until everything is well coated.
Align the fries in a single layer on a greased baking sheet.
Place in the oven and bake, uncovered, for 30 to 40 minutes, flipping once.
Season the sweet potatoes to taste and serve.
📖 Recipe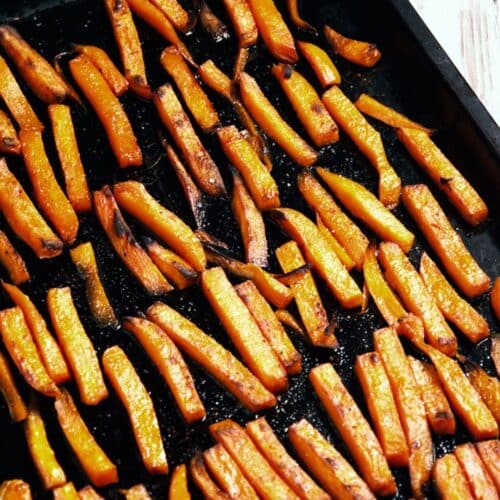 Chipotle-Glazed Sweet Potato Fries Recipe
Sweet and spicy combine to make these chipotle-seasoned oven fries irresistibly delicious.
Instructions
Preheat your oven to 400 F.

Place the potato fries or wedges in a large bowl.

Melt the ghee and whisk in the lime juice, honey, and chipotle powder in a saucepan placed over medium heat.

¼ cup ghee,

¼ cup honey,

⅓ cup fresh lime juice,

1 to 2 tsp. chipotle powder

Bring to a boil and then let simmer for 2 to 3 minutes.

Pour the sauce over the fries and mix until everything is well coated.

Align the fries in a single layer on a greased baking sheet.

Place in the oven and bake, uncovered, for 30 to 40 minutes, flipping once.

Season the sweet potatoes to taste and serve.

Sea salt and freshly ground black pepper
Nutrition
Calories:
501
kcal
Carbohydrates:
95
g
Protein:
7
g
Fat:
12
g
Saturated Fat:
7
g
Polyunsaturated Fat:
1
g
Monounsaturated Fat:
3
g
Cholesterol:
29
mg
Sodium:
272
mg
Potassium:
1600
mg
Fiber:
14
g
Sugar:
20
g
Vitamin A:
64732
IU
Vitamin C:
19
mg
Calcium:
144
mg
Iron:
3
mg