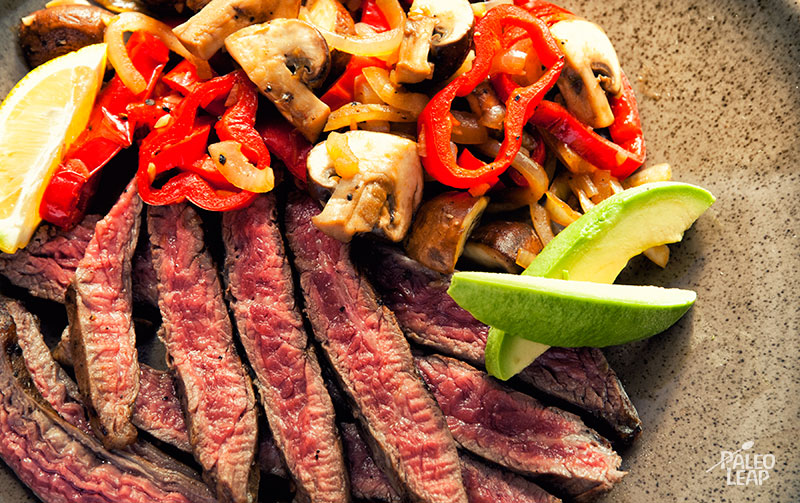 Sometimes it's fun to get really creative with the grill, and start throwing on whatever you can dream up, or venturing into new ingredients you've never even heard of. But other days, you just need a classic recipe that everyone likes, something that doesn't send you haring off to three different specialty stores for lamb fat, Cassia cinnamon, and Chinese broccoli.
So for those nights when "adventurous" just isn't in the cards, here's a simple taste of summer to pile on your plate: Southwest-style grilled steak. Without requiring any fancy ingredients, the meat and the marinade both get a delicious dose of flavor from cumin, chili powder, and garlic. And topping it all off with sliced avocado adds a bit of contrast as a finishing touch.
For the vegetables here, you can use any kind of mushroom: it's always best to go with whatever is in season. You can also use any color or variety of bell pepper: go sweeter with red and yellow, or turn up the crunch with green.
This steak would make a perfect filling for some Paleo-friendly taco shells, but it would also be just as delicious with a topping of your favorite homemade salsa. Bring out a pitcher of home-brewed lemonade and you'll have everything ready for a no-fuss barbecue meal.
Mexican Steak with Mushrooms Recipe

SERVES: 4

PREP: 30 min.

COOK: 10 min.

Values are per portion. These are for information only & are not meant to be exact calculations.
Ingredients
1.5 lbs. flank steak;
2 bell peppers, sliced;
1 onion, thinly sliced;
8 oz. mushrooms, sliced or quartered;
3 cloves garlic;
¼ tsp. cumin;
¼ tsp. chili powder;
1 avocado, sliced into wedges; (optional)
Sea salt and freshly ground black pepper;
Ingredients for the steak marinade
¼ cup olive oil;
4 cloves garlic, minced;
3 tbsp. lime juice
1 tsp. cumin;
1 tsp. chili powder;
Sea salt and freshly ground black pepper;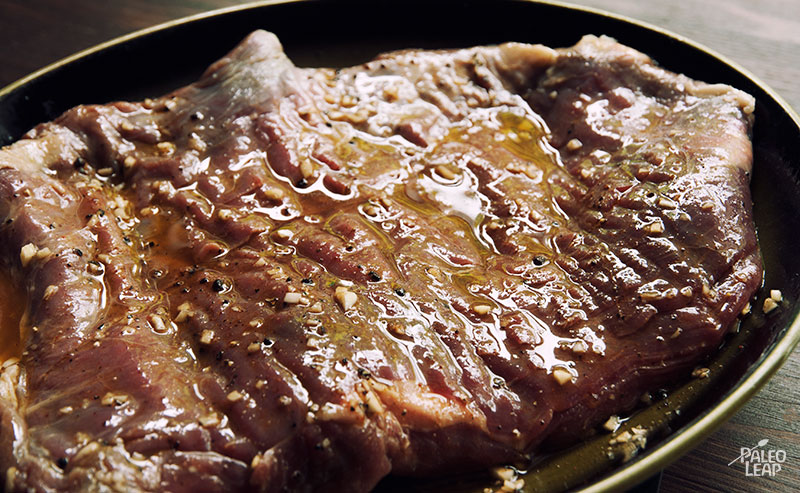 Preparation
Combine all the marinade ingredients in a marinating container (glass or plastic) and season with salt and pepper to taste.
Add the flank steak, toss with the marinade until it's completely coated, and refrigerate for at  least 15 minutes and up to 2 hours.
Preheat your grill to a medium-high heat.
Remove the steak from the marinade and place in on the grill.
Grill the steak on each side for 5 to 6 minutes or until it reaches the desired doneness.
Transfer the steak to a cutting board and let it rest for 10 minutes.
In the mean time, melt some cooking fat in a skillet placed over a medium-high heat.
Add the onions, bell peppers, and garlic, and sauté for 5 minutes.
Add the mushrooms and cook for another 2 minutes.
Add the cumin and chili powder. Season to taste with salt and pepper, cook for a last 2 minutes, and remove from the heat.
Slice the steak into thin strips.
Serve the steak with the vegetables and freshly cut avocado slices.