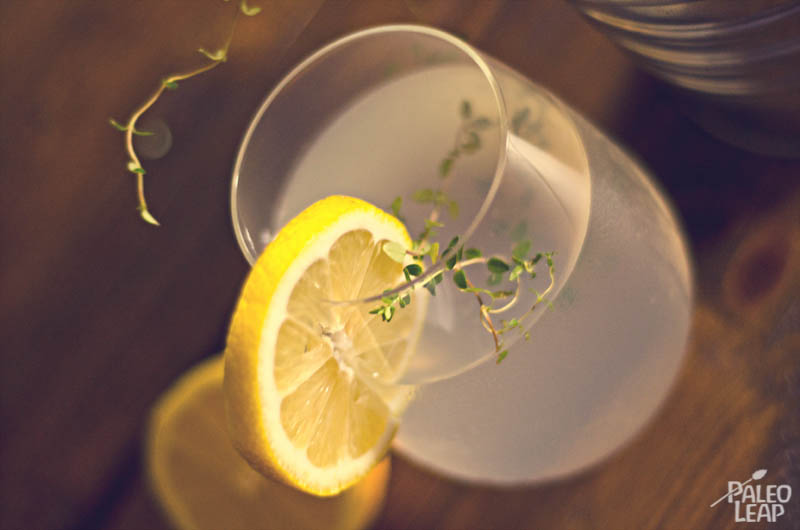 We're in the mood to celebrate! We could not be more excited to notice that we've reached quite an astonishing goal with the Paleo community: 50,000 followers on Facebook. Since celebrations are in order, we decided to share this delicious and refreshing beverage recipe with you. My inspiration for this recipe comes from the unbearably hot summer days. This, and the fact that my thyme has been growing out of control in my herb garden. It's quite simple and easy to prepare, which is one of the best things about it, as it can be whipped up in no time. Just a side note, if you wish to sweeten the lemonade, you can always use a little bit of raw honey.
People often complain that there's not many options with it comes to Paleo drinks. It can be true if you come from a place where sugary drinks like sodas and fruit juices are staples and water is only rarely drank on its own. When you get used to a diet where the main liquid to drink is water it can still be nice from time to time to change it up and drink something a little different. Smoothies are an option, but are often very filling and are really more than just a drink. Lemonades like the one presented here or like my previous strawberry rhubarb lemonade are another great option. Compared to the strawberry rhubarb one, this one is much quicker and simpler to prepare and the thyme really adds a nice final touch to it. Kids are also bound to love it.
The main ingredient here, lemon juice, is particularly healthy mainly because of its high vitamin C content and its relatively low fructose content. Most of the sugar in lemons is in the form of glucose, the preferred source of carbohydrate energy.
The ingredient list states portions for one serving. To make a pitcher of the lemonade, you will have to multiply the portions by at least 4.
Lemonade with Thyme Recipe
Makes 1 serving

Values are per portion. These are for information only & are not meant to be exact calculations.
Ingredients
3 tbsp freshly squeezed lemon juice;
2 cups cold water;
a few ice cubes;
1 sprig fresh thyme per serving;
Preparation
Combine the lemon juice, water and ice cubes. Stir well and serve with the thyme sprig. If desired, strain the lemon pulp prior to serving.
Make sure to enjoy this one. It's best served on a hot day under the sun.