Pancakes are great, but we can't forget about their close cousin, waffles. If you own a waffle iron and thought you would never use it again and that it would just keep on accumulating dust, then this recipe is for you!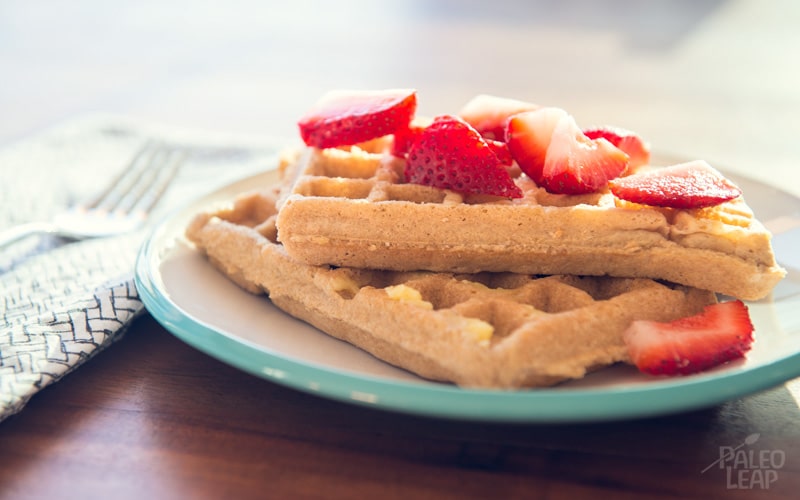 Granted, they are another one of those indulgences and not shy on the nut flours, but if you are one of those who would rather have some treats in moderation, then there is nothing wrong with them.
The batter itself is low in sugar but still tangy and delicious, thanks to the addition of the grated Granny Smith apple.
You can prepare the liquid portion of the batter and leave it in the refrigerator overnight so that they are ready very quickly the next morning for a lazy Sunday morning treat.
Top them off with some extra ghee and your favorite toppings like bananas, blueberries, strawberries, kiwis, honey, maple syrup, and almond butter...
Cinnamon and Apple Waffles Recipe
SERVES: 4 PREP: 20 min COOK: 15 min
Ingredients
1 ½ cup almond flour;
¼ cup tapioca starch;
1 tablespoon coconut flour;
2 eggs, yolks, and whites separated;
1 ½ tsp. vanilla extract;
¾ tsp. ground cinnamon;
1 Granny Smith apple, peeled and grated;
1 tablespoon baking powder;
½ cup coconut milk;
2 tablespoon ghee, melted;
A pinch of sea salt;
Maple syrup or honey; (optional);
Fresh fruits; (optional)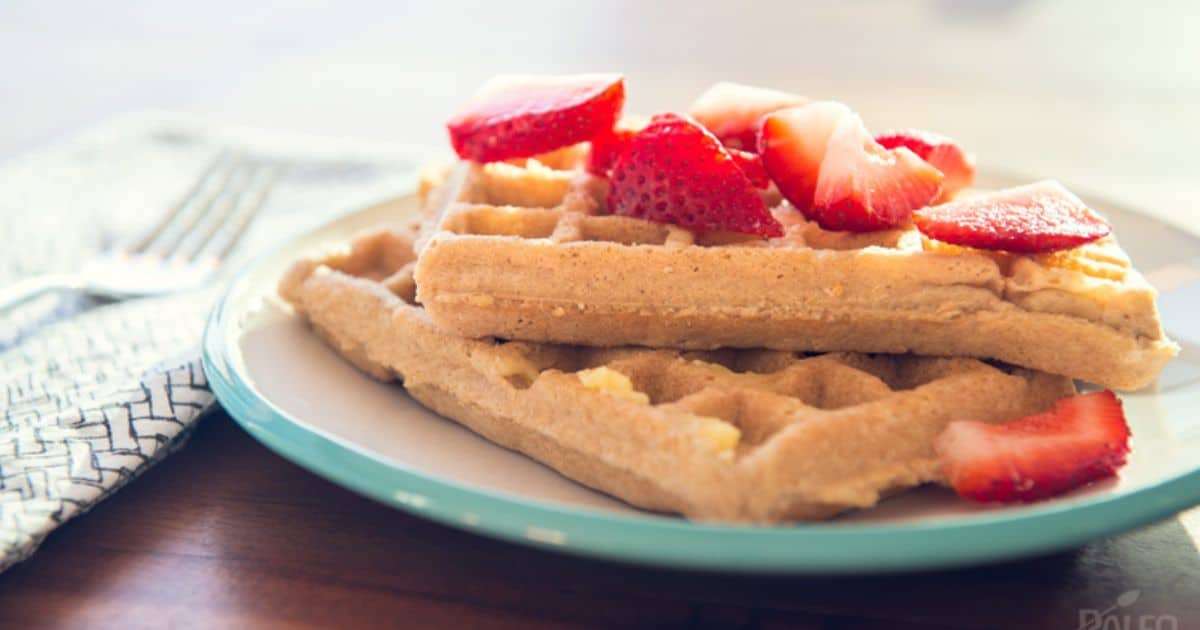 Preparation
Preheat your waffle iron.
Combine together the almond flour, tapioca starch, coconut flour, cinnamon, salt, and baking powder.
Combine together the egg yolks, vanilla, coconut milk, apple, and melted ghee and mix in with the dry ingredients to form the batter.
Add the egg whites to a bowl and beat with a hand mixer just until soft peaks form.
Use a spatula to fold in the batter with the egg whites gently, just until the whites are all incorporated with the mixture.
Lightly grease your preheated waffle iron with some extra ghee, and add just enough waffle batter to cover your iron.
Cook for about 2 to 3 minutes, until golden and easy to separate from the waffle iron.
Repeat for the remaining waffle batter.
Serve hot with more ghee, fresh fruits, and maple syrup or honey if you fancy some extra sweetness.
📖 Recipe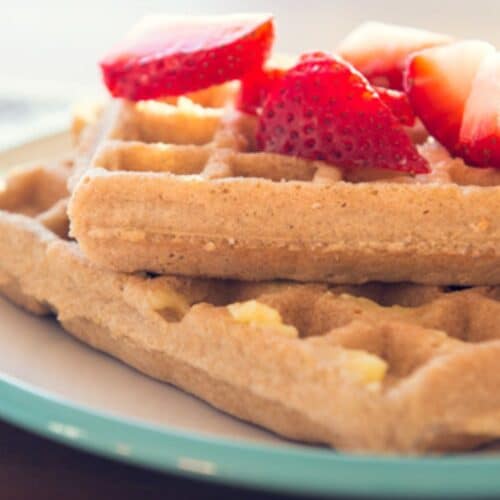 Cinnamon and Apple Waffles Recipe
It's time to get your waffle iron out and cook up some of those sweet apple and cinnamon treats.
Instructions
Preheat your waffle iron.

Combine together the almond flour, tapioca starch, coconut flour, cinnamon, salt, and baking powder.

1 ½ cup almond flour,

¼ cup tapioca starch,

1 tablespoon coconut flour,

¾ tsp. ground cinnamon,

A pinch of sea salt,

1 tablespoon baking powder

Combine together the egg yolks, vanilla, coconut milk, apple, and melted ghee and mix in with the dry ingredients to form the batter.

2 eggs,

1 ½ tsp. vanilla extract,

1 Granny Smith apple,

½ cup coconut milk,

2 tablespoon ghee

Add the egg whites to a bowl and beat with a hand mixer just until soft peaks form.

Use a spatula to fold in the batter with the egg whites gently, just until the whites are all incorporated with the mixture.

Lightly grease your preheated waffle iron with some extra ghee, and add just enough waffle batter to cover your iron.

Cook for about 2 to 3 minutes, until golden and easy to separate from the waffle iron.

Repeat for the remaining waffle batter.

Serve hot with more ghee, fresh fruits, and maple syrup or honey if you fancy some extra sweetness.

Fresh fruits,

Maple syrup or honey
Nutrition
Calories:
455
kcal
Carbohydrates:
25
g
Protein:
13
g
Fat:
37
g
Saturated Fat:
12
g
Polyunsaturated Fat:
1
g
Monounsaturated Fat:
3
g
Trans Fat:
0.01
g
Cholesterol:
101
mg
Sodium:
357
mg
Potassium:
150
mg
Fiber:
7
g
Sugar:
7
g
Vitamin A:
146
IU
Vitamin C:
2
mg
Calcium:
294
mg
Iron:
4
mg