Drumsticks are the ever-popular answer to quick and easy meals that everyone can agree upon. You can bake them as simply as you like with just salt and pepper, or you can go all out and spice them up with a citrus and pineapple marinade.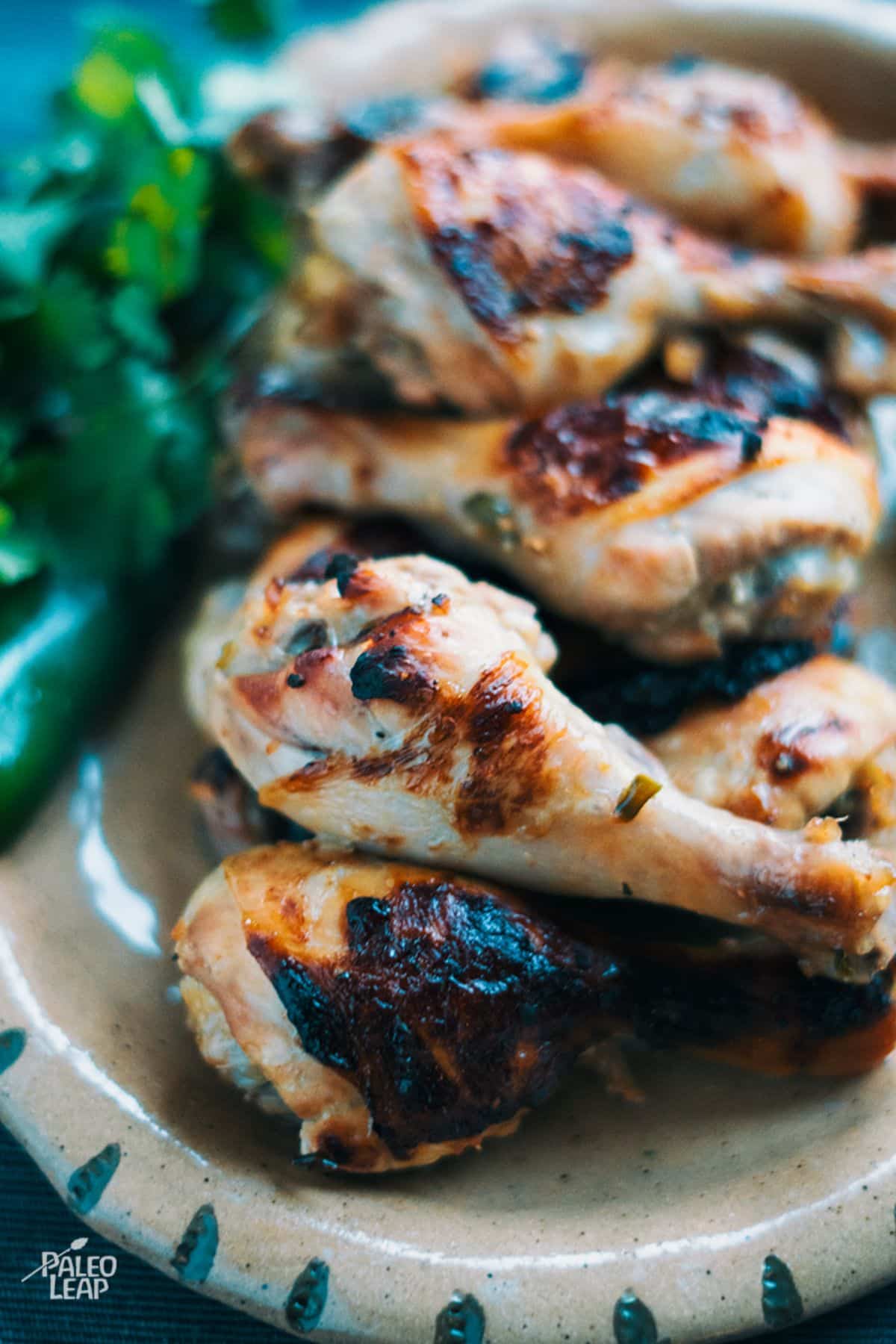 To prevent the flavor of chicken from becoming boring, it is a good idea to walk on the wild side every now and then. In this case, we are taking the orange juice, lime juice, and, of course, pineapple juice, along with a hearty handful of fresh oregano – just to keep things interesting.
While this is not as straightforward as tossing the drumsticks in a baking pan destined for a hot oven, you will not be disappointed with the outcome of the extra work involved in preparing this meal.
Not that it is much extra, all that is required is to mix all ingredients together, minus the chicken, then combine it in a marinating container in the fridge. Then you can forget about it for some hours while you go about your day. When dinner time rolls around, you can choose to bake or grill your specially-flavored chicken.
Don't forget the extra lime wedges and a side of cauliflower rice for a complete meal. One might not think it. However, an apple and cranberry salad with citrus dressing makes an exquisite accompaniment.
Totally unrelated, but if you purchase a raw pineapple and make your own juice, you can add some chopped fresh pineapple to a Paleo carrot cake for that ultimate scrumptious dessert.
Citrus Pineapple Marinated Chicken Recipe
Serves: 4 Prep: 10 min + 4 h Cook: 45 min
Ingredients
8 to 10 chicken drumsticks
2 garlic cloves, minced
1/2 jalapeño, seeded and minced (optional)
1/4 cup fresh oregano
1/2 cup pineapple juice
1/4 cup orange juice
1/4 cup fresh lime juice
1/2 tsp. paprika
1/2 tsp. ground cumin
1/4 cup olive oil
Sea salt and freshly ground black pepper
Fresh cilantro to garnish
Lime wedges to garnish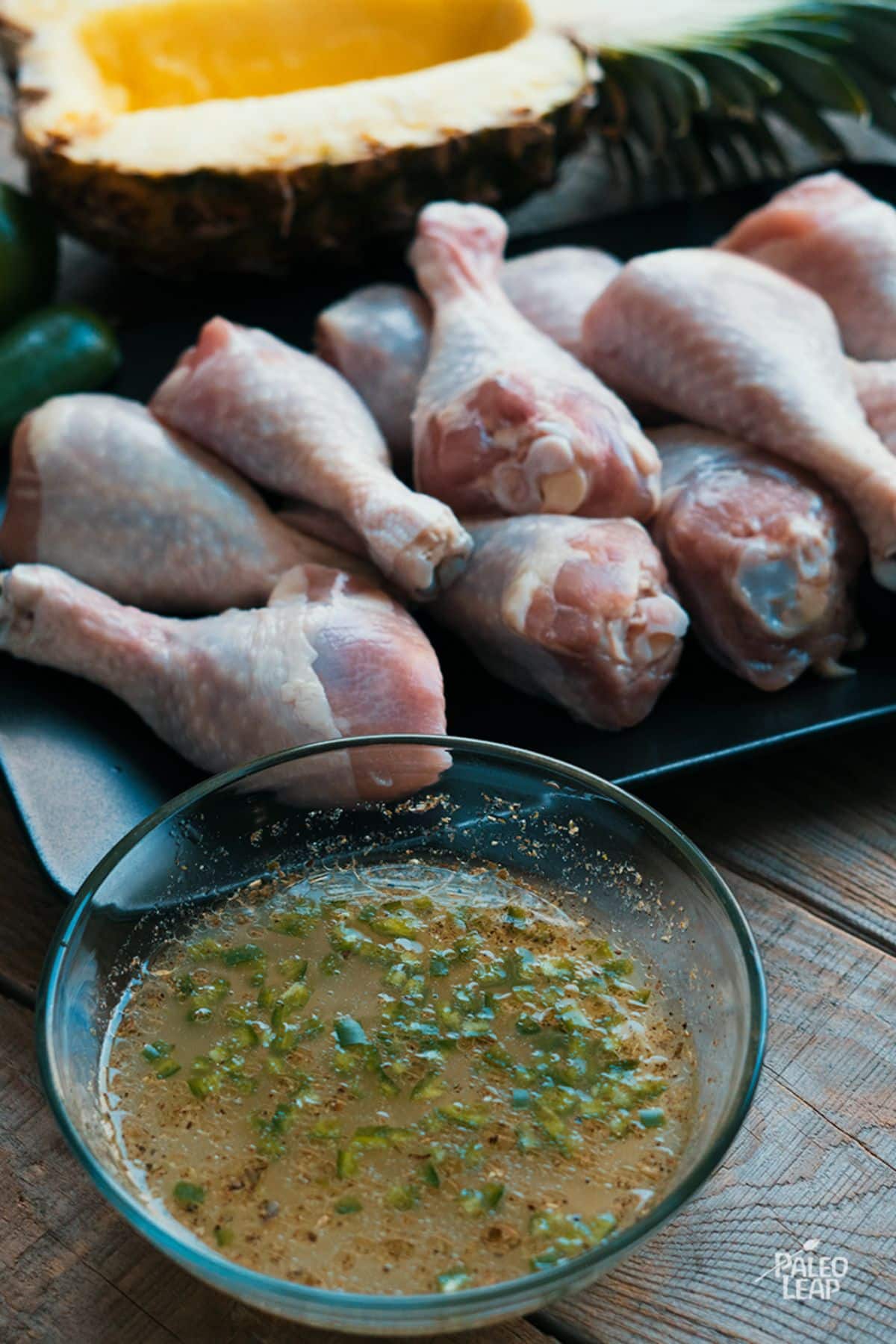 Preparation
In a bowl, combine all the ingredients except for the chicken, season to taste, and whisk until well emulsified.
Place the chicken in a marinating container, and pour the citrus-pineapple marinade over the chicken.
Cover and marinate the chicken in the refrigerator for 4 to 12 hours.
Preheat oven to 425 F.
Remove the chicken from the refrigerator, place it in a baking dish, and pour over the remaining marinade.
Place in the oven and bake for 40 to 45 minutes or until cooked through and no longer pink.
Serve with extra cilantro and wedges.
Citrus Pineapple Marinated Chicken Recipe
Once you make the connection between carrot cake and pineapple-marinated chicken, you will be running to the store for the freshest pineapple you can find.
Ingredients
8 to 10

chicken drumsticks

2

garlic cloves

minced

1/2

jalapeño

seeded and minced (optional)

1/4

cup

fresh oregano

1/2

cup

pineapple juice

1/4

cup

orange juice

1/4

cup

fresh lime juice

1/2

tsp.

paprika

1/2

tsp.

ground cumin

1/4

cup

olive oil

Sea salt and freshly ground black pepper

Fresh cilantro

to garnish

Lime wedges

to garnish
Instructions
In a bowl, combine all the ingredients except for the chicken, season to taste, and whisk until well emulsified.

2 garlic cloves,

1/2 jalapeño,

1/4 cup fresh oregano,

1/2 cup pineapple juice,

1/4 cup orange juice,

1/4 cup fresh lime juice,

1/2 tsp. paprika,

1/2 tsp. ground cumin,

1/4 cup olive oil,

Sea salt and freshly ground black pepper

Place the chicken in a marinating container, and pour the citrus-pineapple marinade over the chicken.

8 to 10 chicken drumsticks

Cover and marinate the chicken in the refrigerator for 4 to 12 hours.

Preheat oven to 425 F.

Remove the chicken from the refrigerator, place it in a baking dish, and pour over the remaining marinade.

Place in the oven and bake for 40 to 45 minutes or until cooked through and no longer pink.

Serve with extra cilantro and wedges.

Fresh cilantro,

Lime wedges
Nutrition
Calories:
677
kcal
|
Carbohydrates:
15
g
|
Protein:
44
g
|
Fat:
49
g
|
Saturated Fat:
12
g
|
Polyunsaturated Fat:
9
g
|
Monounsaturated Fat:
24
g
|
Trans Fat:
0.2
g
|
Cholesterol:
173
mg
|
Sodium:
167
mg
|
Potassium:
674
mg
|
Fiber:
2
g
|
Sugar:
9
g
|
Vitamin A:
763
IU
|
Vitamin C:
38
mg
|
Calcium:
96
mg
|
Iron:
4
mg