Curry recipes are such a yummy way to create some flavor variation in your life, and we especially adore this recipe for the unique protein it uses.
While most curries will call for the inclusion of chicken or beef, here you'll be preparing your curry dish with shrimp, a choice that we don't frequently see in this kind of meal.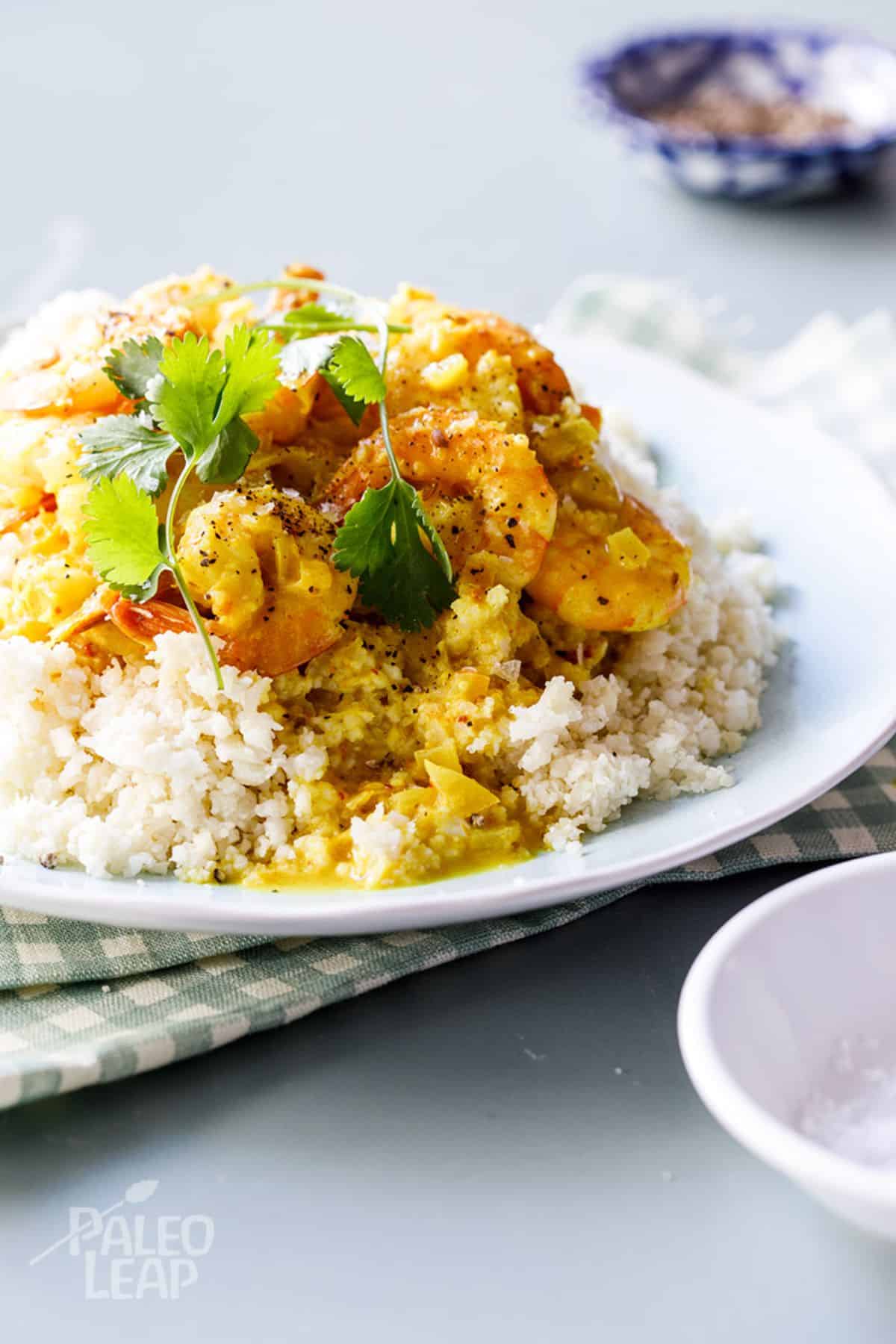 Using shrimp makes this dish great for a few reasons – it reduces your cooking time significantly, makes the meal friendly to those who avoid most meats in their diet, and gives you a ton of health benefits that are available in seafood and not other forms of protein.
While the ingredients list here may seem like a lot, most of these items are spices – if you have these on hand, this dish will come together in under 30 minutes, making it a perfect weeknight meal.
One of the ingredients here you'll need to add some time to prep for is cauliflower rice, a white rice substitute that works perfectly for Paleo diners.
Cauliflower rice isn't overly complicated to make; however, it can be a bit time-consuming to chop and dice your cauliflower florets.
One great time-saver is making this rice in advance and freezing it in serving-size batches – this will allow you to pull this ingredient as needed for recipes throughout the week.
Coconut Curry Shrimp With Cauliflower Rice Recipe
Serves: 4 Prep: 5 min Cook: 20 min
Ingredients
1 tbsp. coconut oil;
1 onion, finely chopped;
2 garlic cloves, crushed;
1 tsp. crushed ginger;
1 tsp. curry powder;
½ tsp. turmeric;
1 tsp. ground coriander;
2 tbsp. lemon juice;
14 oz. can full-fat coconut milk;
Sea salt and freshly ground black pepper to taste;
1 lb. shrimp, peeled;
Cauliflower rice, cooked and ready to serve;
Fresh cilantro to serve;
Preparation
In a hot pan, melt the coconut oil and fry the onion until golden brown.
Add the garlic and ginger and fry for another 10 seconds; then, add all of the spices.
Fry until the mixture is fragrant; then, pour in the lemon juice and coconut milk and season with salt and pepper to taste.
Allow to simmer for 5-10 minutes until reduced slightly; then, add the shrimp.
Allow the shrimp to cook in the sauce for 10 minutes.
Serve the shrimp and sauce over cauliflower rice with fresh cilantro.
📖 Recipe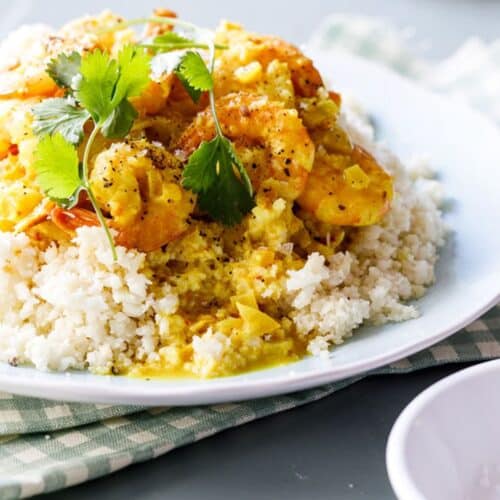 Coconut Curry Shrimp With Cauliflower Rice Recipe
This one-pot coconut curry shrimp served with cauliflower rice comes together in 30 minutes, making it a perfect Paleo weeknight dinner.
Instructions
In a hot pan, melt the coconut oil and fry the onion until golden brown.

1 tbsp. coconut oil,

1 onion

Add the garlic and ginger and fry for another 10 seconds then, add all of the spices.

2 garlic cloves,

1 tsp. crushed ginger,

1 tsp. curry powder,

½ tsp. turmeric,

1 tsp. ground coriander

Fry until the mixture is fragrant then, pour in the lemon juice and coconut milk and season with salt and pepper to taste.

2 tbsp. lemon juice,

14 oz. can full-fat coconut milk,

Sea salt and freshly ground black pepper to taste

Allow to simmer for 5-10 minutes until reduced slightly then, add the shrimp.

Allow the shrimp to cook in the sauce for 10 minutes.

Serve the shrimp and sauce over cauliflower rice with fresh cilantro.

Cauliflower rice,

Fresh cilantro to serve
Video
Nutrition
Calories:
614
kcal
Carbohydrates:
8
g
Protein:
89
g
Fat:
30
g
Saturated Fat:
22
g
Polyunsaturated Fat:
0.4
g
Monounsaturated Fat:
1
g
Cholesterol:
1293
mg
Sodium:
4007
mg
Potassium:
312
mg
Fiber:
1
g
Sugar:
1
g
Vitamin A:
13
IU
Vitamin C:
7
mg
Calcium:
496
mg
Iron:
12
mg