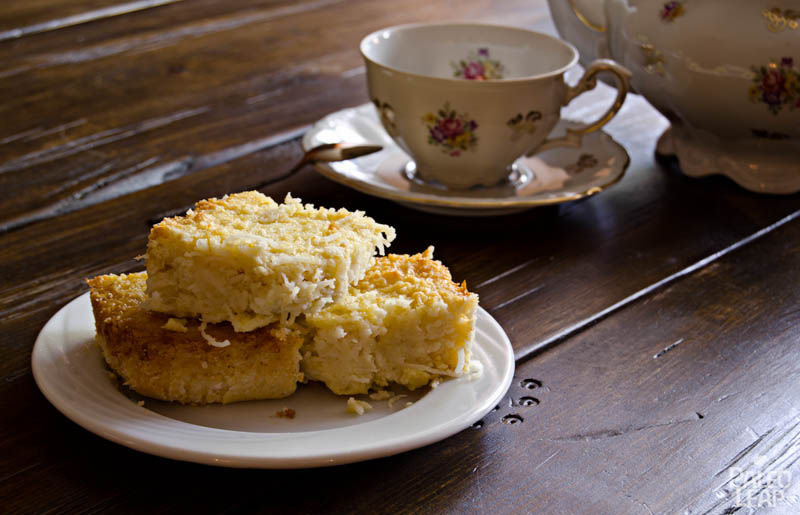 The following coconut squares are both delicious and very easy to prepare. They look sophisticated and are therefore perfect to serve when hosting guests. They really are all about coconuts with coconut milk, coconut oil, coconut flour and shredded coconut. If you absolutely love coconuts, this one will surely become a favorite.
Sweets are most commonly the hardest thing for people to give up when transitioning onto a Paleo Diet. It should come as no surprise that sugar is in fact an addictive substance. I was fortunate enough to not have many issues leaving the baked goods behind. I guess it's because I never had much of a sweet tooth. With that being said, I hear from many people every week asking for my advice on how they can overcome this challenge. They seem to all say basically the same thing; "It seems so easy to give up things like dairy and legumes, but the withdrawal from sweets is just too hard to overcome!" If you are currently struggling to leave sugar out of your diet, than you might as well stop reading now, because this recipe is probably not for you. It's all Paleo an non-toxic when consumed in moderation, but just tempting yourself with something similar to those sweet treats while you're trying to withdraw is a strategy for failure.
If  you're sure you can keep your sweet tooth in check, this recipe is truly delicious! You could call it a dessert, but I think of it as more of a sweet snack, or even something to enjoy with a Paleo smoothie in the morning. That said, it does contain both almond and coconut flour, as well as honey, so you'll want to make sure that this doesn't become a staple dish in your diet. It's always fine to enjoy treats like this, but moderation is key. Kids will love them and they also make a great alternative as a snack to bring to school instead of the usual unhealthy cakes that the other kids are eating.
Coconut squares recipe
Serves 4

Values are per portion. These are for information only & are not meant to be exact calculations.
Ingredients
3 eggs;
1 cup coconut milk;
1/3 cup coconut oil;
1/3 cup raw honey;
1 tbsp vanilla extract;
1/2 cup almond flour;
1 tbsp coconut flour;
1 1/2 cups unsweetened shredded coconut;
1/4 tsp sea salt;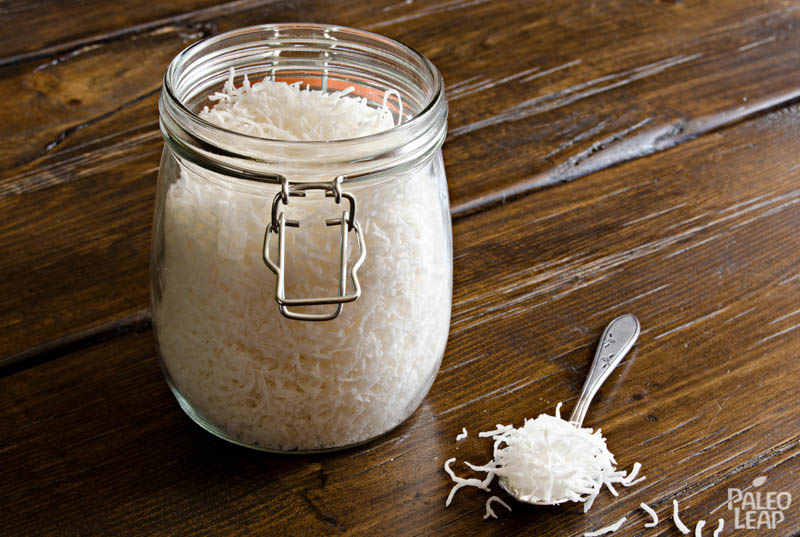 Preparation
Preheat your oven to 350 F.
Using a stand or a hand mixer, combine the eggs, coconut milk, coconut oil, honey and vanilla extract.
Set your mixer to the lowest speed and slowly add the almond flour, followed by the coconut flour. Once mixed, add the shredded coconut. Continue mixing just until there is no clumping and the coconut mixture is consistent throughout.
Pour the mixture into an 8×8 baking dish and cook for 30 minutes, or until golden around edges.
Once through, remove from the oven and allow to completely cool. Cut into squares and keep them refrigerated until serving.