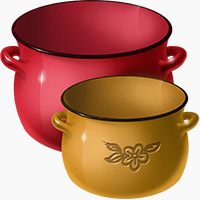 Picture this: you're standing at the kitchen counter, gazing fondly at the bright red stems and rich green-purple leaves of a fresh bunch of Swiss chard straight from the farmer's market. You can practically still feel the warmth of the sunshine radiating up from your cutting board. You smile, thinking of all that nutritional goodness wrapped up in such a beautiful and tasty package.
But then the thought occurs to you: how shall I cook it? Will boiling or frying destroy the valuable phytonutrients? What about the microwave – am I irradiating my food into toxic nuclear goop? But on the other hand, if I eat it raw, what about the goitrogens? And juicing just concentrates the sugar! Help!
It's tempting to rush to Google Scholar and drive yourself even crazier with the conflicting results of 20 different studies, but here's the most important truth about cooking vegetables: the best way to cook them is the way you'll actually eat them. If you want some new ideas for changing up your side dishes, or if you tend to rely exclusively on one cooking method only, read on for an analysis of all the different ways of getting your greens ready for your dinner plate. But at the end of the day, vegetables cooked using any method are better than no vegetables at all. And there's a lot to be said for the method you find tastiest, whatever it might be.
Skip to a Cooking Method: