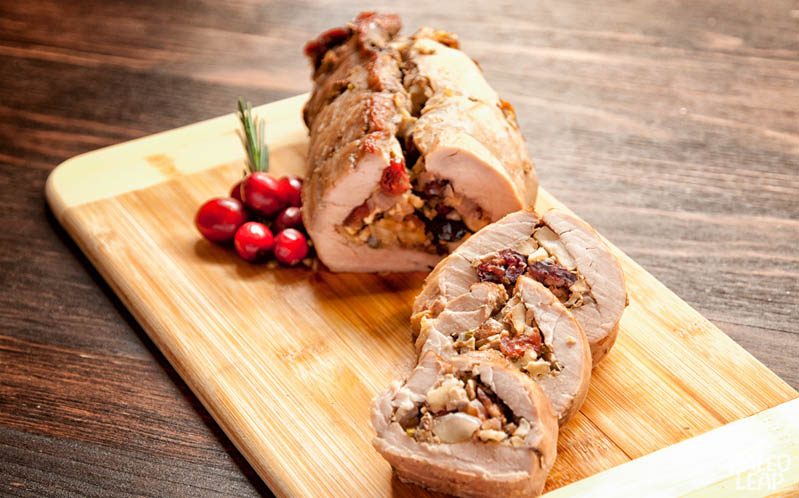 With a savory outside and a sweet, baked stuffing in the middle, this recipe is a satisfying end to a long winter day – not to mention proof that you don't need any kind of bread to make a good stuffing!
The hardest part of this recipe is butterflying the pork, but once you get the hang of it, butterflying is nothing to be afraid of. The basic technique is to first cut lengthwise about halfway through the roast. You'll now have a kind of "book" of pork, with two "covers." Then angle the knife and cut horizontally almost all of the way through each of the "covers," and unfold the pork (if this isn't clear, take a look at the video – it really is worth a thousand words).
This may be tricky to a novice, but the first time is always the hardest. If you do happen to shred your tenderloin beyond repair, don't panic: you can always use the meat to make pork and apple skewers, lettuce wraps, or spicy pork chili instead.
When you're putting together everything for the stuffing, you might find that you have more stuffing than you need to fill the tenderloin; you can just toss it in the roasting pan alongside the pork. Serve it alongside a slice of the tenderloin, or save it to eat later as a snack on its own. You could even use it to stuff something else (like a nice bell pepper) later on – if you don't eat it all up right away!
Cranberry Apple Stuffed Pork Loin Recipe

SERVES: 4

PREP: 20 min.

COOK: 1h10 min.

Values are per portion. These are for information only & are not meant to be exact calculations.
Ingredients
1 boneless pork loin;
1 cup mushrooms, chopped;
1 cup apples, chopped and peeled;
1/3 cup dried cranberries;
1/3 cup walnuts, toasted and chopped;
¼ cup shallots, minced;
2 garlic cloves, minced;
2 tbsp. pure maple syrup or raw honey; (optional)
1 tsp. fresh rosemary, minced;
1 tsp. fresh parsley, minced;
Sea salt and freshly ground pepper to taste;
Kitchen string;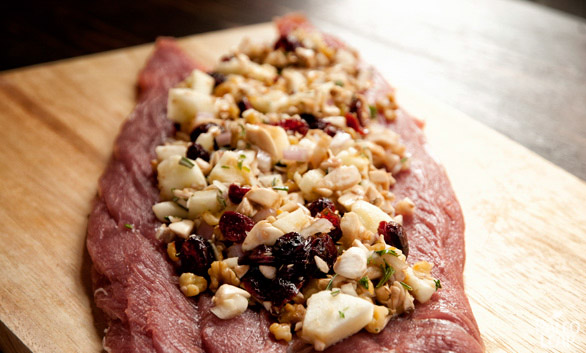 Preparation
Preheat your oven to 325 F.
Butterfly the roast by first cutting lengthwise about halfway through the roast. Then angle the knife and cut horizontally almost all of the way through, on both sides, and unfold the pork.
Cover the pork loin with 2 layers of plastic wrap or parchment paper and flatten the loin using a rolling pin or meat hammer.
In a bowl, combine the mushrooms, apples, cranberries, toasted walnuts, shallots, garlic,  rosemary, parsley, salt and pepper to taste, and the maple syrup or honey (if using).
Spread the mixture over the opened pork loin.
Roll up tightly and secure the pork with kitchen string.
Place the stuffed pork loin in a roasting pan and cook in the oven for 1 hour or until the internal temperature reaches 145 F.
When ready remove the string and serve.