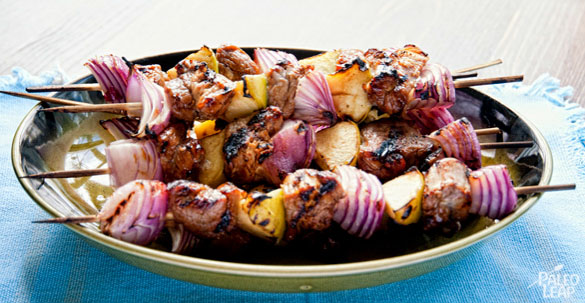 One of the best things about cooking in the summer is the huge number of barbecue recipes. Not only do you get to enjoy the weather by cooking outside, but you also get remarkably tasty dinners from simple ingredients just by throwing them over the coals. In this easy skewer recipe, a short marinade and a quick char on the barbecue transform a basic pork loin into a savory-sweet meal on sticks.
Pork with apples is a classic combination (going all the way back to ancient Rome). There are all kinds of entertaining stories about the origin of this tradition, but however it started, it's certainly tasty: the salty, fatty meat might be too heavy on its own, but it's delicious eaten with the refreshing sweetness of the fruit. Instead of pairing pork chops with applesauce, this recipe takes it all outside to the grill, and adds onions for even more depth of flavor.
To make sure your skewers turn out great, remember to oil the grill with an old rag before cooking them. This will prevent the meat from sticking. I also recommend keeping the skin on the apples; they'll hold together a lot better on the skewers that way. Pork cooks quite quickly; keep an eye on the meat and be careful not to overcook it, or it'll dry out.
Serve these skewers with a light summer salad. Just to give you some ideas, fresh vegetables are an interesting alternative to salad greens, or a raspberry salad complements the apples with another sweet fruit. Bacon, grape, and broccoli salad also uses the pork/fruit combination. Of course, one great thing about salads is how easy they are to alter to your taste, so there's no need to use a recipe – round up some greens from your fridge and enjoy!
Pork and Apple Skewers Recipe

MAKES: 6-7

PREP: 1h15 min.

COOK: 20 min.

Values are per portion. These are for information only & are not meant to be exact calculations.
Ingredients
1 ½ Lb. boneless pork loin, cut into 1-to2 -inch cubes;
1 green apple cut into 1-inch cubes, (skin on);
1 large red onion, cut into 1-inch cubes;
The juice from 1 medium sized orange;
2 tbsp. extra-virgin olive oil;
1/3 cup balsamic vinegar;
4 garlic cloves, smashed;
¼ cup raw honey; (optional)
Sea salt and freshly ground black pepper to taste;
6-7 Bamboo skewers;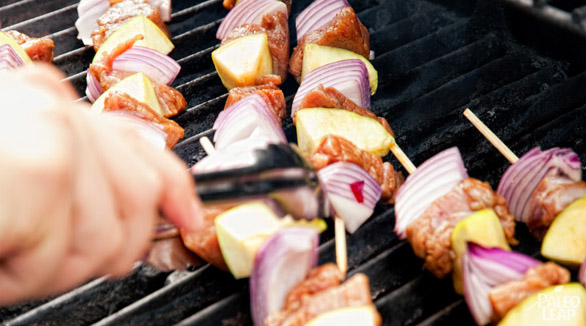 Preparation
In a non-metallic container (otherwise the metal will react with the acid in the marinade), combine the balsamic vinegar, olive oil, orange juice, garlic, and honey (if using any). Season to taste with sea salt and ground pepper.
Add the pork cubes to the marinade, and refrigerate for at least an hour.
Once the meat has finished marinating, heat up the BBQ to medium-high.
Skewer the meat with the green apples and the onions. Try to place the meat between the onion and the apple to give it extra flavor.
Season the skewers to taste with sea salt and black pepper, and place on the grill.
Cook each side for about 3 to 4 minutes (a total of 12-16 minutes).
Serve with a light summer salad.