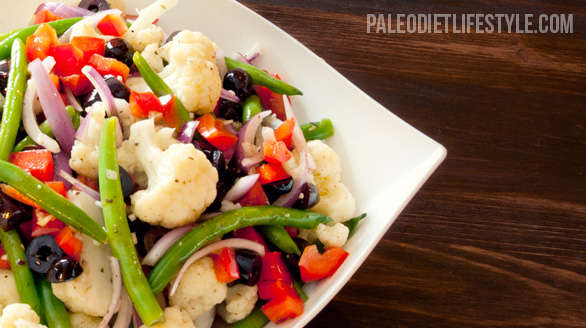 Even though it's quite simple, this vegetable salad is probably one of my favorites. It's really tasty and simple to prepare. I often find myself wondering what to eat when I'm running out of time and don't want to miss out on a nutritious meal. This salad is the perfect solution. It's efficient in every aspect and can easily be served as a side dish or as a main course, by adding a few pieces of leftover cooked chicken or any of your favorite ingredients. I usually have this salad for lunch or as a snack between meals. The fresh taste comes from its simplicity. The mix of fresh cauliflowers with green beans and black olives makes this recipe an amazing dish in its simplest form.
I suggest a very simple salad dressing with olive oil and white wine vinegar that I use quite often for all kinds of salads. The olive oil based dressing with some fresh herbs is excellent for your health, which is quite to opposite than the PUFA-rich vinaigrettes often found at grocery stores. Feel free to try other dressings or vinaigrettes that you love or may be used to, to bring a different twist to this recipe.
The Italian seasoning mix that I used for this recipe was homemade, but you can easily find a good one already mixed at most grocery stores. I'll also include an Italian Seasoning Recipe following the salad Recipe for your convenience. The combination of these herbs and spices are what it needs to make it pop just the right amount.  The aroma and taste of basil, oregano, rosemary and garlic together are a perfect match.
It's quite simple to prepare your own Italian seasoning; you just need the right herbs. You can either choose to use dry or fresh herbs whichever you choose and it will make for a great addition to your salad salad dressing. Fresh herbs is always my first option, but the dried version can also always come in very handy. Here I used dried herbs to prepare the seasoning mixture.
For the black olives, just make sure to buy a brand that comes packed in olive oil and that has no other ingredients other than salt.
Fresh Garden Vegetable Salad With Black Olives Recipe

SERVES: 4-6

Values are per portion. These are for information only & are not meant to be exact calculations.
Ingredients
1 cauliflower;
1 pound green beans;
1 red bell pepper;
½ small red onion;
½ cup black olives;
2 tbsp white wine vinegar;
½ cup extra-virgin olive oil;
2 cloves garlic, minced;
1tbsp dried Italian seasoning (refer to the ingredients below to make your own);
½ tsp freshly ground black pepper;
Italian seasoning ingredients
½ tsp tablespoons of basil;
½ tsp of marjoram;
½ tsp of oregano;
½ tsp of rosemary;
½ tsp of thyme;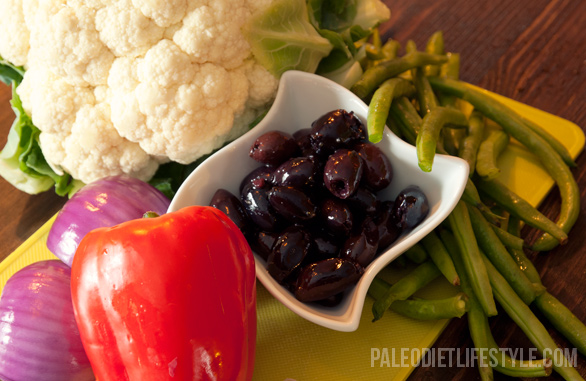 Preparation
Chop the cauliflower into small florets and trim the green beans.
Fill a large pot with water and bring to a boil. Add the cauliflower and the green beans for about 2-3 min just enough so they are tender-crisp. Drain the water immediately and place both vegetables in a large bowl.
While the cauliflower and the green beans cool down, cut the red pepper into small chunks and the red onion into thin slices (you can also cut the olive in slices or keep them whole).
Mix all the vegetables in the same bowl.
In a different bowl, whisk the olive oil, the white wine vinegar, the garlic, the black pepper and the Italian seasoning.
Pour the dressing over the vegetables and mix well.
Either serve right away or refrigerate for a few hours stirring once in a while to let the vegetables marinate.
Italian Seasoning preparation
Mix all ingredients in a bowl or a pestle until well combined.
Add and mix with the salad