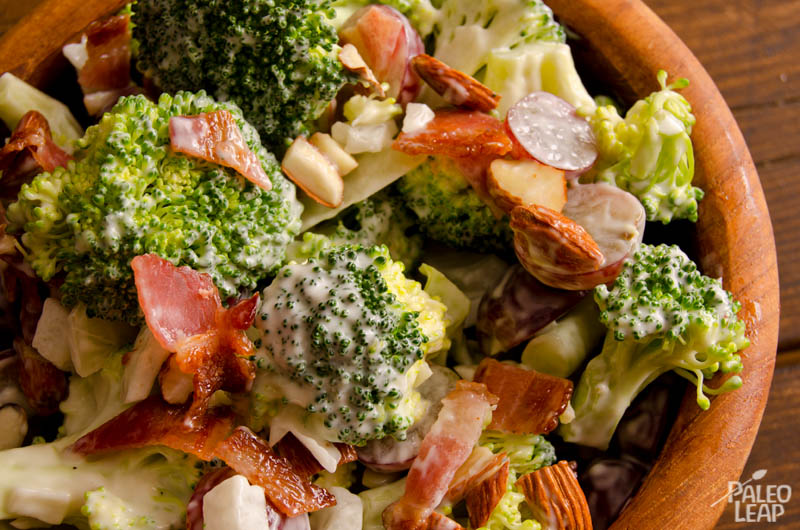 This simple salad is probably my favorite. There is something special about the mix of broccoli with grapes and bacon with the addition of a mayonnaise and lemon juice dressing. It's very hearty, nutritious and a really quick meal of snack fix.
The texture of this salad is amazing: crispy bacon, crunchy almonds and juicy grapes. This recipe usually calls for raisins, but I find the grapes to give a much nicer texture to the salad.
You can of course play around, use more or less of any of the ingredients depending on your preferences. Celery also goes well in this salad. You can also add fresh chopped dill to the dressing for an even fancier taste.
Bacon, grape & broccoli salad recipe
Values are per portion. These are for information only & are not meant to be exact calculations.
Ingredients
2 or 3 heads of broccoli, depending on their size;
1 1/2 cup red or green grapes, halved;
10 slices bacon;
1/2 chopped onion;
1/2 cup slivered or chopped almonds;
1 1/4 cup paleo mayonnaise;
1/4 cup lemon juice.
Preparation
Place the slices of bacon in a large pan on medium heat and cook for about 8 minutes on each side until crispy.
While the bacon cooks, cut the broccoli in small florets. You can use the stalks as well, making sure to cut it in pieces about the same size as the florets.
Mix the florets with the almonds, chopped onion and halved grapes.
Once the bacon is cooked and crispy, crumble and add it to the salad.
In a separate bowl, mix the mayonnaise with the lemon juice.
Mix the dressing with the salad, mix well, serve and enjoy!