eople often ask me for tips on how to prepare a simple lunch when they don't have any leftovers on hand or when they simply don't feel like eating yesterday's dinner all over again.
The times when you could just put together a sandwich is over and it's not always an easy task to find a simple alternative, but the fact of the matter is that it's still quite simple. You simply need a little more imagination and creativity.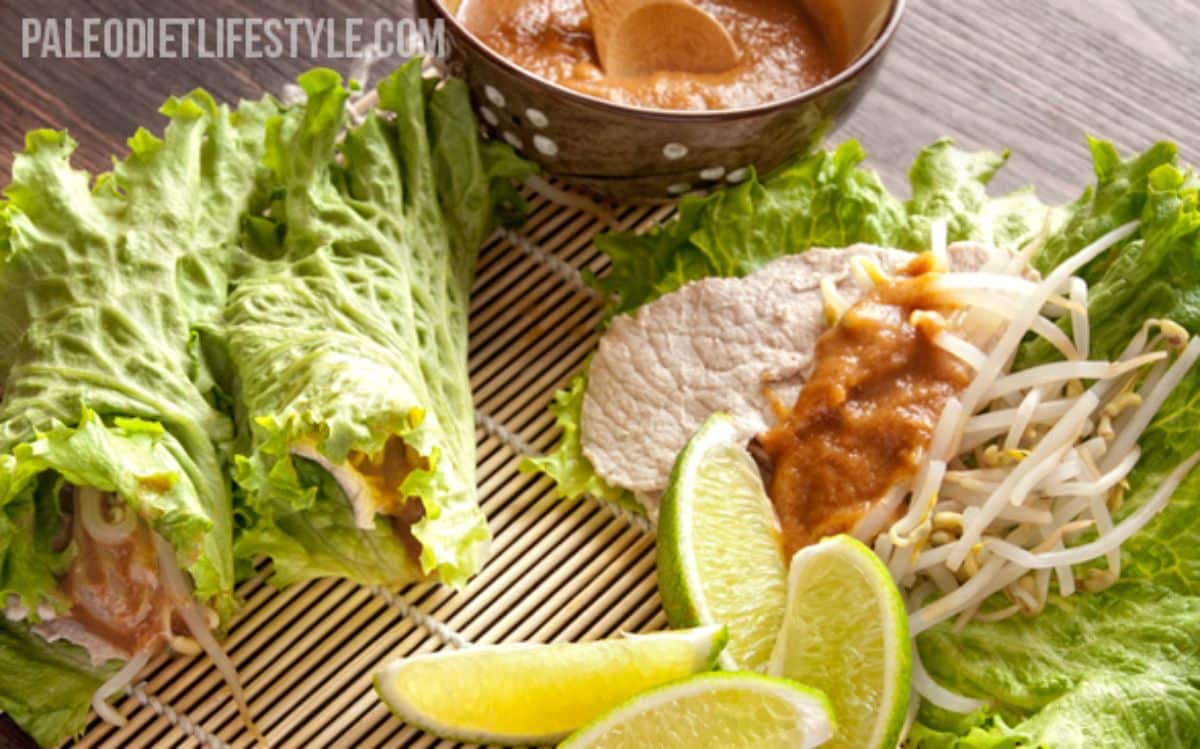 The following recipe is a perfect example. I took a recipe that I used to enjoy greatly, and I replaced some of the ingredients to make it an amazing Paleo lunch or a quick and simple dinner that all the family will enjoy. I get asked for the recipe every time I serve these wraps to guests.
The almond butter-based sauce that I use plays a big part in its success with most people. It's a sumptuous sauce with an amazing flavor profile.
Even if it's often best to limit our consumption of nuts and seeds, the amount of almond butter used here is minimal, so it shouldn't be a cause for concern at all.
You can add some Sambal sauce if you like to make it a little spicier, but that's totally optional. Sambal is a chili-based condiment that's used prominently in Thai cooking. It should be easy to find some really good quality Sambal sauce without any unhealthy ingredients at most supermarkets.
Sambal sauce's primary ingredient are chili peppers and the secondary ingredients often include shrimp paste and/or fish sauce, garlic, ginger, green onions, and rice vinegar.
It's really up to you to decide on the ingredients to put inside lettuce wraps like these. Here I give you a simple example with a delicious almond butter sauce and pork, but you can change it up as much as you want.
I myself often play around with it. Ingredients such as raw bell peppers, fresh avocado, thinly sliced carrots, or green onions are only a few great options. There are so many variations you play around with, and it all helps in preventing boredom with this recipe.
The kind of lettuce you choose for this recipe is entirely up to you. Choose your favorite lettuce variety or the one that's most readily available on the day you make your recipe, it doesn't really affect the overall taste, and it gives you different options.
Romaine or Boston lettuces would be two perfect options because the leaves are large and sturdy enough the contain the ingredients for the wraps.
Mung bean sprouts is an ingredient that I don't use often, but that makes this recipe take an even more Thai-inspired theme.
Unlike most beans and legumes, which I don't recommend on a Paleo diet, the sprouting of the mung beans makes them loose most of their phytic acid and other anti-nutrients, making them perfectly healthy. They're also a great source of vitamin C, folate, and copper.
Thai Pork Lettuce Wraps Recipe
SERVES: 4 PREP: 10 min COOK: 8 min
Ingredients
1 lb thinly sliced pork;
2 cups chicken stock;
¾ lb mung bean sprouts;
Fresh lettuce leaves, cut into approximately 3 x 3 inches;
½ cup almond butter;
1 tbsp. fish sauce;
2 tbsp. white wine vinegar;
4 tbsp. of water;
1 tsp. sambal sauce; (optional)
1 lime, quartered;
1 tablespoon Paleo cooking fat;
Sea salt and freshly ground black pepper to taste;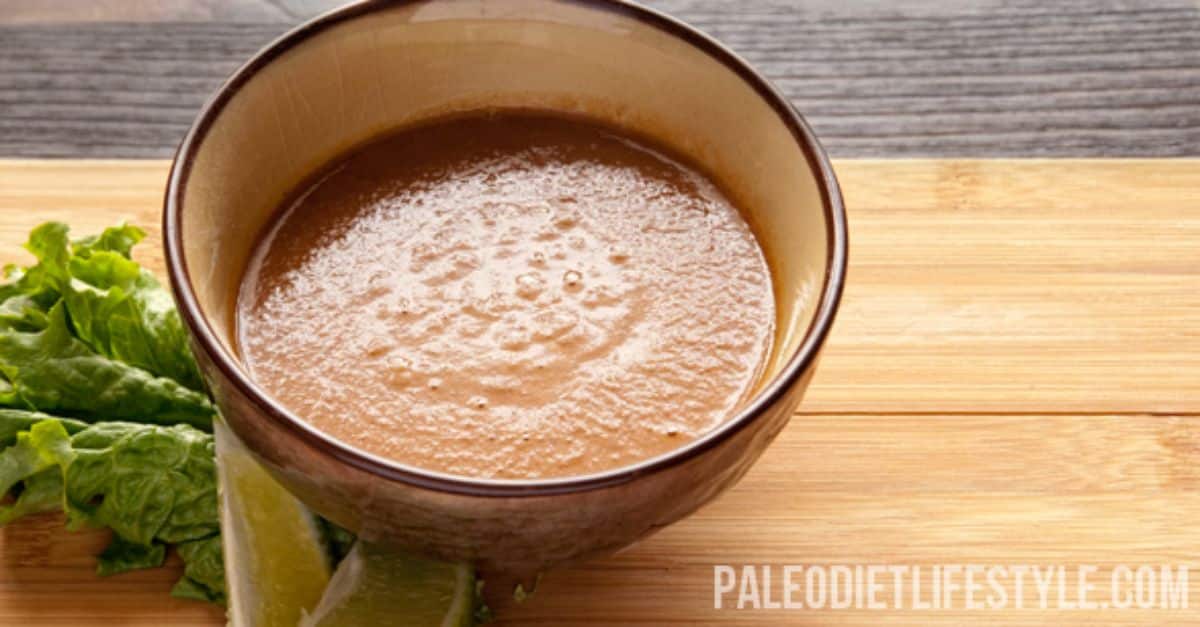 Preparation
Bring the chicken stock to a boil in a pan placed over medium-high heat, and add the pork slices. Simmer and cook for about 5 minutes, until the pork is cooked.
Remove the pork pieces and set them aside to cool. You won't need the chicken stock anymore, but you can stock it in the refrigerator for later recipes.
In the same pan, cook the mung bean sprouts with the cooking fat for 3 to 4 minutes and then set aside.
In a bowl, combine the ingredients for the almond butter sauce: the almond butter, fish sauce, white wine vinegar, water, and sambal sauce. Season to taste with sea salt and black pepper.
Once the cooked ingredients have cooled down, place some pork, some mung bean sprouts, and some almond butter sauce over each lettuce leaf and squeeze some fresh lime juice on top. Roll them into wraps and enjoy.
📖 Recipe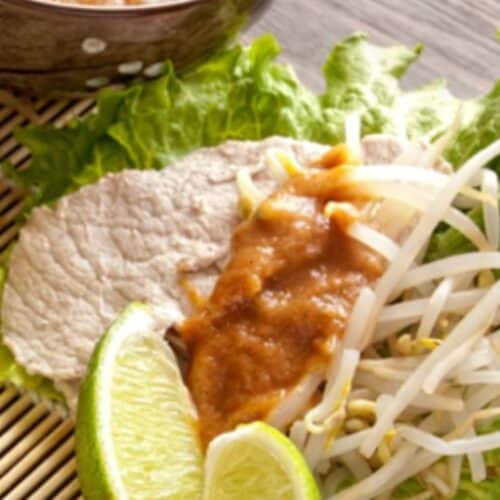 Thai Pork Lettuce Wraps Recipe
Delicious thai inspired lettuce wraps filled with a delicious mixture of lightly cooked pork, mung bean sprouts and a finger licking almond butter sauce.
Ingredients
1

lb

thinly sliced pork

2

cups

chicken stock

¾

lb

mung bean sprouts

Fresh lettuce leaves

cut into approximately 3 x 3 inches

½

cup

almond butter

1

tbsp.

fish sauce

2

tbsp.

white wine vinegar

4

tbsp.

of water

1

tsp.

sambal sauce

optional

1

lime

quartered

1

tablespoon

Paleo cooking fat

Sea salt and freshly ground black pepper to taste
Instructions
Bring the chicken stock to a boil in a pan placed over medium-high heat, and add the pork slices. Simmer and cook for about 5 minutes, until the pork is cooked.

2 cups chicken stock,

1 lb thinly sliced pork

Remove the pork pieces and set them aside to cool. You won't need the chicken stock anymore, but you can stock it in the refrigerator for later recipes.

In the same pan, cook the mung bean sprouts with the cooking fat for 3 to 4 minutes and then set aside.

¾ lb mung bean sprouts,

1 tablespoon Paleo cooking fat

In a bowl, combine the ingredients for the almond butter sauce: the almond butter, fish sauce, white wine vinegar, water, and sambal sauce. Season to taste with sea salt and black pepper.

½ cup almond butter,

1 tbsp. fish sauce,

2 tbsp. white wine vinegar,

4 tbsp. of water,

1 tsp. sambal sauce,

Sea salt and freshly ground black pepper to taste

Once the cooked ingredients have cooled down, place some pork, some mung bean sprouts, and some almond butter sauce over each lettuce leaf and squeeze some fresh lime juice on top. Roll them into wraps and enjoy.

Fresh lettuce leaves,

1 lime
Nutrition
Calories:
597
kcal
Carbohydrates:
17
g
Protein:
32
g
Fat:
47
g
Saturated Fat:
11
g
Polyunsaturated Fat:
8
g
Monounsaturated Fat:
24
g
Trans Fat:
0.01
g
Cholesterol:
85
mg
Sodium:
534
mg
Potassium:
843
mg
Fiber:
5
g
Sugar:
7
g
Vitamin A:
39
IU
Vitamin C:
17
mg
Calcium:
147
mg
Iron:
3
mg