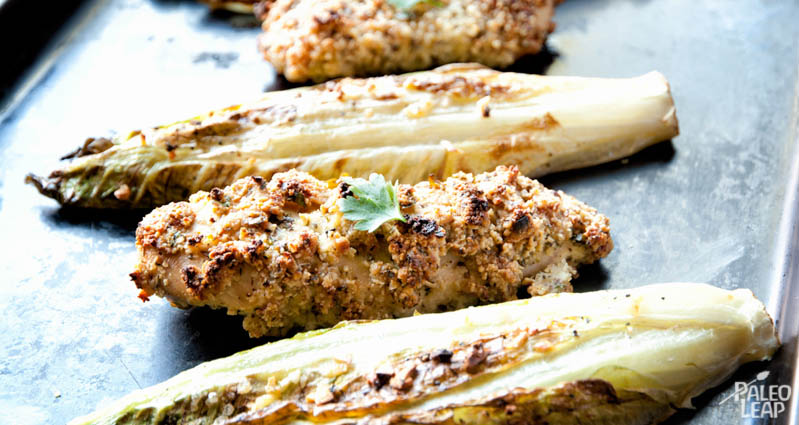 You've certainly eaten lettuce before. But have you ever tried it cooked? Probably not – lettuce isn't a vegetable most of us even consider putting in the oven. But it's actually quite tasty sprinkled with some olive oil and garlic, and then briefly roasted just until it gets a little brown around the edges. If nothing else, baking the chicken and the lettuce is an interesting new way to think about the "chicken salad" concept, and it helps keep the menu interesting with hardly any extra work.
Because it gives you both the chicken breast and the lettuce, this recipe could make a full meal all by itself. Heartier appetites might like a bowl of soup on the side, or maybe a quick dish of roasted squash (which you can make at the same time and just throw in the oven with the chicken and lettuce).
If you like the flavor of the breading a little bolder, you can easily add more herbs and spices to the almond flour mixture. You could even experiment with chili powder or curry powder to make a spicy or Indian-style version, if that sounds interesting. Either way, you'll end up with tender, crispy chicken and an interesting new vegetable side dish, a meal sure to curb any cravings for KFC or other fast-food fried chicken.
Crispy Chicken With Roasted Romaine Recipe

SERVES: 4

PREP: 10 min.

COOK: 25 min.
Add to Meal Plan
Ingredients
4 boneless skinless chicken breasts;
2 large hearts of romaine, cut in half lengthwise;
¾ cup almond flour;
1 tsp. dried oregano;
2 tbsp. flat-leaf parsley, chopped;
4 garlic cloves, minced,
2 eggs;
4 tbsp. extra-virgin olive oil;
Sea salt and freshly ground black pepper, to taste;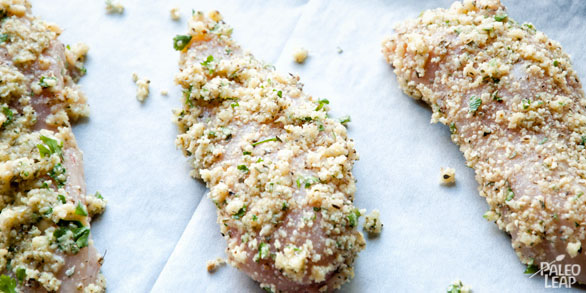 Preparation
Preheat your oven to 425 F.
In one bowl, combine the almond flour, dried oregano, parsley, 2 tbsp. of olive oil, half the garlic, and salt and pepper to taste.
Break and whisk the eggs in a different bowl.
Dip each chicken breast in the whisked eggs, then coat evenly with the almond flour mixture.
Line the chicken breasts on a foil-covered baking sheet. Place in the oven and cook for 15 minutes.
Drizzle the romaine with the remaining olive oil. Sprinkle it with the remaining minced garlic, and season with salt and pepper.
Remove the baking sheet from the oven and place the romaine heads in with the chicken breasts.
Return the baking sheet to the oven until the chicken is cooked through (internal temperature of 165 F) and the lettuce is browned around the edges, about 5 minutes.
Divide equally on plates and serve.