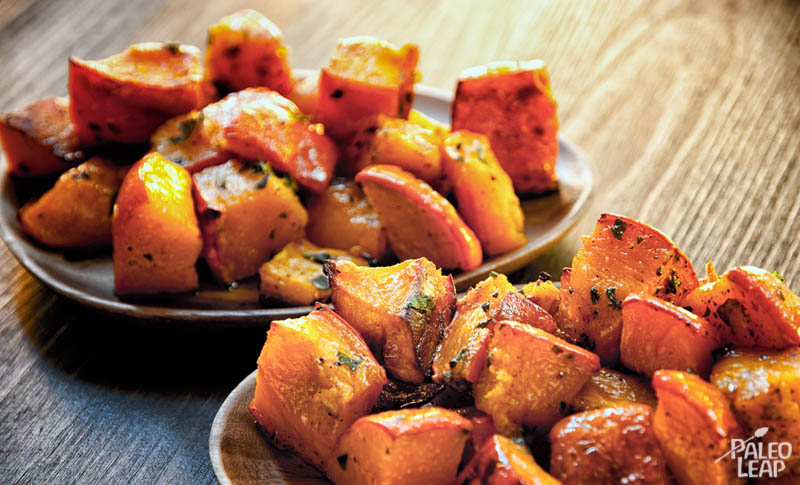 We know it as a spice today, but sage has a long history in folk medicine. It's traditionally been prized as a home cure for a cough and a sore throat, but various cultures have used it for everything from a snakebite antivenom to a fertility charm – which makes you suspect that they might just have wanted an excuse to enjoy the delicious flavor. From a more scientific perspective there is a small amount of evidence that sage might be beneficial for mental health, but whether or not it's adding to your IQ, you'll want to get your hands on this aromatic herb just for the sake of its taste.
In this recipe, the sage is heated in ghee, which has the double effect of bringing out the flavor of the herb and making a delicious "dressing" to coat the roasted squash cubes. Ambercup squash can be slightly drier than other varieties, so the buttery seasoning perfectly balances out any tendency for it to get sandy or unpleasant. The sage, olive oil, and pepper bring out a more savory side of this recipe, so it's a wonderful side if you're looking for something to serve with a hearty soup or roast.
If you can't get ambercup squash, you could use this same technique with almost any winter squash, so don't stress about finding exactly this same variety. Ambercup is convenient because the skin isn't quite as thick as many other varieties (so it's easier to cut), but if you have a good knife, this is a minor issue at most – certainly nothing to stop you from enjoying such a delicious treat.
Roasted Ambercup Squash  Recipe

SERVES: 4

PREP: 10 min.

COOK: 40 min.

Values are per portion. These are for information only & are not meant to be exact calculations.
Ingredients
1 ambercup squash, cut into 1-inch cubes; (peeled or unpeeled)
2 tbsp. ghee or Paleo cooking fat;
1 tbsp. fresh sage, chopped;
2 tbsp. extra-virgin olive oil;
Sea salt and freshly ground black pepper to taste;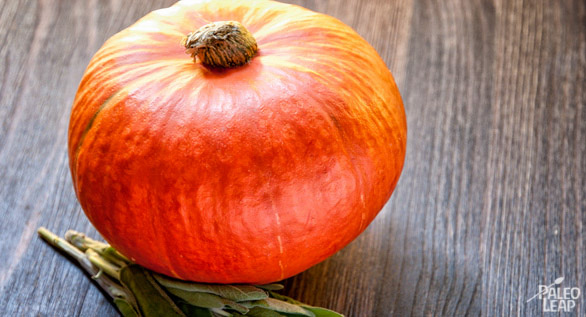 Preparation
Preheat your oven to 400 F.
Coat a baking sheet with olive oil.
In a large bowl, combine the squash, 1 tbsp. olive oil and salt and pepper to taste.
Place the squash on the baking sheet and roast for about 30 to 35 minutes, tossing occasionally, until tender.
While the squash is baking, heat a small skillet over a medium heat. Add the ghee or cooking fat and whisk. Once the fat is melted, add the sage.
Continue to whisk until the fat begins to turn brown (about 5 minutes), and then remove from the heat
Transfer the squash to a large bowl. Toss it gently with the sage mixture and serve.