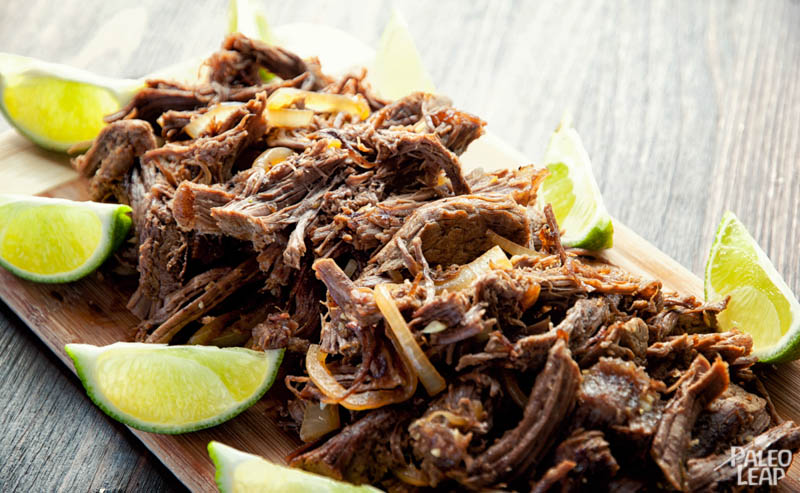 If the colder weather lately has been getting you down, why not take your mouth to the beach for a break? The tender shredded beef in this Cuban-inspired recipe gets a spicy, zesty flavor boost from citrus fruits and cumin: it's the perfect dinner to remind you of sandy beaches, clear water, and the sun on your back. Better still, the time commitment is minimal since it's all done in a slow cooker. It takes 5 minutes to throw the beef and stock into the slow-cooker in the morning, and you'll come home to a savory pick-me-up that just needs a little sauce to make it perfect.
If you don't have a slow-cooker, you can still make this work in a big skillet (although the beef won't be as tender). Just put the beef and broth in the skillet, cover, and cook on a low heat for around 2 hours, and then proceed with the rest of the recipe as written. Alternately, use the oven instead, turned on low, until the beef is cooked through.
In terms of which cut of beef you pick for this recipe, chuck is probably the best choice for shredding, but I got delicious results with a rump roast as well. Since you're cooking it low and slow, even a cheaper cut of meat will turn out tender, so this is a great recipe for weeks when the food budget gets a little tight. Enjoy it with some baked plantains if you really want to keep with the tropical theme, or what about a side of spicy sweet potatoes?
In the unlikely event that you have any leftovers, this is a recipe that would be exciting in an omelet the next morning, or freeze it in individual serving sizes to enjoy later when you don't have time to cook.
Cuban Shredded Beef Recipe

SERVES: 4

PREP: 20 min.

COOK: 8 hrs.

Values are per portion. These are for information only & are not meant to be exact calculations.
Ingredients
2 lb. boneless beef chuck;
3 garlic cloves, minced;
1 onion, thinly sliced;
½ tsp. ground cumin;
2 tbsp. fresh orange juice;
½ tsp. lime zest;
1 tbsp. lime juice;
1 cup beef stock;
Sea salt and freshly ground black pepper to taste;
Lime wedges, for serving;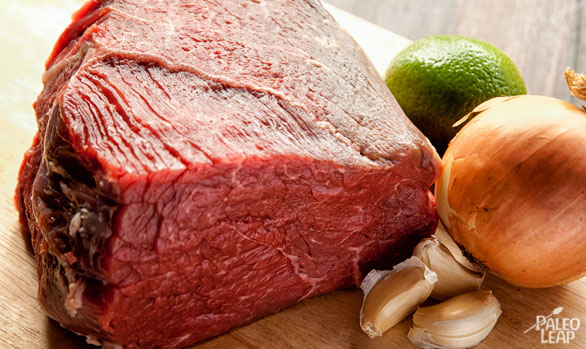 Preparation
Season the beef all over with sea salt and black pepper to taste.
Place the beef in a slow cooker with the stock and cook 6 to 8 hours on low.
When the beef is cooked, break it apart gently with a fork and set aside.
In a large skillet placed over a medium-high heat, melt the cooking fat. Add the garlic and onion, and cook until the onion is golden and soft (about 5 minutes).
Add the beef to the skillet. Reduce the heat to medium and cook for about 4 minutes.
Add the cumin, orange juice, lime juice, lime zest, and season again with salt and pepper to taste. Give everything a good stir.
Serve warm with lime wedges.