Blueberries aren't the first fruit that comes to mind for a savory winter stew, but they actually go really well with the duck here.
Flavor-wise, duck is a little more intense than chicken, and bringing out the richness with herbs and a little bit of sweetness makes for a very satisfying meal.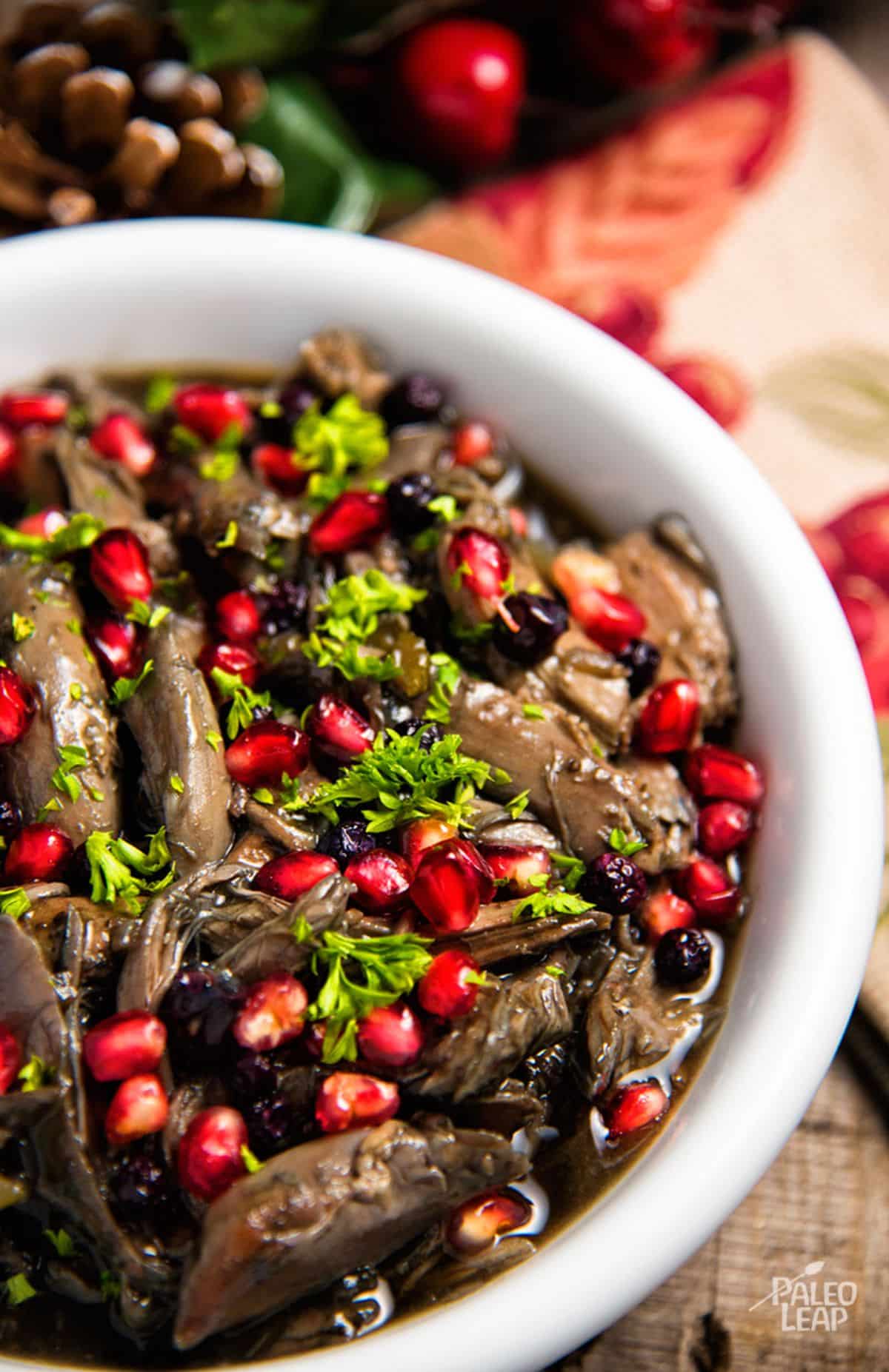 The red wine here is optional - some people are OK with wine as a Paleo gray area, especially if they're cooking with it and not drinking it out of a glass, but other people find it upsets their stomach or they just don't want to use it. If you're in the second group, just replace the wine with another ½ cup of chicken stock.
This stew would go really well with some roasted carrots or parsnips or maybe mushrooms if you want to go a little lower-carb. And with a whole duck going into the pot, it definitely does make leftovers.
It might be nice to cook in those few days between Christmas and New Year's if the thought of another fancy meal is way too much work, and "tasty, with leftovers" sounds like just the thing.
Duck And Blueberry Stew Recipe
SERVES: 8 PREP: 15 min COOK: 3 h
Ingredients
1 5 to 6 lb. duck
2 red onions, minced
4 cloves of garlic, minced
1 celery stalk, minced
1 cup blueberries
2 sprigs fresh rosemary
1 tbsp. fresh sage, minced
4 cups chicken or duck stock
½ cup dry red wine (optional)
Extra-virgin olive oil
¼ cup pomegranate seeds
fresh parsley (to garnish)
2 tablespoon tapioca starch (optional)
Sea salt and freshly ground black pepper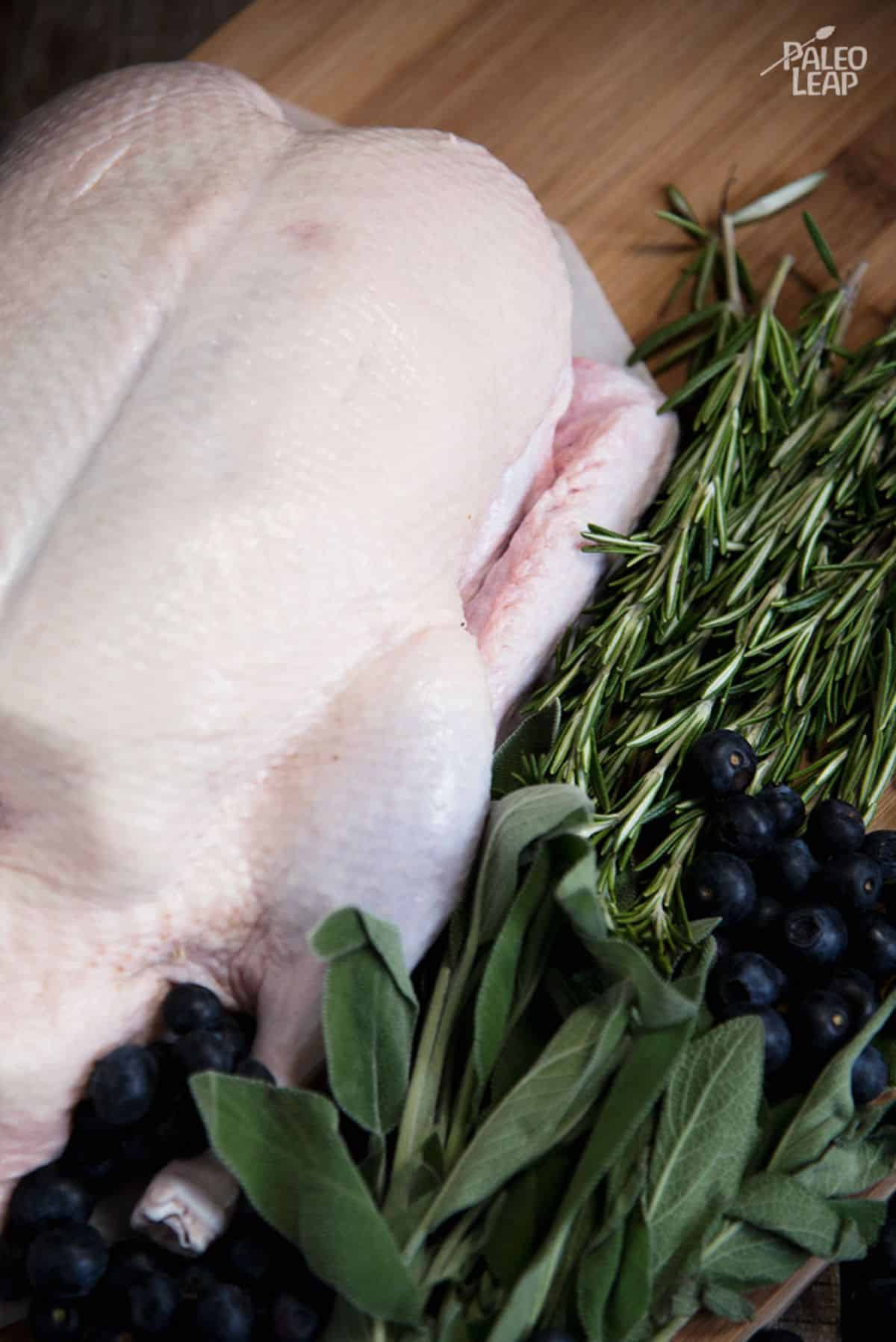 Preparation
Preheat your oven to 350 F.
Wash the duck, and pat dry with kitchen paper.
Rub the duck with olive oil, season generously with sea salt and black pepper, and place in a roasting pan.
Place in the oven, and roast for about 2 hours or until the meat is cooked through.
Remove the duck from the oven, and let rest for 10 to 15 minutes.
Remove the duck skin, and shred the meat off the bones.
Melt some cooking fat in a large skillet or saucepan over medium-high heat.
Add the garlic, celery, and onion, and cook for 5 to 6 minutes or until soft and fragrant.
Pour the red wine (or some of the chicken stock) into the skillet and cook until completely reduced, scraping up any browned bits from the bottom of the skillet.
Stir in the shredded duck meat, and pour in the chicken stock.
Stir in the blueberries, rosemary, and sage. Bring everything to a boil, and let simmer on low for 30 to 45 minutes.
If desired, thicken the sauce by adding in a mixture of 1 tbsp. of tapioca starch and 1 tbsp. water.
Serve the stew topped with pomegranate seeds and fresh parsley.
📖 Recipe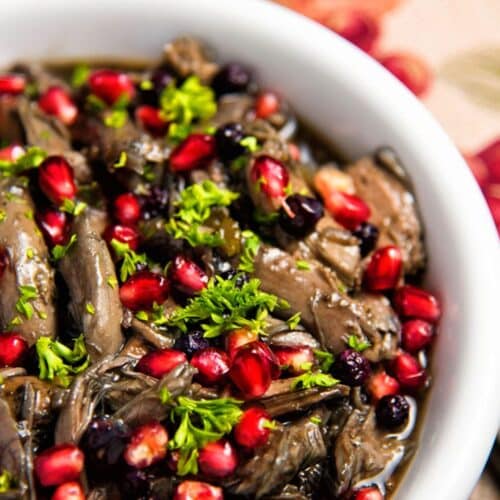 Duck And Blueberry Stew Recipe
Here's something a little different to do with a whole duck: a rich stew seasoned with herbs and blueberries.
Ingredients
1 5 to 6

lb.

duck

2

red onions

minced

4

cloves

of garlic

minced

1

celery stalk

minced

1

cup

blueberries

2

sprigs fresh rosemary

1

tbsp.

fresh sage

minced

4

cups

chicken or duck stock

½

cup

dry red wine

optional

¼

cup

pomegranate seeds

fresh parsley

to garnish

Cooking fat

2

tablespoon

tapioca starch

optional
Instructions
Preheat your oven to 350 F.

Wash the duck, and pat dry with kitchen paper.

Rub the duck with olive oil, season generously with sea salt and black pepper, and place in a roasting pan.

Place in the oven, and roast for about 2 hours or until the meat is cooked through.

Remove the duck from the oven, and let rest for 10 to 15 minutes.

Remove the duck skin, and shred the meat off the bones.

Melt some cooking fat in a large skillet or saucepan over medium-high heat.

Add the garlic, celery, and onion, and cook for 5 to 6 minutes or until soft and fragrant.

4 cloves of garlic,

1 celery stalk,

2 red onions

Pour the red wine (or some of the chicken stock) into the skillet and cook until completely reduced, scraping up any browned bits from the bottom of the skillet.

Stir in the shredded duck meat, and pour in the chicken stock.

4 cups chicken or duck stock

Stir in the blueberries, rosemary, and sage. Bring everything to a boil, and let simmer on low for 30 to 45 minutes.

1 cup blueberries,

2 sprigs fresh rosemary,

1 tbsp. fresh sage

If desired, thicken the sauce by adding in a mixture of 1 tbsp. of tapioca starch and 1 tbsp. water.

2 tablespoon tapioca starch

Serve the stew topped with pomegranate seeds and fresh parsley.

¼ cup pomegranate seeds,

fresh parsley
Nutrition
Calories:
1466
kcal
Carbohydrates:
13
g
Protein:
43
g
Fat:
135
g
Saturated Fat:
45
g
Polyunsaturated Fat:
18
g
Monounsaturated Fat:
64
g
Cholesterol:
262
mg
Sodium:
388
mg
Potassium:
916
mg
Fiber:
1
g
Sugar:
6
g
Vitamin A:
595
IU
Vitamin C:
15
mg
Calcium:
58
mg
Iron:
9
mg