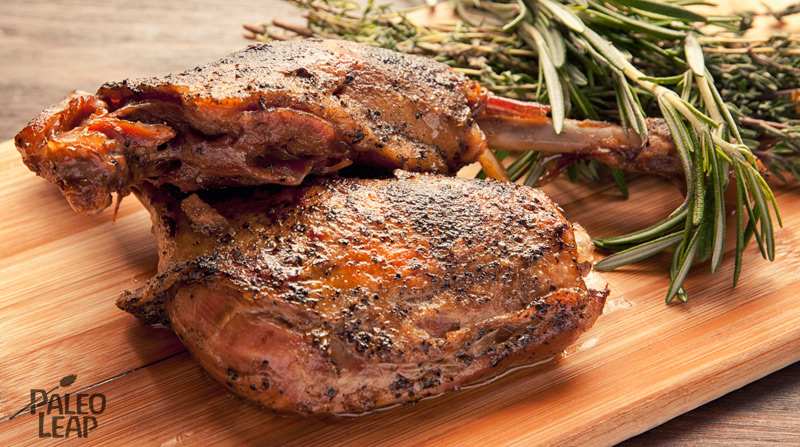 Confit is another one of those French specialty that is already perfectly Paleo and makes heavy use of healthy saturated fat. There is plenty of things that they do right those French!
Confit comes from a french word that means to preserve. It is cured with a salt rub for a number of hours and then slowly cooked submerged in fat so it becomes really tender and moist. It is actually one of the oldest method to preserve food because once cooked it can stay fresh for a long time protected under the hardened animal fat. It can be made with goose and pork, but duck is the most popular version. After cooking, you can use some of the fat when you eat the confit, but you can also use it for other dishes because by now the fat will have taken the delicious aroma of the duck and herbs.
Like a lot of culinary specialty, there is nothing complicated in making confit, even though it takes quite a bit of time (about 2 days to be more precise). It is also possible to make confit with vegetables and it results in a vegetable that is soft and tastes absolutely amazing, thanks to the addition of lemon juice and zest. The tangy lemony taste really penetrates the vegetables and the fat cooks it perfectly. Try this carrot confit only once and you'll be hooked and will want to only have carrots that way.
Duck confit recipe
Values are per portion. These are for information only & are not meant to be exact calculations.
Ingredients
4 duck legs with thighs;
4 duck wings;
4 cups duck fat;
3 tbsp salt;
4 garlic cloves, very finely minced;
1 onion, sliced;
6 springs thyme;
3 springs rosemary;
Pepper to taste;
Preparation
Mix the salt, garlic, onion, thyme, rosemary and pepper.
Using a dish large enough to hold all the duck pieces in a single layer sprinkle 1/3 of the salt mixture on the bottom.
Put the duck pieces in the dish, skin side up on the salt mixture bed.
Add the remaining 2/3 of the salt mixture evenly on the duck.
Cover and refrigerate for about 1 or 2 days.
When ready, preheat your oven to 225 F
Remove the salt from the duck and arrange the duck in a baking dish in a tight single layer.
Melt the duck fat and pour on the duck. Make sure it covers the meat entirely.
Put in the oven for 2 to 4 hours until the meat can easily be pulled from the bone. It can also go for longer if you want.
The duck confit is now ready and can be stored in the fat where it will stay good for weeks.
Carrot confit recipe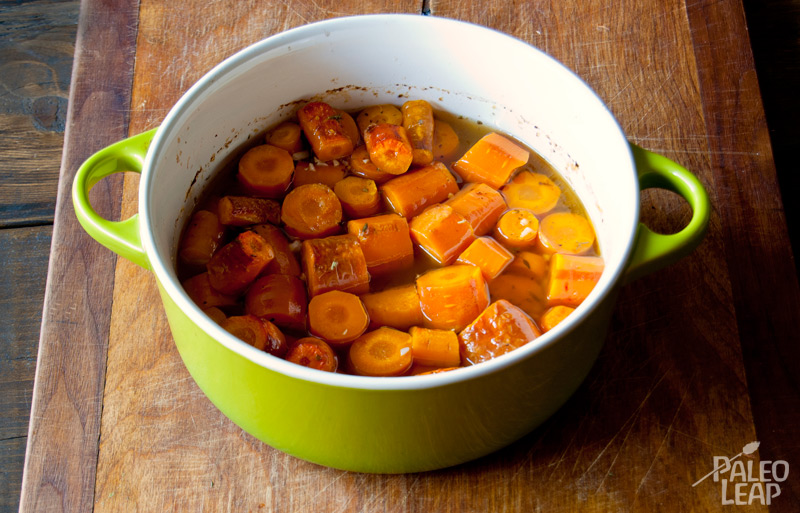 Ingredients for the carrot confit
2 pounds carrots;
Zest of 2 lemons;
Juice of those 2 lemons;
4 cloves garlic, very finely minced (mashed is even better);
3 sprigs thyme;
2 cups melted duck fat (you can use any animal fat, butter or coconut oil).
Preparation
Preheat your oven to 275 F.
Prepare your carrots. You can cut them in 1 inch pieces or leave them whole if they will fit all flat in your baking dish.
Mix the zest, lemon juice, garlic, thyme and fat.
Pour the fat mixture on the carrots. It should ideally cover the carrots completely. Add fat if necessary.
Put in the oven for about two and a half hours.
Remove from oven. At this point, the carrots will be soft and delicious.
As an optional step before serving, brown the carrots in a large skillet with the fat mixture that was used to cook them. This will create a crispy exterior and a tender interior.