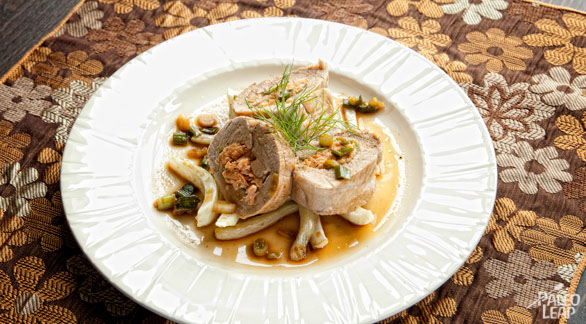 It's not quite as crazy as a turducken (a turkey stuffed with a duck, which in turn is stuffed with a chicken), but this bi-layered recipe is definitely a dish to impress a guest with, and a creative new way of serving pork. For the fish, you can alter the recipe according to your taste or what you have available: the directions call for trout, but you can use almost any variety. Salmon is tasty as well, especially if you can't get fresh trout in your area. For someone who doesn't usually like fish, this recipe would make a good introduction because it isn't very strongly "fishy."
Since the meat here is impressive enough, the seasonings are simple and classic, just lemon juice, olive oil, and onions, with salt and pepper to taste. The only ingredient you might not have already in your kitchen is fennel, an underappreciated vegetable that you can find languishing on the produce shelf next to its better-known cousins, carrots and parsley. It has a mild, pleasant flavor, and it's rich in vitamin C and potassium.
On the whole, this recipe isn't very difficult to prepare; the only part that might be off-putting is butterflying the pork. Butterflying pork tenderloin is tricky to explain, but once you get the idea, it's not complicated to do. Check out this illustrated guide; you could just cut it in half, but I would recommend properly butterflying it instead. After slicing it, pound the pork with a meat hammer or a rolling pin to thin it and make it easier to tie closed (you'll need some cooking string for this; you can find it in any grocery store). It really isn't that difficult, so don't let the fear put you off from enjoying a delicious new take on dinner!
Fish in a pig recipe

SERVES: 4

PREP: 40 min.

COOK: 40 min.

Values are per portion. These are for information only & are not meant to be exact calculations.
Ingredients
1 pork tenderloin;
1 skinless trout fillet (or any other favorite fish);
2 fennel bulbs, sliced;
2 green onions, thinly sliced;
1 tbsp. fresh dill;
The juice from one lemon;
2 tsp. fish sauce;
½ cup beef of chicken stock (or bone broth);
3 tbsp. extra-virgin olive oil;
Sea salt and freshly ground black pepper to taste;
Cooking string;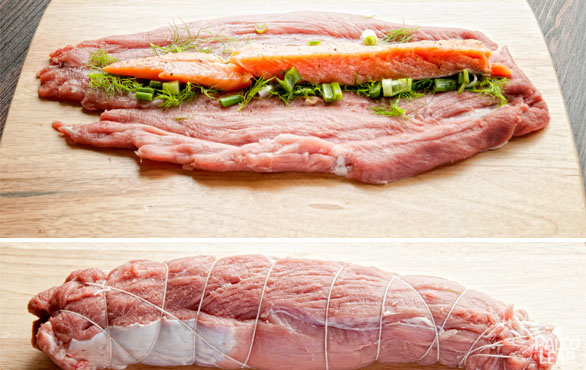 Preparation
Preheat your oven to 375 F.
Butterfly the pork: slice the tenderloin in two or three lengthwise, and open like a book, then flatten the meat using a meat hammer or rolling pin.
Sprinkle the fresh dill and ¼ of the green onions on top of the pork.
Cut the trout filet in half lengthwise, and place it in the middle of the pork.
Sprinkle the fish with half of the lemon juice and one tbsp. of olive oil. Season to taste with sea salt and freshly ground black pepper.
Secure the pork tenderloin by tying it with a cooking string to hold it up together.
In a skillet, heat 1 tbsp. of olive oil or other Paleo cooking fat over a high heat and brown the tenderloin on each side. Then place the stuffed tenderloin in the rack of a roasting pan with water underneath and roast in the oven 35 to 40 minutes.
While the meat roasts, in a bowl, combine the sliced fennel bulbs and remaining 2 tbsp olive oil and season to taste. Place the fennel in a roasting pan and cook in the oven for 10 minutes. It's best when this is done before the meat finishes cooking.
For the sauce, you can use the same skillet that you used to brown the pork tenderloin. Add 2 tsp. of fish sauce, ½ cup of beef or chicken stock, the remaining green onions, and the other half of the lemon juice, and season to taste. Whisk everything together while cooking for a few minutes over a medium heat.
Serve the meat cut into slices on top of the roasted fennel, and top with the sauce. You can use some extra fresh dill to garnish.