Try a different twist on strawberries, chocolate, and whipped cream with this Paleo-friendly drink.
Blended frozen fruit with coconut water makes a naturally sweet base, and some coconut-milk whipped cream and chocolate sprinkles on top on top take it beyond an everyday smoothie into the realm of truly indulgent desserts.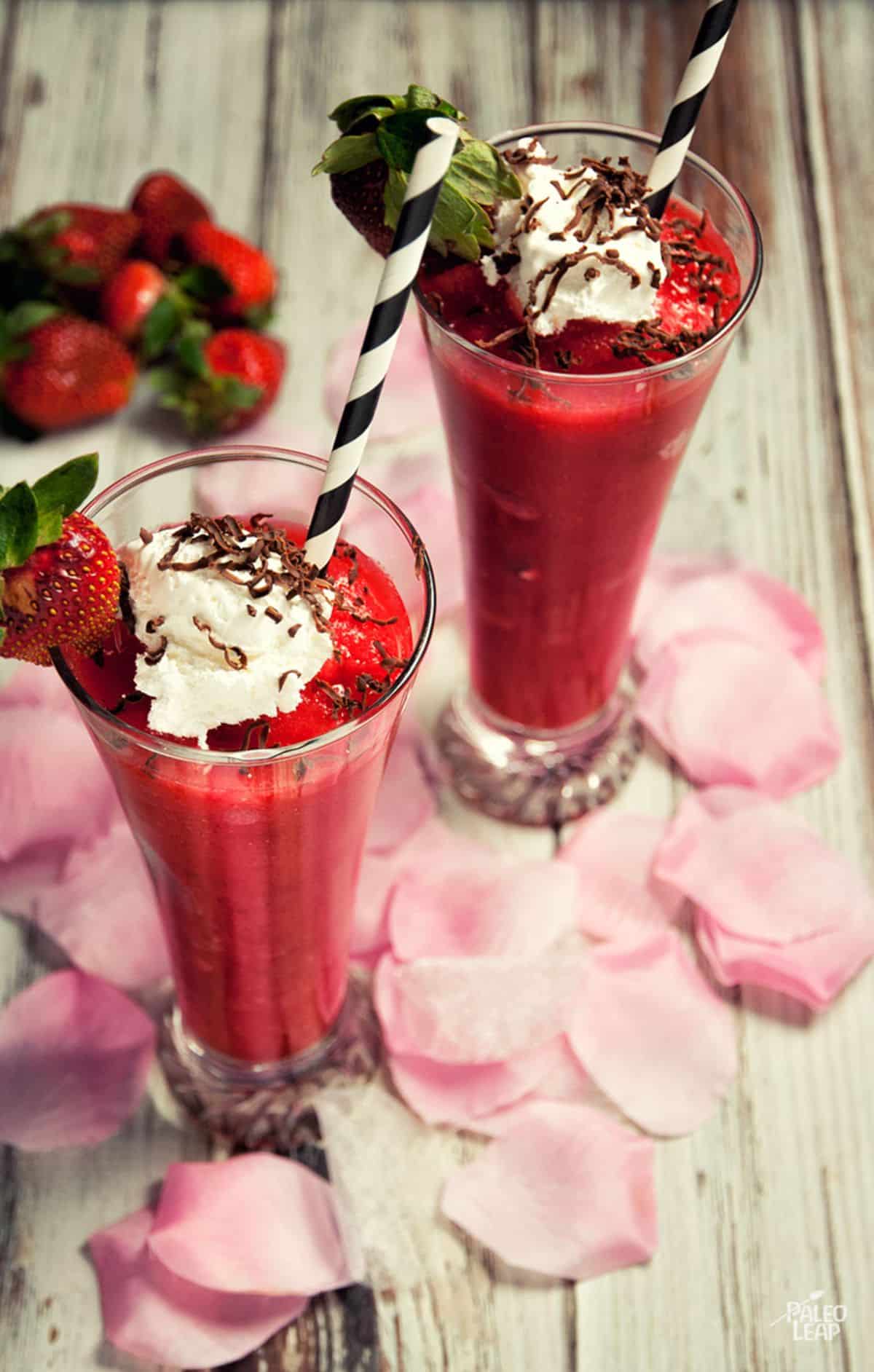 If you've never made coconut-milk whipped cream before, it's not hard, but the process is a little counterintuitive. Take an unopened can of full-fat coconut milk (do not use the "lite" kind; it won't work) and stick it in the fridge, preferably overnight.
Then turn it upside-down and open the bottom with a can opener. At the "top" (which is really the bottom of the can), you'll see a layer of coconut water; you can use this in the actual drink or do whatever else you like with it. Below that, there will be a layer of solid cream.
Take that coconut cream and whip it for a few minutes until it gets fluffy like whipped cream. Add vanilla if you like.
The key point here is to chill the milk and drain away the water; if you try to whip it with that water still in, it won't work. Alternatively, if you can find it, you can buy small cans labeled "coconut cream" – this is not the same as coconut milk, and you can chill and whip it without separating any water.
It's a lot less laborious than it sounds, really! And if you don't want to fiddle with all that while your strawberries are melting, you can always do it in advance and keep the whipped cream in the fridge for a few minutes while you blend the drink.
Of course, if you do dairy, you could always just use ordinary whipped cream, or you could leave it off entirely if you're not a fan; the drink is delicious even without it.
You can add rum to this if you like, but you can also leave it out to serve to kids or if alcohol just doesn't work for you.
Either way, it's a delicious treat and a great way to add something beautiful to the middle of a cold, gray month and a much healthier alternative to conversation hearts!
Frozen Coconut Strawberry Drink Recipe
SERVES: 2 PREP: 15 min
Ingredients
8 oz. coconut water
¼ cup fresh lime or lemon juice
12 oz. frozen strawberries
8 oz. crushed ice
4 to 6 oz. rum (totally optional)
Homemade coconut whipped cream (optional)
Dark chocolate, shredded (optional)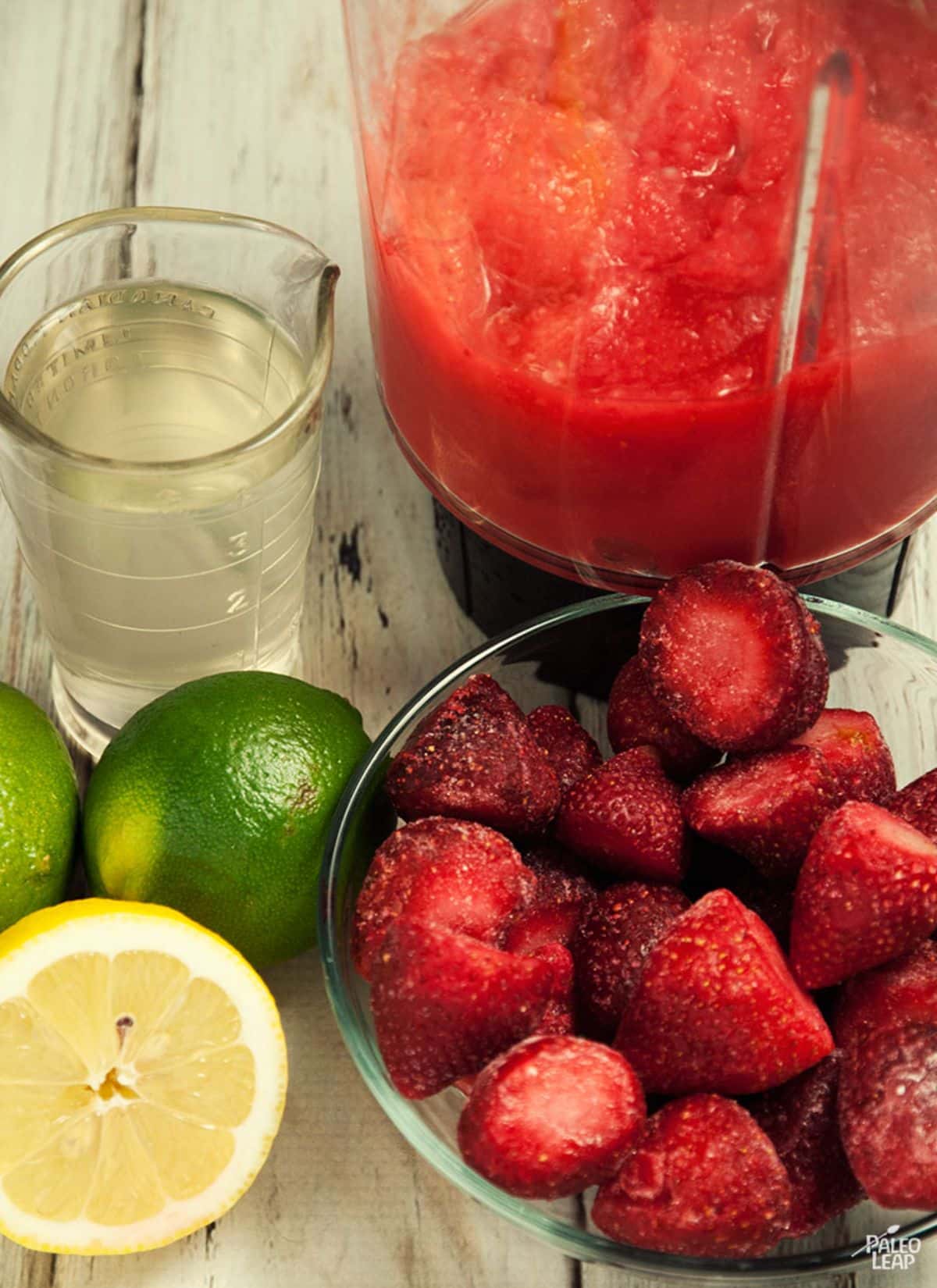 Preparation
Combine the coconut water, lime juice, ice, strawberries, and rum, if using, in a blender.
Pulse until smooth.
Pour the liquid into serving glasses, top with the homemade coconut whipped cream, and sprinkle with shredded chocolate.
📖 Recipe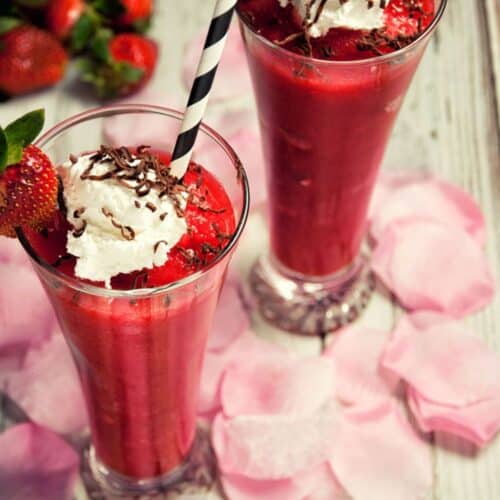 Frozen Coconut Strawberry Drink Recipe
A healthy take on chocolate-covered strawberries that tastes as good as it looks! (alcohol optional)
Ingredients
8

oz.

coconut water

¼

cup

fresh lime or lemon juice

12

oz.

frozen strawberries

8

oz.

crushed ice

4 to 6

oz.

rum

totally optional

Homemade coconut whipped cream

optional

Dark chocolate

shredded (optional)
Instructions
Combine the coconut water, lime juice, ice, strawberries, and rum, if using, in a blender .

8 oz. coconut water,

¼ cup fresh lime or lemon juice,

12 oz. frozen strawberries,

8 oz. crushed ice,

4 to 6 oz. rum

Pulse until smooth.

Pour the liquid into serving glasses, top with the homemade coconut whipped cream, and sprinkle with shredded chocolate.

Homemade coconut whipped cream,

Dark chocolate
Nutrition
Calories:
214
kcal
Carbohydrates:
19
g
Protein:
2
g
Fat:
1
g
Saturated Fat:
0.2
g
Polyunsaturated Fat:
0.3
g
Monounsaturated Fat:
0.1
g
Sodium:
127
mg
Potassium:
576
mg
Fiber:
5
g
Sugar:
12
g
Vitamin A:
22
IU
Vitamin C:
115
mg
Calcium:
60
mg
Iron:
1
mg