Take your roasted-fish game up a notch with this quick but flavor-packed recipe. Cod on its own can be a little bland, but that just makes it a perfect canvas for a rich topping.
Salty and porky prosciutto, sharp Dijon mustard, and a squeeze of lemon juice add some serious flavor to the fish, and using ghee as a base add richness and a delicious velvety texture, not to mention some nutritious fat to go with such a lean fish.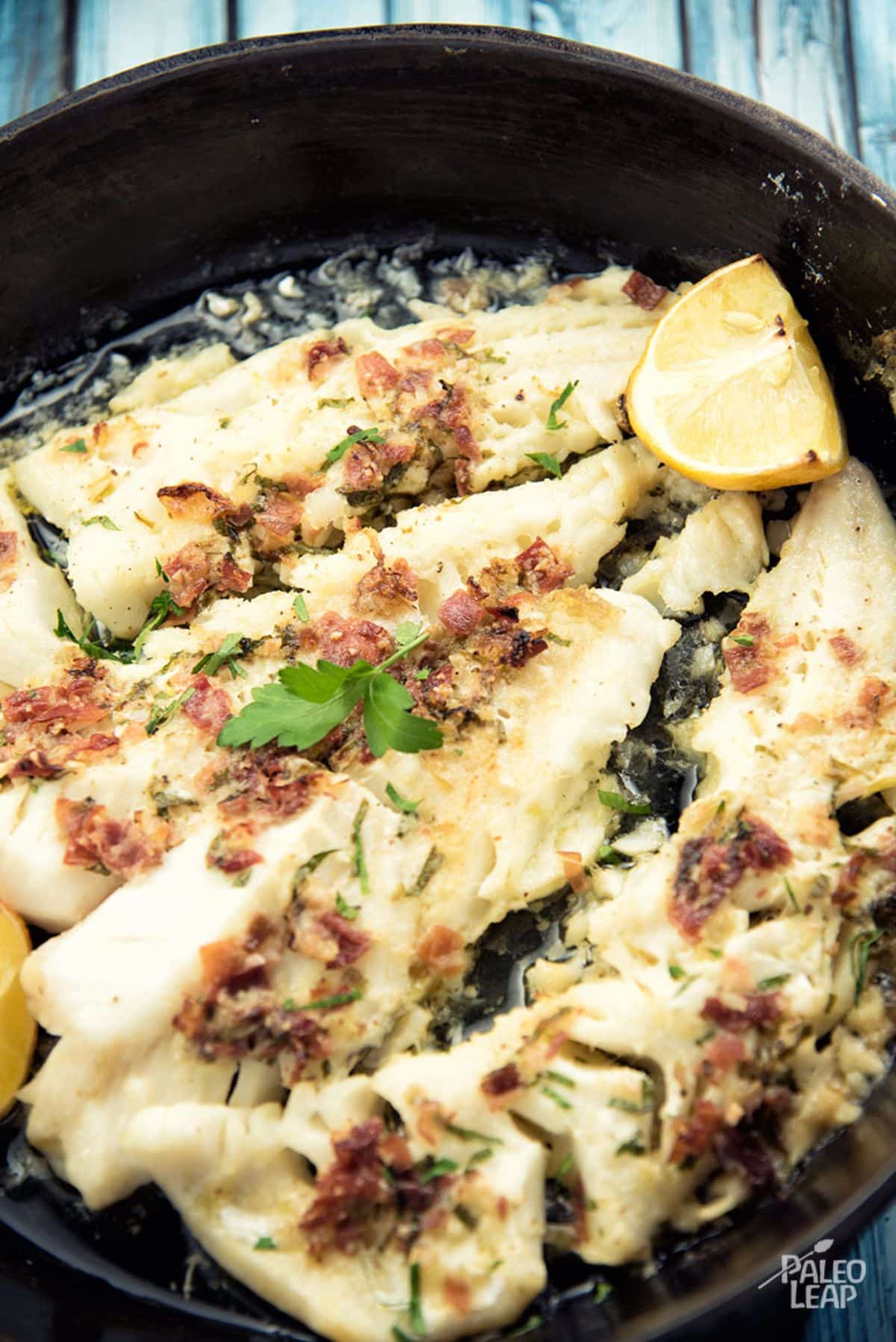 If you're not familiar with prosciutto, it's a type of cured pork; you can often find it next to pepperoni and bacon.
Just make sure you get a kind without junk ingredients. You don't need a lot of it, just enough to add flavor without making the dish as a whole feel heavy.
Because it's all made in one pan, this is a very quick dish to throw together for dinner with a big leafy salad and some fresh fruit for dessert.
It's especially great if you're eager for the summer cooking season but not quite impatient enough to haul out the grill in March – a plate full of fresh, lemony fish makes the wait so much more enjoyable.
Garlic Roasted Cod Recipe
SERVES: 4 PREP: 15 min COOK: 20 min
Ingredients
4 x 7 oz. cod fillets, skinless
¼ cup ghee, softened
1 tbsp. chopped flat-leaf parsley
2 garlic cloves, peeled and minced
1 shallot, minced
1 tsp. Dijon mustard
3 tbsp. prosciutto, minced
2 tbsp. freshly squeezed lemon juice
2 tbsp. cooking fat
Lemon wedges for garnishing
Sea salt and freshly ground black pepper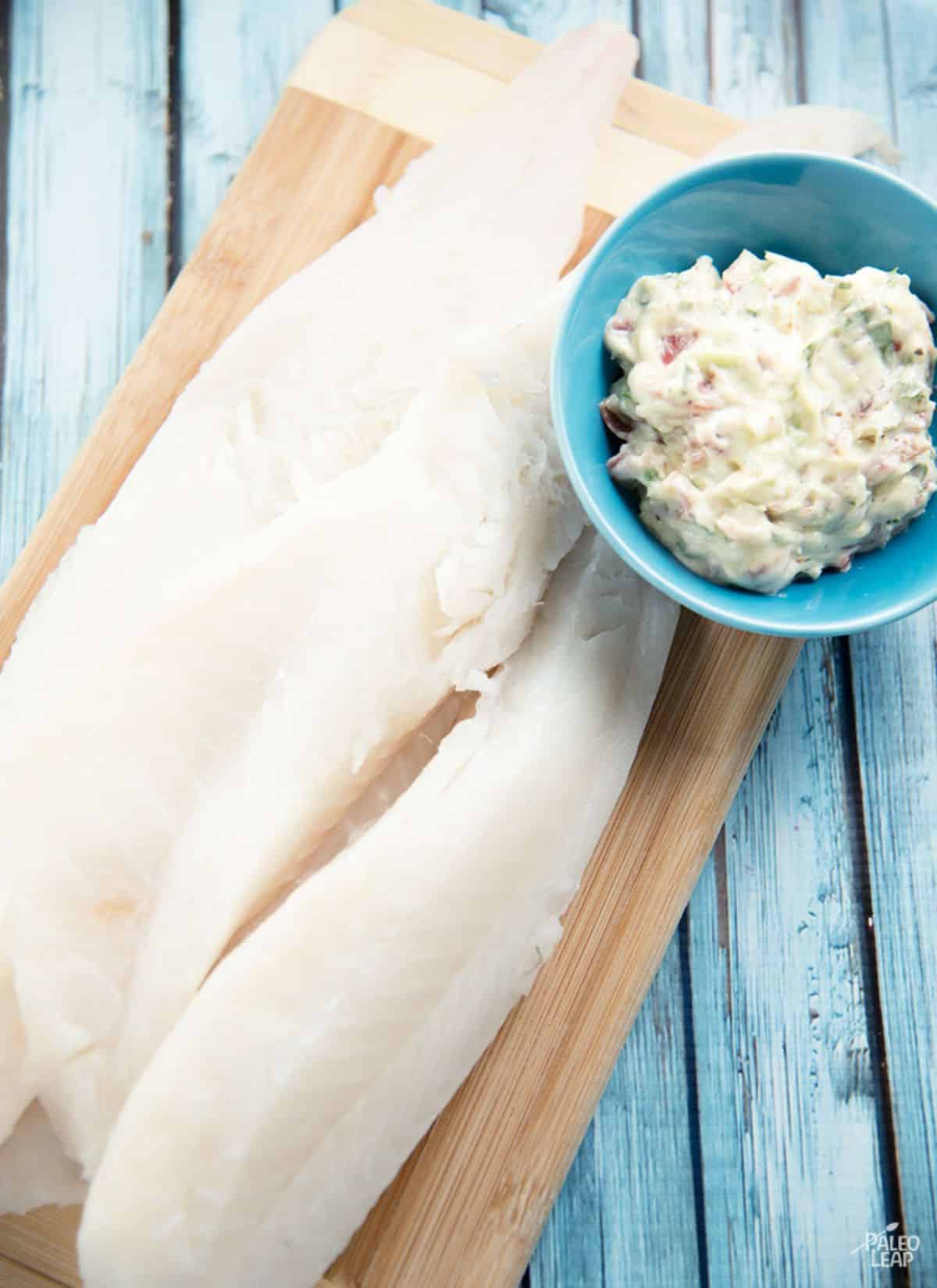 Preparation
Preheat your oven to 425 F.
In a bowl, combine the ghee, parsley, garlic, shallot, Dijon mustard,  prosciutto, and lemon juice, and season with salt and pepper to taste.
Season the cod fillets to taste.
Heat the cooking fat in an ovenproof skillet placed over medium-high heat.
Cook the fillets for 3 to 4 minutes per side.
Spread the ghee mixture equally over each fillet. Transfer to the oven and bake for 5 to 10 minutes or until the fish is cooked through.
Serve with lemon wedges.
📖 Recipe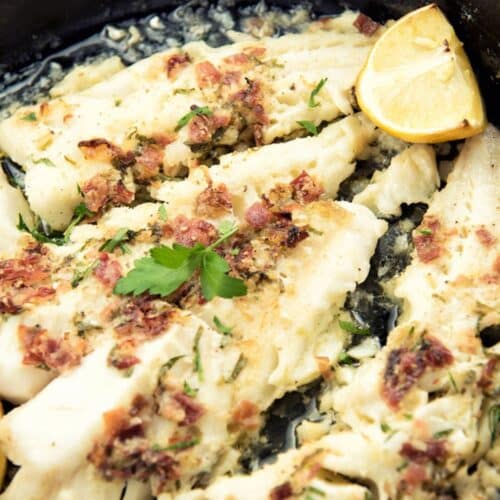 Garlic Roasted Cod Recipe
Tender cod fillets seared in a hot skillet and then baked with a topping of ghee and prosciutto, with just a little bit of mustard for taste.
Instructions
Preheat your oven to 425 F.

In a bowl, combine the ghee, parsley, garlic, shallot, Dijon mustard, prosciutto, and lemon juice, and season with salt and pepper to taste.

¼ cup ghee,

1 tbsp. chopped flat-leaf parsley,

2 garlic cloves,

1 shallot,

1 tsp. Dijon mustard,

3 tbsp. prosciutto,

2 tbsp. freshly squeezed lemon juice,

Sea salt and freshly ground black pepper

Season the cod fillets to taste.

Heat the cooking fat in an ovenproof skillet placed over medium-high heat.

Cook the fillets for 3 to 4 minutes per side.

Spread the ghee mixture equally over each fillet. Transfer to the oven and bake for 5 to 10 minutes or until the fish is cooked through.

Serve with lemon wedges.

Lemon wedges for garnishing
Nutrition
Calories:
959
kcal
Carbohydrates:
3
g
Protein:
162
g
Fat:
29
g
Saturated Fat:
11
g
Polyunsaturated Fat:
7
g
Monounsaturated Fat:
8
g
Trans Fat:
0.1
g
Cholesterol:
423
mg
Sodium:
576
mg
Potassium:
3796
mg
Fiber:
0.4
g
Sugar:
1
g
Vitamin A:
677
IU
Vitamin C:
18
mg
Calcium:
156
mg
Iron:
4
mg