There's a good reason why gyros are such a popular street food in Greece and all over the Mediterranean world: savory beef and lamb infused with herbs and onions and all cooked together, so the flavors really settle in – it's just good stuff.
Except for the bun that it's usually thrown on top of, you can just as easily replace that with a salad for a Paleo-friendly experience.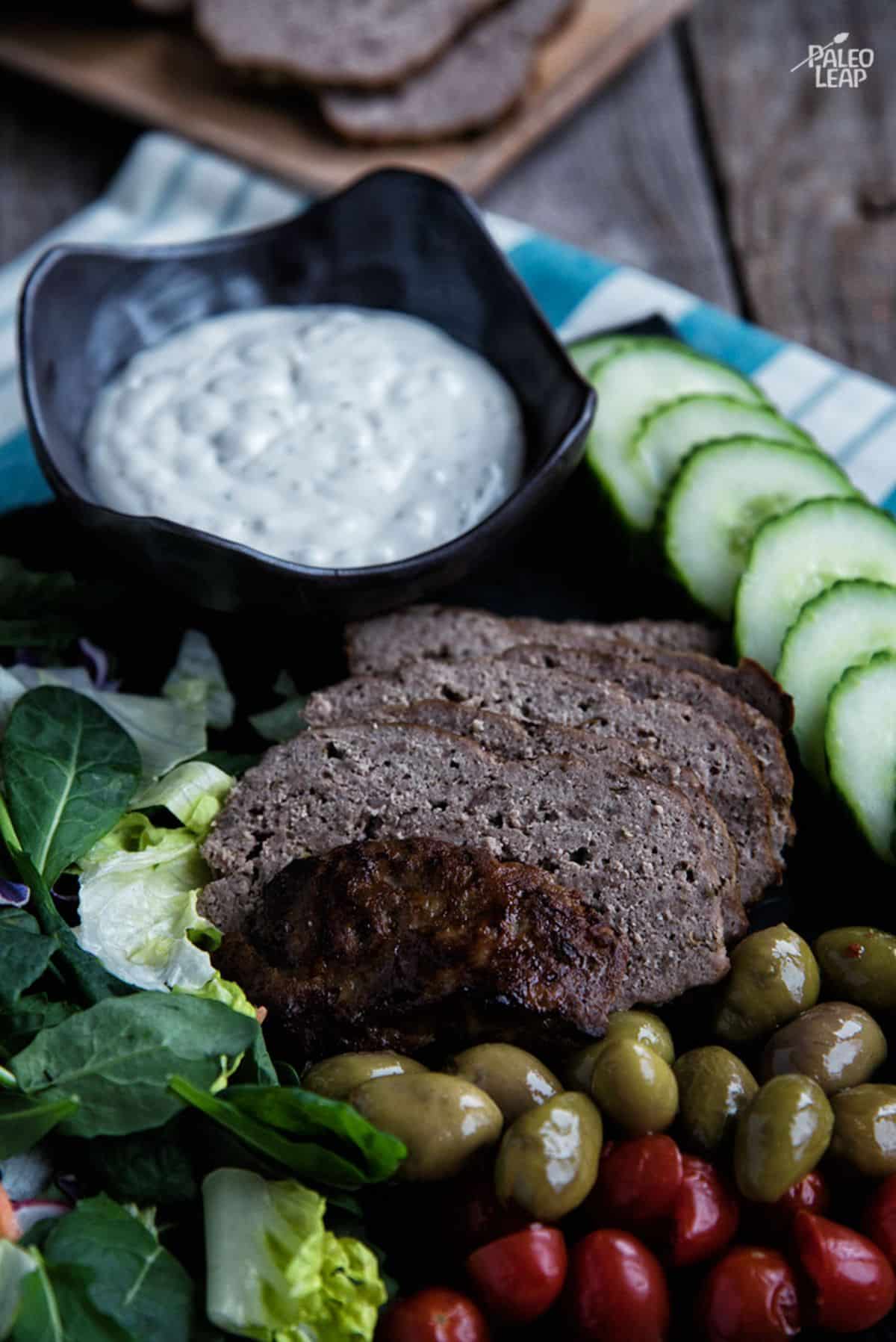 The prep process here does need you to pull out the food processor twice: blending the meat is how you get that trademark gyros texture.
Gyros meat is usually cooked on a big stick, like a rotisserie chicken but vertically instead of horizontally. Since most of us don't have a whole rotisserie setup just hanging around, here it's done in a loaf pan instead.
If lamb isn't really your thing, and if you're OK with eating veal, you could also replace the lamb with veal. There's a whole debate over whether or not it's actually possible to produce ethical veal – check it out before you decide, but if you aren't convinced, then you could also just use 2 pounds of beef.
Any extra meat from this would be really great as leftovers for lunch the next day or put it in a Greek-inspired omelet if you don't quite have enough to make a meal.
Gyro Salad Platter Recipe
SERVES: 4 PREP: 20 min + 1 h COOK: 1 h
Ingredients
1 lb ground lamb
1 lb ground beef
1 onion, roughly chopped
2 garlic cloves, minced
1 tsp. dried oregano
1 tsp. ground cumin
1 tsp. dried marjoram
1 tsp. ground dried rosemary
1 tsp. ground dried thyme
Sea salt and freshly ground black pepper
Salad Ingredients
4 to 5 cups mixed salad greens
1 English cucumber, sliced
½ cup cherry tomatoes, sliced
¼ cup kalamata olives
Greek-Style Dressing Ingredients
1 cup olive oil or homemade mayonnaise (use olive oil for egg-free)
1 garlic clove, minced
2 tsp. dried oregano
2 tsp. dried basil
2 tsp. Dijon mustard
3 tbsp. red wine vinegar
Sea salt and freshly ground black pepper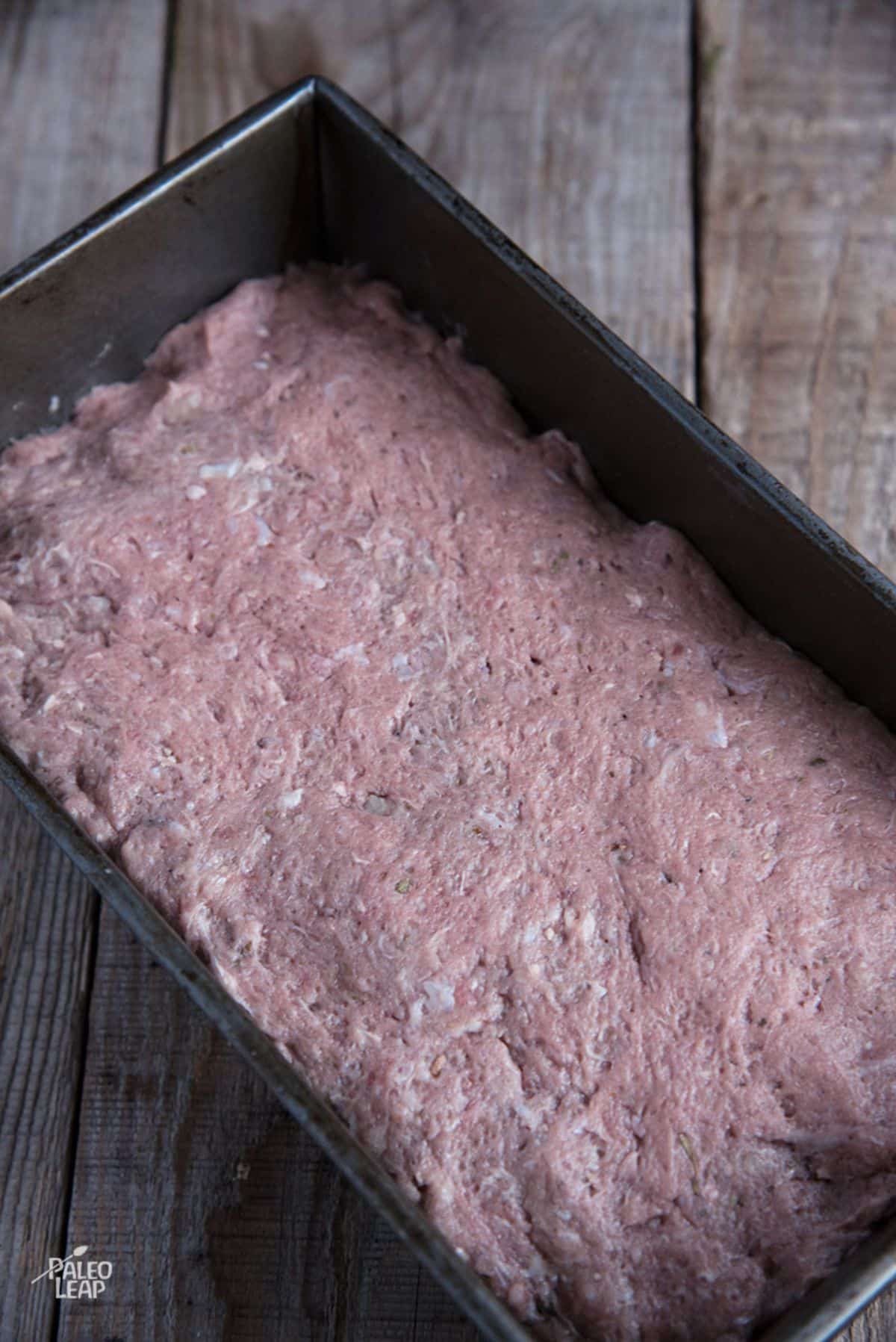 Preparation
Place the onion in a food processor, and process until finely chopped.
Mix the onions with the ground lamb and beef.
Add the garlic, oregano, cumin, marjoram, rosemary, thyme, and season with salt and pepper to taste.
Mix until well combined. Cover and refrigerate for 1 to 2 hours.
Preheat your oven to 350 F.
Place the meat mixture into a food processor and pulse until very well-blended and almost creamy. (you may want to do it in batches.)
Scrape the mixture into a loaf pan. Place the loaf pan inside a bigger baking dish, and fill the bigger dish halfway with water.
Bake in the oven for 50 to 60 minutes or until the inside is no longer pink.
Remove the meat from the pan, and let rest for 20 minutes before slicing.
Combine all the ingredients for the dressing and stir well.
In a salad bowl, combine all the ingredients for the salad;
Serve the gyro meat with the salad, and drizzle with the dressing.
📖 Recipe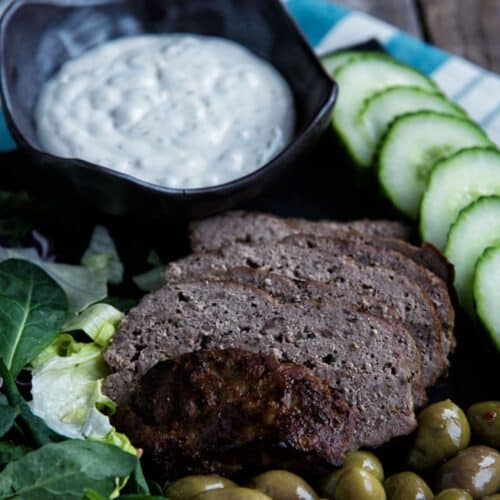 Gyro Salad Platter Recipe
Skip the pita but keep the combination of meat and delicious Mediterranean spices in an herbal sauce.
Ingredients
1

lb

ground lamb

1

lb

ground beef

1

onion

roughly chopped

2

garlic cloves

minced

1

tsp.

dried oregano

1

tsp.

ground cumin

1

tsp.

dried marjoram

1

tsp.

ground dried rosemary

1

tsp.

ground dried thyme

Sea salt and freshly ground black pepper

4 to 5

cups

mixed salad greens

1

English cucumber

sliced

½

cup

cherry tomatoes

sliced

¼

cup

kalamata olives

1

cup

olive oil or homemade mayonnaise

use olive oil for egg-free

1

garlic clove

minced

2

tsp.

dried oregano

2

tsp.

dried basil

2

tsp.

Dijon mustard

3

tbsp.

red wine vinegar

Sea salt and freshly ground black pepper
Instructions
Place the onion in a food processor, and process until finely chopped.

Mix the onions with the ground lamb and beef.

1 lb ground lamb,

1 onion,

1 lb ground beef

Add the garlic, oregano, cumin, marjoram, rosemary, thyme, and season with salt and pepper to taste.

2 garlic cloves,

1 tsp. ground cumin,

1 tsp. dried marjoram,

1 tsp. ground dried rosemary,

1 tsp. ground dried thyme,

Sea salt and freshly ground black pepper,

1 tsp. dried oregano

Mix until well combined. Cover and refrigerate for 1 to 2 hours.

Preheat your oven to 350 F.

Place the meat mixture into a food processor and pulse until very well-blended and almost creamy. (you may want to do it in batches.)

Scrape the mixture into a loaf pan. Place the loaf pan inside a bigger baking dish, and fill the bigger dish halfway with water.

Bake in the oven for 50 to 60 minutes or until the inside is no longer pink.

Remove the meat from the pan, and let rest for 20 minutes before slicing.

Combine all the ingredients for the dressing and stir well.

2 garlic cloves,

Sea salt and freshly ground black pepper,

1 cup olive oil or homemade mayonnaise,

2 tsp. dried basil,

2 tsp. Dijon mustard,

3 tbsp. red wine vinegar,

2 tsp. dried oregano

In a salad bowl, combine all the ingredients for the salad;

1 English cucumber,

½ cup cherry tomatoes,

1 garlic clove,

¼ cup kalamata olives

Serve the gyro meat with the salad, and drizzle with the dressing.

4 to 5 cups mixed salad greens
Nutrition
Calories:
1165
kcal
Carbohydrates:
15
g
Protein:
41
g
Fat:
106
g
Saturated Fat:
28
g
Polyunsaturated Fat:
9
g
Monounsaturated Fat:
62
g
Trans Fat:
1
g
Cholesterol:
163
mg
Sodium:
326
mg
Potassium:
1010
mg
Fiber:
5
g
Sugar:
3
g
Vitamin A:
953
IU
Vitamin C:
22
mg
Calcium:
246
mg
Iron:
11
mg