Chili purists might not like the comparison, but this hearty fall soup is almost like a pumpkin-flavored take on chili: it's got all the hallmarks of traditional chili (the spicy punch, the onions and peppers, and the rich tomato base pulling everything together), but with just enough of a twist to set it apart.
As with any Paleo chili recipe, this one is also beanless; here, cauliflower makes up the difference in texture, with a significant advantage in nutrition.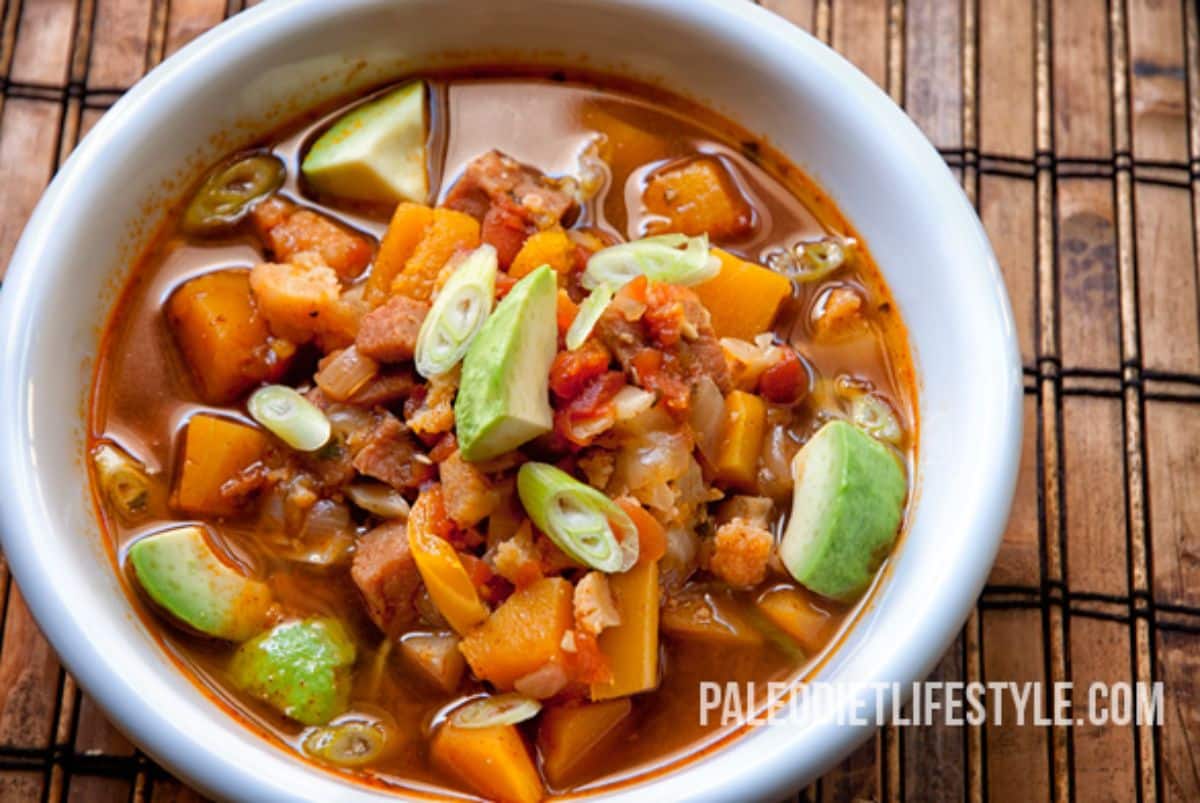 Simmered slowly in rich homemade stock, all these vegetables become tender and flavorful, a sweet-savory backdrop for the traditional spicy chili seasoning.
It's warm and comforting, a great alternative if you want a pumpkin recipe that isn't all about pies and pancakes and sweet flavors.
It's also a perfect workaround if you're worried about your pumpkin getting watery: many aspiring pumpkin pie bakers are disappointed to find their best efforts sabotaged by a watery pumpkin, but in a soup, you can simply add a little less liquid, and the problem disappears!
If you aren't a big fan of ham, you can easily substitute chicken here; the result will be a little different but just as delicious.
Topping the bowl off with green onions and avocado adds one more tweak for your taste buds to get interested in – not to mention plenty of healthy fat and a pretty bright-green garnish. Serve it up as a hearty weekend lunch or a well-earned dinner after a long day at work, and enjoy!
Ham and Pumpkin Soup Recipe
SERVES: 6 PREP: 15 min COOK: 3 h
Ingredients
2 ½ cups of cooked ham;
1 medium onion, chopped;
1 yellow bell pepper, chopped;
3 garlic cloves, minced;
1 cauliflower head, chopped;
15 oz. pumpkin flesh, cubed;
14 oz. diced tomatoes;
1 avocado, cubed;
1 green onion, thinly sliced;
3 garlic cloves, minced;
3 cups chicken stock;
2 tsp. dried parsley flakes;
2 tsp. chili powder;
1 tsp. ground cumin;
1 tsp. dried oregano;
Sea salt and freshly ground black pepper to taste;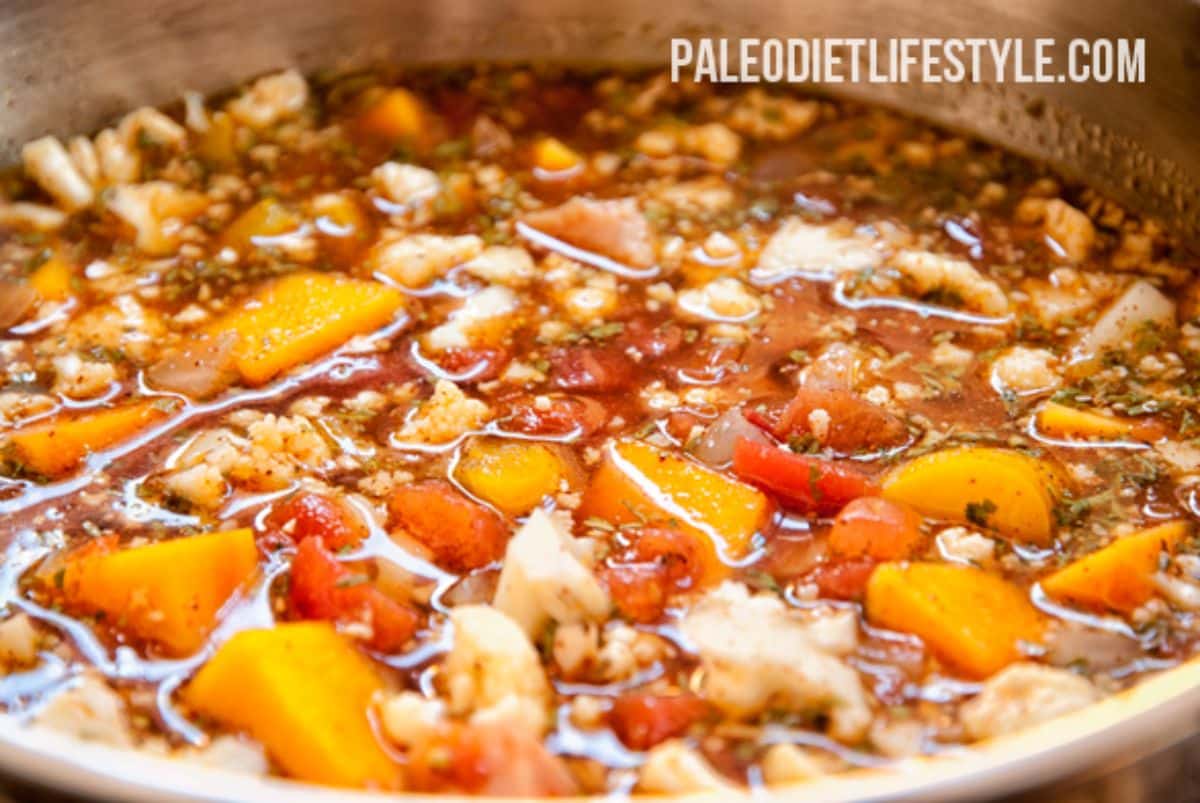 Preparation
In a large saucepan, heat the cooking fat over medium-high heat.
Add the onion and pepper, and cook, frequently stirring, until tender (about 4 minutes). Add the garlic and cook for 1 more minute.
Stir in all the remaining ingredients except for the avocado and the green onions.
Cook, covered, on low for 3 hours or until the pumpkin is soft.
Once the soup is ready, season with salt and pepper to taste and pour it into individual bowls. Top with the avocado and green onions to serve.
📖 Recipe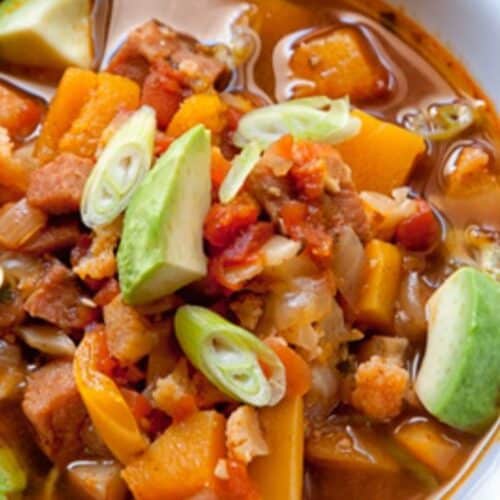 Ham and Pumpkin Soup Recipe
A spicy, comforting soup to warm you up from head to toe: it's almost like Paleo chili with an interesting pumpkin twist.
Instructions
In a large saucepan, heat the cooking fat over medium-high heat.

2 tbsp. ghee or other Paleo fat

Add the onion and pepper, and cook, frequently stirring, until tender (about 4 minutes). Add the garlic and cook for 1 more minute.

1 medium onion,

3 garlic cloves

Stir in all the remaining ingredients except for the avocado and the green onions.

2 ½ cups of cooked ham,

1 yellow bell pepper,

1 cauliflower head,

15 oz. pumpkin flesh,

14 oz. diced tomatoes,

3 garlic cloves,

3 cups chicken stock,

2 tsp. dried parsley flakes,

2 tsp. chili powder,

1 tsp. ground cumin,

1 tsp. dried oregano

Cook, covered, on low for 3 hours or until the pumpkin is soft.

Once the soup is ready, season with salt and pepper to taste and pour it into individual bowls. Top with the avocado and green onions to serve.

1 avocado,

Sea salt and freshly ground black pepper to taste,

1 green onion
Nutrition
Calories:
296
kcal
Carbohydrates:
26
g
Protein:
17
g
Fat:
16
g
Saturated Fat:
5
g
Polyunsaturated Fat:
2
g
Monounsaturated Fat:
7
g
Cholesterol:
51
mg
Sodium:
792
mg
Potassium:
1260
mg
Fiber:
7
g
Sugar:
9
g
Vitamin A:
6767
IU
Vitamin C:
114
mg
Calcium:
125
mg
Iron:
4
mg