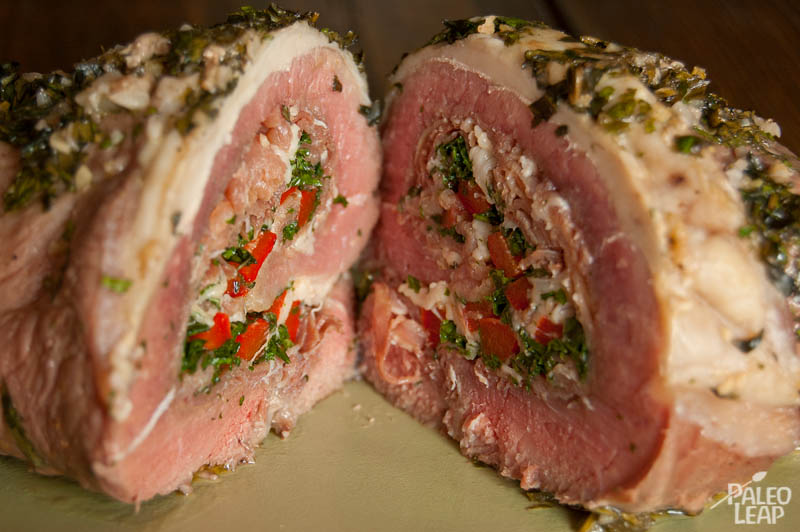 I was recently inspired to work with a cured meat I rarely use in the kitchen. Prosciutto is commonly recognized as dry-cured ham of Italian origin that is very thinly sliced. It's quite salty, yet with a good meaty taste. Creating this dish was difficult for me because not only do I rarely cook with it, I felt quite clueless on how to use it. Given my lifestyle, its common uses for sandwiches and pasta were not at all an option. However, I quickly realized that I was complicating the process further by feeling as though I had to treat the Prosciutto as the main component of the dish. Instead, I decided on using a nice cut of flank steak as my main ingredient and everything else seemed to come together quite easily from there. Essentially, the dish would be stuffed steak with herbs and Prosciutto. I found a great piece of steak from my local butcher that was long and thick. I cut it length-wise in such a way that the steak would open like a book, or take the shape of a butterfly. This butterfly technique is common when stuffing any kind of meat. I had some time to kill before dinner was to be served, so I allowed the meat to marinade for a few hours. After that, I stuffed it with herbs and veggies, along with the prosciutto and it created for one of the most flavorful steaks I have ever had.
I generally recommend against eating any form of cured meat because most of them are cured with sugar and some nasty preservatives, but Prosciutto, like bacon, can be a good choice when sourced correctly. When the Prosciutto is under PDO (Protected Designation of Origin), the only additional ingredient allowed to cure the ham is sea salt. In this sense, a good quality Prosciutto is not much unlike a good quality bacon, only pork meat and sea salt. You should be able to easily find good quality Prosciutto at any Italian specialty food shop. The people working there will most likely be very happy to tell you about the origin and preparation of that special and tasty cured ham.
Unlike what it might look like at first glance, this recipe is pretty simple to realize and is not very time consuming. The only special piece of equipment you might need is some kitchen twine, to hold the steak together.
Herb and prosciutto stuffed steak recipe
Serves 3

Values are per portion. These are for information only & are not meant to be exact calculations.
Ingredients
1 flank steak or other thick steak;
6 slices good quality prosciutto;
1 red bell pepper, chopped;
3 tbsp fresh parsley, finely chopped;
12 fresh basil leaves, finely chopped;
Marinade
¼ cup extra-virgin olive oil;
¼ cup red wine;
2 cloves garlic, minced;
Sea salt and freshly ground black pepper to taste;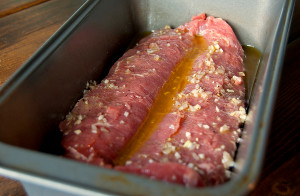 Preparation
In a bowl large enough to contain the steak, combine all the ingredients to make up the marinade.
Butterfly the steak by cutting it length-wise and opening it up so that there is an evident seam along the middle.
Place the steak in the marinade and allow it to marinade for approximately 1 to 2 hours at room temperature.
Preheat your oven to 350 F.
Remove the steak from the marinade and keep the remaining marinade for later. Lie the steak open and fill it with prosciutto, bell pepper cubes, 2 tbsp parsley and ¾ of the basil.
Allow the steak to lie vertically in front of you and roll tightly. You may need strings to keep the roll closed while cooking.
Place the rolled meat on a baking sheet, cover in the remaining marinade and sprinkle with the remaining herbs.
Put in the preheated oven and allow it to cook for approximately 30 minutes.
Mash up some sweet potatoes or even just a light salad on the side and you have yourself a great meal. Enjoy!