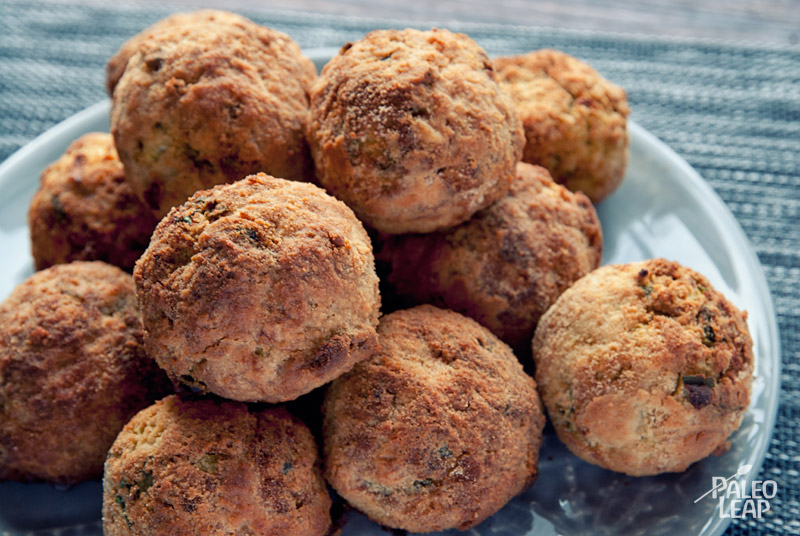 A staple of vegan restaurants, falafel balls are addictive little rounds of chickpeas or other beans: crispy on the outside, fluffy on the inside, and seasoned with a delicious spice mix. Unfortunately, the falafel you'll find in restaurants has two strikes against it from a Paleo perspective: it's made from legumes, and it's deep-fried (which almost always means some kind of re-used seed oil high in PUFA).
But none of that prevents you from making your own falafel, with healthier ingredients. Instead of chickpeas, this Paleo version uses cauliflower and zucchini for the fluffy interior, with an egg to hold it all together and the same delicious spice blend that falafel-lovers can't get enough of. And coconut oil replaces the seed oil with a much healthier fat. You can make Paleo falafel either on the stovetop or in the oven: the oven takes longer, but they'll hold their shape more easily.
Without pita bread or crackers, a lot of people question what use they might have for homemade Paleo condiments and dipping sauces like relish or baba ghanoush: here's your answer! Another delicious option (if you tolerate dairy) is to drizzle your falafel with homemade yogurt; the tangy taste of the yogurt really compliments the light warmth of the falafel. They also make delicious toppings for salads. But if you don't want to do any of that, you can always just serve them plain, as a snack or appetizer, for a Middle Eastern food fix without the stomachache later.
Homemade Falafel Recipe

SERVES: 4

PREP: 25 min.

COOK: 40 min.

Values are per portion. These are for information only & are not meant to be exact calculations.
Ingredients
1 cup onion, roughly chopped;
2 cups cauliflower, cut into florets;
1 zucchini, roughly chopped;
4 garlic cloves;
½ cup fresh parsley leaves;
½ cup fresh cilantro leaves;
¼ tsp. chili powder;
2 tsp. cumin;
½ tsp. turmeric;
½ cup almond flour;
Zest of one lemon;
1 egg, beaten;
Melted coconut oil;
Sea salt and freshly ground black pepper;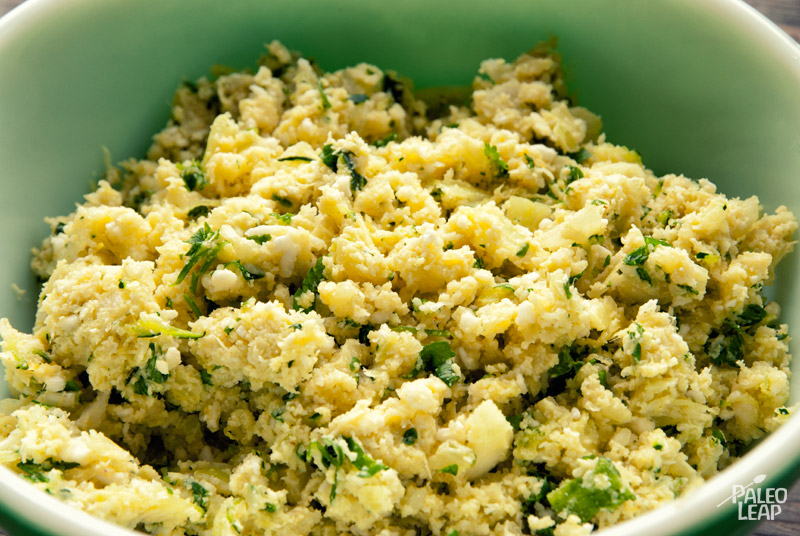 Preparation
Preheat your oven to 375 F.
In a food processor, blend the onion, cilantro, parsley, and garlic until finely minced. Set them aside in a large bowl.
Repeat the process with the cauliflower and the zucchini and add them to the bowl with the onion mixture.
Add the lemon zest, cumin, chili powder, turmeric, almond flour and beaten egg to the bowl. Combine everything well, and season to taste.
Let the mixture rest for a few minutes.
Spread some melted coconut oil over a baking sheet.
Form medium-sized balls with your hands and place them on the baking sheet.
Brush some more oil over the falafel and place in the oven.
If you're cooking them in the oven, bake for 40 minutes. Halfway through, turn the falafel and brush them with some more oil.
If you're cooking them on the stove, pre-heat a generous amount of coconut oil in a large sauté pan placed over a medium heat for about 4 minutes. Then add the falafel, browning them on the first side for 4 minutes, then flipping them once and browning the second side until the mixture is cooked throughout.