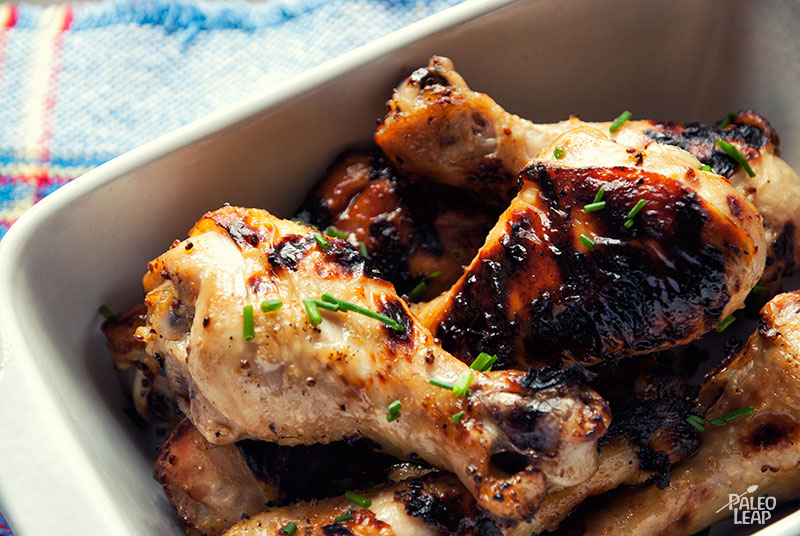 Sweet on your tongue and sticky on your fingers, but still with that unmistakable tingle of mustard at the back of your nose, honey-mustard sauce is a crowd favorite for a reason. And after a nice long marinade, these drumsticks soak it all in, just in time for a quick turn on the grill and a starring spot on your dinner plate. One makes a snack, three make a meal, and the leftovers are ideal for tossing into lunchboxes for some quick protein on the go.
If you're avoiding honey, you can also omit it from this recipe: you won't get the same honey-mustard flavor, but a mustard-garlic marinade is also a delicious option for drumsticks – it goes really well with braised or oven-roasted cabbage. The coconut aminos (a naturally wheat-free, soy-free substitute for soy sauce that you can find at Whole Foods or other natural grocery stores) are also optional, although they do add an extra savory touch.
Grilling adds a wonderful smoky flavor to the drumsticks, but if it's still too wintery to even think about busting out the BBQ, you can also bake the drumsticks in the oven. Just preheat to 400 F and cook 30 to 35 min, or until they're done. Sprinkle some chives on top to bring out the crusty golden skin, and enjoy a kid-friendly option for a classic dinner made healthy.
Honey-mustard Drumsticks Recipe

SERVES: 4

PREP: 15min+2h.

COOK: 30 min.
Values are per portion. These are for information only & are not meant to be exact calculations.
Ingredients
4 lbs. chicken drumsticks, washed and patted dry;
¼ cup Dijon or homemade mustard;
2 tbsp. mustard powder;
3 cloves garlic, minced;
1/3 cup raw honey; (optional)
2 tbsp. coconut aminos; (optional)
Chives for garnishing;
Sea salt and freshly ground black pepper;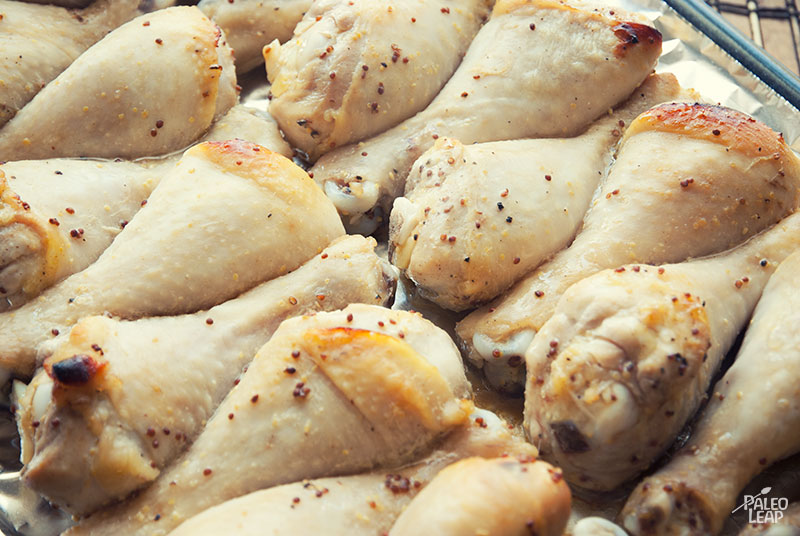 Preparation
In a small bowl whisk together the Dijon mustard, mustard powder, honey, garlic, coconut aminos, and salt and pepper to taste.
Pour the mustard marinade over the drumsticks and refrigerate them for at least 2 hours.
Preheat your grill to a medium-high.
Grill the drumsticks 25 to 30 minutes, turning every 5 minutes and basting with any leftover marinade.
When the chicken is cooked, sprinkle with fresh chives and serve.