When it comes to meal tracking, some people are diehard trackers, and other people just aren't. Some people appreciate the accountability of writing everything down, or the ability to easily look back over a month and match symptoms to different foods; other people find it cumbersome and time-consuming for no real benefit.
And then there's a third group: people who think they hate food tracking because the only kind they've ever done is the laborious and annoying count-every-calorie version. These people might benefit from food tracking done differently, but they sure aren't going to go back to obsessing over every nutrition label.
If you're in the anti-tracking camp and non-tracking is working for you, great: carry right on with your food diary-free ways. But if you want a way to get the benefits of meal tracking without calorie-counting, or if you're a tracker by nature and want some Paleo options, here's how to make it work.
Benefits of Meal Tracking
Meal tracking isn't for everyone, but it can be a useful tool for many, depending on their goals:
It can let you easily spot food patterns that cause your body to respond in certain ways. For example, maybe your weight loss has been stalling lately, but if you look back at your food log, you see a slow increase in Paleoified desserts made with a lot of honey and nut flour. Problem spotted: now you know what to do to address the stall.
It can help you stay accountable and keep things in perspective. Writing everything down helps prevent one bad choice from turning into a week of bad choices, because it helps engage your rational brain so you can see the one bad choice in context and get some instant perspective.
It helps you spot potential nutritional deficiencies in your diet. If you never eat any leafy greens or bone-in fish, you might be struggling with calcium. If you never eat any seafood, you might not be getting enough Omega-3s. Most of us are pretty bad at estimating these things over a month or two; a food diary can help a lot.
It helps you keep track of little things that slip past the radar but add up over time. A cookie here, a piece of candy there – it's not necessarily wrong to eat those things, but don't pretend you're being 100% strict about Paleo if you do. If you commit to logging everything (including snacks, treats, desserts, drinks, and meals out!), you'll stay mindful of these little things.
Note that none of these benefits require you to count calories specifically!
Different Methods: Pick your Favorites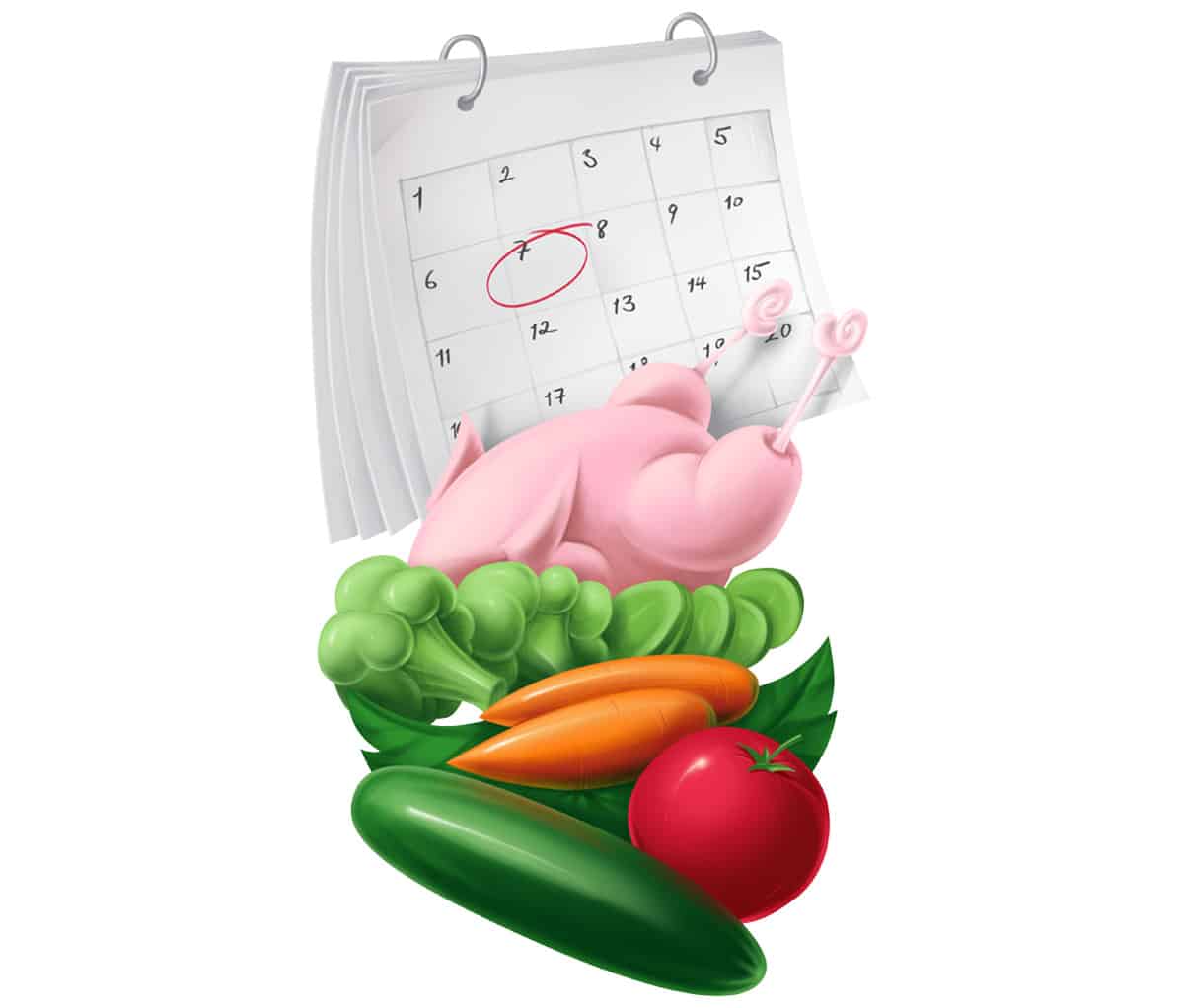 The number one rule of Paleo meal tracking:
Meal tracking does not equal calorie-counting.
You don't have to weigh or measure anything to get the benefits of meal tracking, and you don't have to tally up calories. Calorie-counting is rarely effective as a method for actual human beings in the real world, even though weight loss does ultimately depend on calories. Calories aren't meaningless; it's just that directly addressing calorie intake isn't actually the best way to create an overall calorie deficit. This is very counterintuitive, but if you're skeptical here are 10 reasons why calorie-counting doesn't actually work.
Even if you don't count calories, though, there are plenty of other ways to track your food. You could…
Note what you ate without worrying about calories or macros – just track what you had at each meal and snack. How did it taste? If this was a new recipe, would you cook it again? Any modifications? Think of it as part health habit, part culinary diary. Use it to reflect a little on your meals as meals, not just some food that you put in your mouth.
Optionally, score how Paleo each meal was (give yourself a score from 1-5 or something, according to your own personal version of Paleo).
If you find that carb restriction works well for you, track your carb count for each day.
Track other specific goals – maybe give yourself a gold star for every day you eat bone broth, or fermented foods, or fish. One easy and revealing option is to just track how many fresh vegetables you ate at every meal: the answer is a good proxy for how well you're following the spirit of Paleo.
Basically, just track what works for you. In business there's a saying that "what gets measured gets managed" – measure whatever you want tighter control over. If you're trying to figure out which foods trigger acne, constipation, autoimmune flares, or other symptoms, note your diet and your symptoms for each day.
You can use just about any set of tools to track your meals:
For the traditionalists: there's nothing wrong with a notebook and pencil.
If you prefer an electronic method but don't care about sharing it, just transfer your notebook to Word or Excel.
For the visual learners, taking pictures of your plate might be easier.
For the techno-geeks surgically attached to their phones, there's actually an app for that: PaleoViz is a visual food journal with a scoring system. (That's not an affiliate link and PaleoViz isn't affiliated with Paleo Leap at all; it's just FYI).
Of course, if you want a more fine-grained look at specific nutrients, you can also use a traditional nutrition tracker (there are a bunch online, and a lot of them come with mobile apps). If you're a nutrition nerd, these trackers can provide you with all the data you could ever dream of – breakdowns of protein by specific amino acid, everything calculated to the third decimal place, the ability to customize foods and recipes until they're perfectly accurate…but this can be time-consuming and encourage obsessive focus on individual nutrients – many people find it much more pleasant and sustainable in the long term just to write down what they ate.
It Only Works if You're Consistent.
The key to successful meal tracking is to do it every day. No excuses, and most importantly, don't skip a day of tracking because you ate something you feel guilty about. Look it square in the face, write it down, and then let it go: you'll feel better. Don't let the guilt control you.
Don't let one day of eating upset you so much that you can't bear the thought of writing it down – it's one day; that's nothing in the grand scheme of things. Making it into such a big deal can easily send you into a horrible spiral of guilt-eating junk to deal with how bad you feel about eating junk. (That might sound dumb right now, but when you're in the middle of a guilt-shame spiral, it feels very compelling).
Summing it Up
Meal tracking can be a great tool for sticking to Paleo, once you get out of the calorie-counting model and start looking at more holistic ways of keeping tabs on your food intake. Track whatever works for you, whether it's carbs, specific foods, particular nutrients, or just the overall Paleo-ness of your meals. For many people, just writing down what they ate is perfectly fine for accountability and health tracking purposes.
If you hate meal tracking in all its forms, then by all means, don't track your meals. It's not required. But if you're not happy with your non-tracking results, tracking can be a simple way to diagnose the problem, and there are plenty of ways to do it without going crazy over calories.