This salad brings back all of the flavors reminiscent of your local Italian pizza or sandwich shop. It combines the classic flavors of an Italian sub or hoagie... grinder, or hero.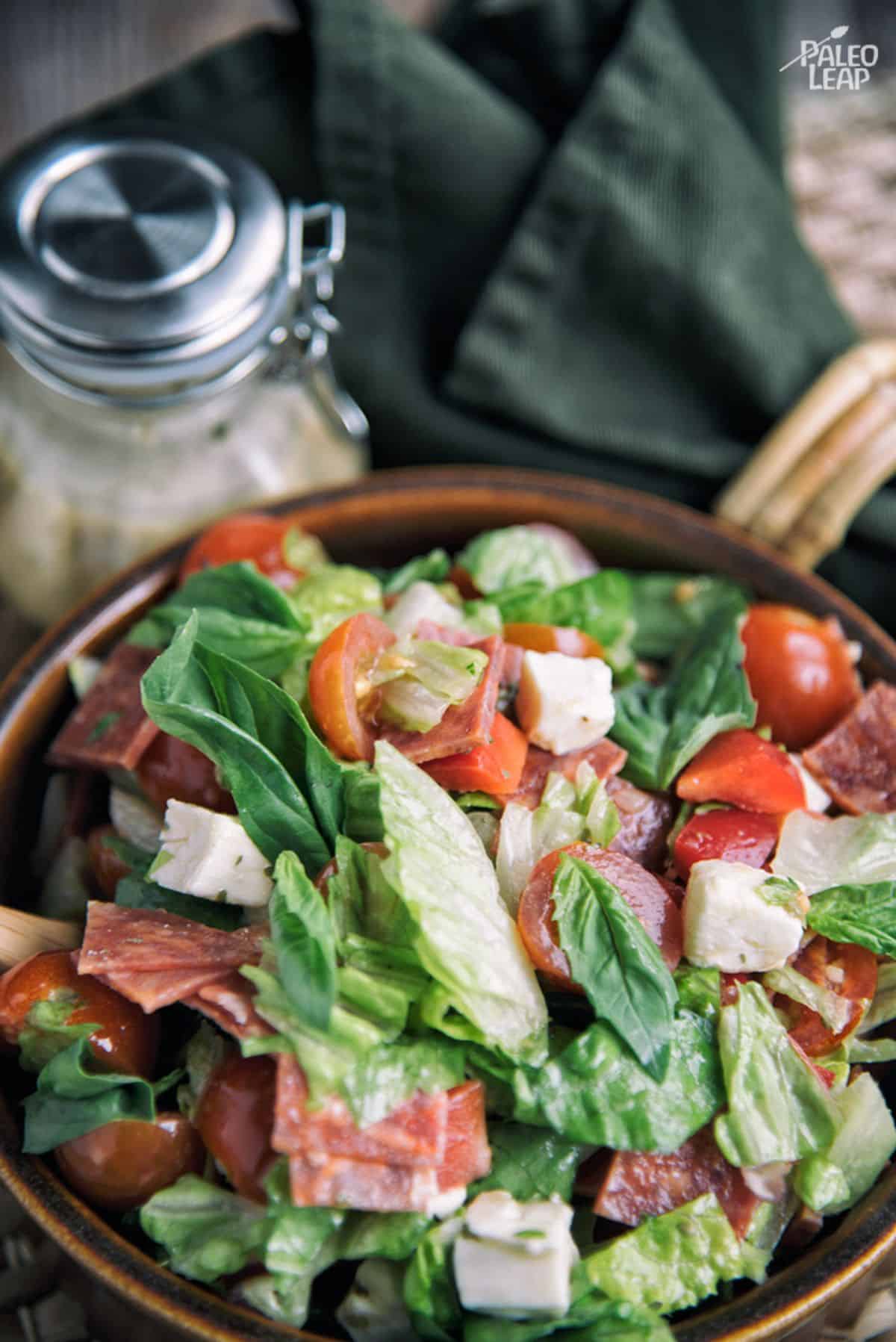 We really could go on and on about the "proper name" depending on where you're from, but we all know it - it's that long sandwich piled high with meat, cheese, lettuce, tomato, and dressing. Well, this recipe has all of that deliciousness, just without the bread.
Since this dish uses pepperoni and salami, try to look for options cured naturally without all of those unnecessary ingredients. And depending on how the meats are bought, slicing and chopping them will take the most amount of prep time, with the rest of the salad coming together quickly.
For the cheese element, we used almond cheese, but you can always take this opportunity to venture out and try other Paleo versions. While it is a nice touch to the meal, it doesn't break the dish if you decide not to use it.
What we don't suggest skipping out on is the fresh basil! It brings such brightness to the dish and really compliments the other herbs in the dressing.
The key to making this salad most enjoyable is making sure to chop all of the ingredients close to the same size and really mix the dressing in so you're able to get a little bit of everything in one bite.
This recipe has that perfect balance of salty, sweet, and tanginess for a satisfying meal. Try adding in some olives, artichoke hearts, or pickled vegetables to give it more of an antipasto flavor if you'd like.
Italian Chopped Salad Recipe
Serves: 4 Prep: 20 min
Ingredients
1 to 2 heads of romaine lettuce, chopped
1 bell pepper, chopped
½ red onion, chopped
8 oz cherry tomatoes, halved
1 cup pepperoni, chopped
½ cup salami, chopped
6 to 8 fresh basil leaves, minced
½ cup almond cheese, chopped
Ingredients for the Simple Italian Dressing
¼ cup olive oil
2 tbsp. fresh lemon juice
2 tbsp. Dijon mustard
2 tbsp. red wine vinegar
1 tsp. dried oregano
1 tsp. dried parsley
1 garlic clove, minced
Sea salt and freshly ground black pepper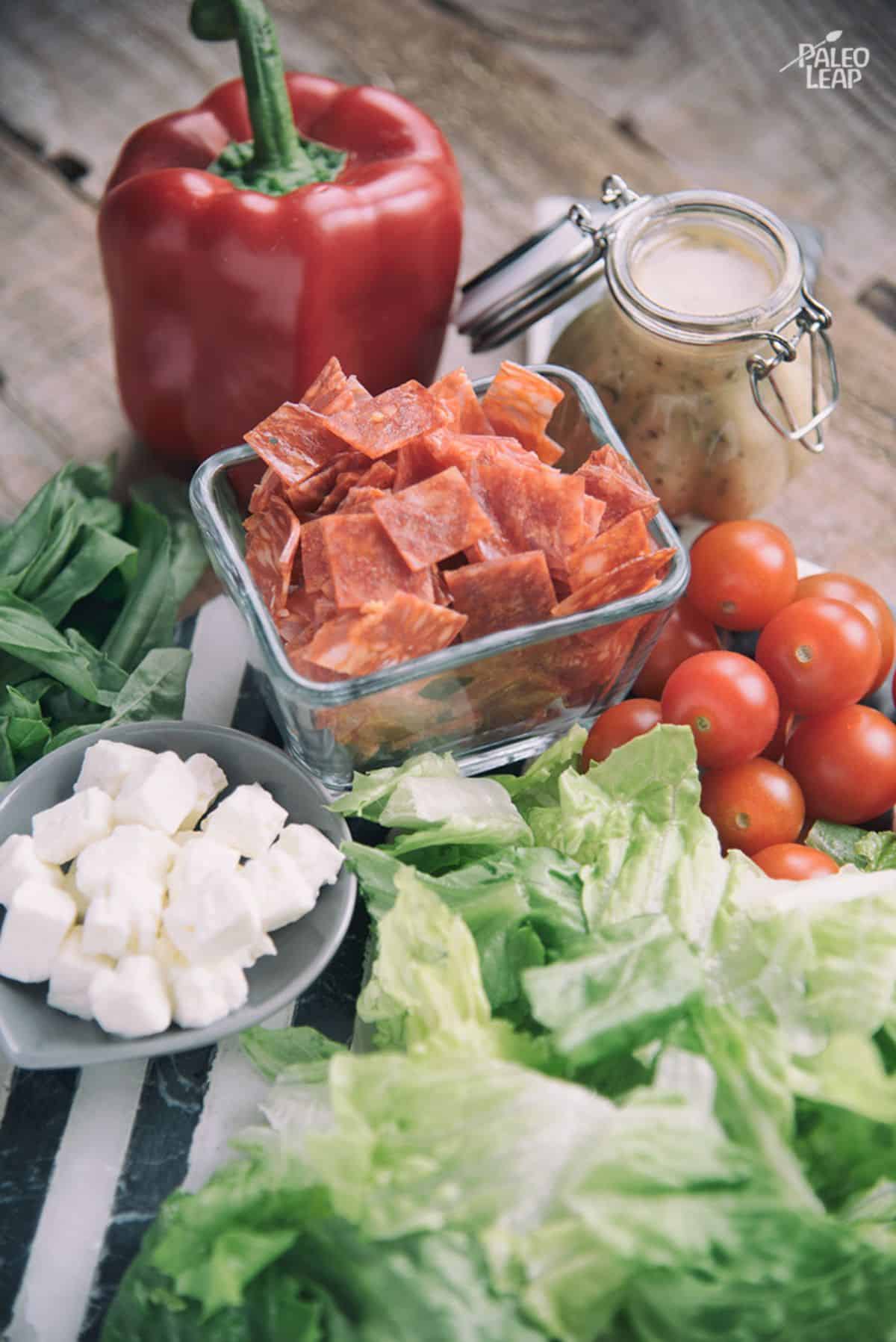 Preparation
In a bowl, combine all the ingredients for the dressing, season to taste, and mix until well emulsified.
Add all the ingredients for the salad to a large salad bowl.
Drizzle the dressing on top of the salad, and toss everything gently.
Serve the salad topped with more fresh basil if desired.
📖 Recipe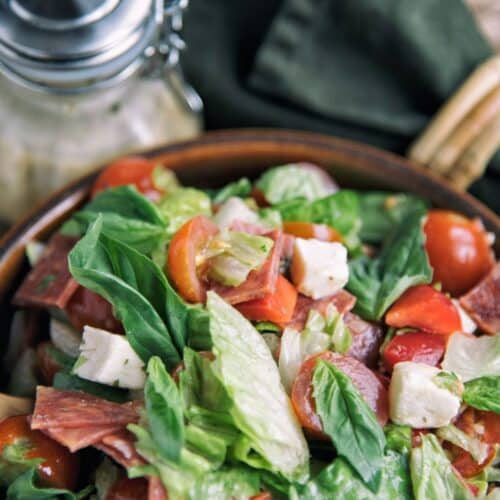 Italian Chopped Salad Recipe
Satisfy your tastebuds with all of the familiar flavors of an Italian sub made into a chopped salad with a simple Italian dressing.
Instructions
In a bowl, combine all the ingredients for the dressing, season to taste, and mix until well emulsified.

1 to 2 heads of romaine lettuce,

1 bell pepper,

½ red onion,

8 oz cherry tomatoes,

1 cup pepperoni,

½ cup salami,

½ cup almond cheese

Add all the ingredients for the salad to a large salad bowl.

Drizzle the dressing on top of the salad, and toss everything gently.

2 tbsp. fresh lemon juice,

2 tbsp. Dijon mustard,

2 tbsp. red wine vinegar,

1 tsp. dried oregano,

1 tsp. dried parsley,

1 garlic clove,

Sea salt and freshly ground black pepper

Serve the salad topped with more fresh basil if desired.

6 to 8 fresh basil leaves
Nutrition
Calories:
417
kcal
Carbohydrates:
9
g
Protein:
14
g
Fat:
37
g
Saturated Fat:
11
g
Polyunsaturated Fat:
4
g
Monounsaturated Fat:
19
g
Trans Fat:
0.5
g
Cholesterol:
53
mg
Sodium:
955
mg
Potassium:
440
mg
Fiber:
3
g
Sugar:
4
g
Vitamin A:
2042
IU
Vitamin C:
57
mg
Calcium:
163
mg
Iron:
2
mg