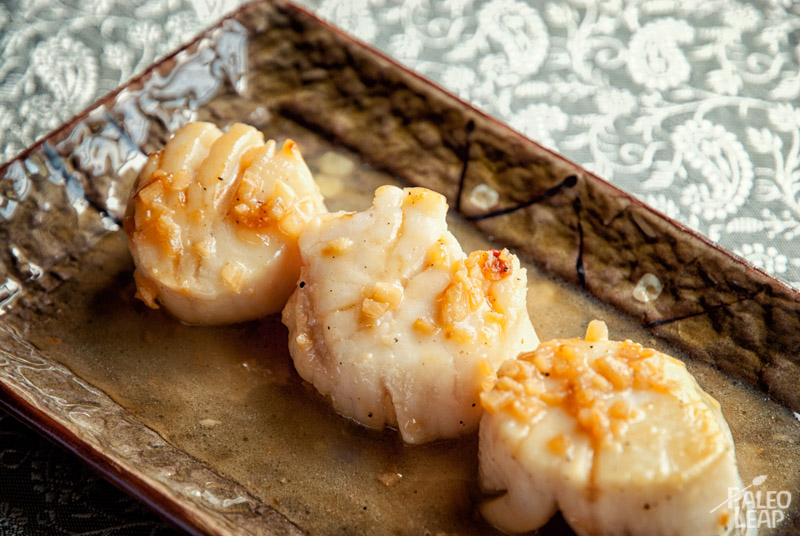 Scallop are a delicious mollusk that we tend to easily forget in our everyday cooking, yet it's easy to prepare and delicious. They are a good source of zinc, selenium, vitamin B12 and phosphorus.
This recipe only calls for the most basic of ingredients, yet will leave your taste buds very satisfied. If you don't consume butter because of the traces of lactose and casein, consider making clarified butter (Ghee). You can also read my article on the place of dairy on a paleo diet for a detailed opinion on the subject. The nutty taste of the butter makes this lemon and garlic sauce really stand out. You rarely go wrong with seafood, lemon and garlic. Butter based sauces are always a ticket to success, but you can try this recipe with coconut oil if you like the taste and don't fear being overwhelmed by it. You can even make it a coconut themed meal and sprinkle coconut flakes on top of the finished dish.
You can serve the scallops and the lemon and garlic sauce over any type of roasted or steamed vegetables. Asparagus and spinach are two vegetables that go very well with scallops. Their distinctive green color contrasts beautifully with the pure white of the scallops.
Look for wild sea scallops when shopping for the best quality and nutrition.
Lemon and garlic scallops recipe
Values are per portion. These are for information only & are not meant to be exact calculations.
Ingredients
3 tbsp garlic, minced;
2 tbsp lemon juice;
3/4 cup butter (or Ghee);
2 pounds large scallops;
Salt and pepper to taste.
Preparation
Heat a pan over a medium heat and melt the butter or ghee. Add the minced garlic for a minute, until fragrant;
Add the scallops and cook for a few minutes on the first side so they are about halfway cooked. Turn the scallops and finish cooking until they are firm and opaque.
Put the scallops aside to a plate and add the lemon juice to the hot butter and garlic in the pan. Season to taste;
Serve the scallops on a bed of steamed or roasted vegetables with the lemon and garlic butter sauce on top. Spinach and asparagus go very well with scallops. Additionally, sprinkle some fresh parsley or chives on top if available.