Are potato skins a mouthwatering appetizer or a complete meal? Here, you get to call the shots; for us, they can go either way. They are definitely a modern comfort food, they are gosh darn amazingly tasty, and they will please just about everyone who has the lucky opportunity to eat at your place.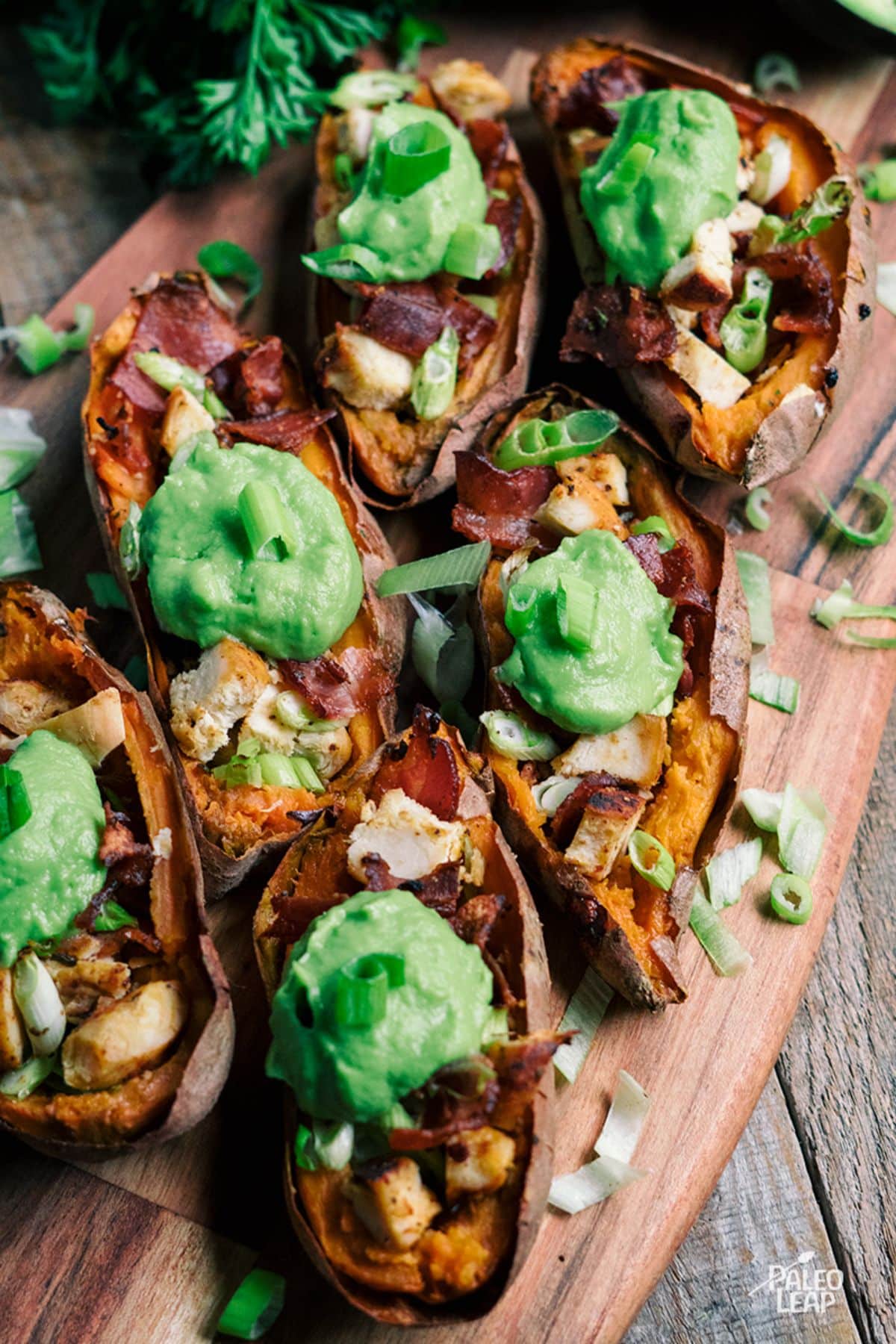 Plus, they fill the craving for those times when you would really like to go out to eat but are afraid that you won't find anything on the menu that fits your Paleo criteria.
So, rather than take the chance on dining out, bake these loaded sweet potato skins at home, save some money on restaurant service and invest in quality ingredients instead - after all, health starts in the kitchen. Sweet potatoes, with their appealing orange color, taste wonderful with seasoned meats; there is no denying that.
Choose your favorite spices to sprinkle over the chicken breasts; a nice herb mixture is that of oregano, paprika, onion, and garlic powders. Fry or grill the meat until tender, chop it up, and stuff it into crispy sweet potato boats.
If you would rather stuff your sweet potatoes with spinach and cranberries as a more festive dish, you can do that too. If it is difficult to resist any sort of potato skin, throw caution to the wind and just dive right in.
And make sure to top them with homemade guacamole - life will be exceedingly great, at least for the duration of dinner.
Loaded Sweet Potato Skins Recipe
Serves: 4 Prep: 20 min Cook: 35 min
Ingredients
4 medium sweet potatoes
2 chicken breasts, sliced lengthwise
4 bacon slices, cooked and diced
2 green onions, sliced
Fresh homemade guacamole
½ tsp. dried oregano
½ tsp. paprika
½ tsp. onion powder
½ tsp. garlic powder
Cooking fat
Sea salt and freshly ground black pepper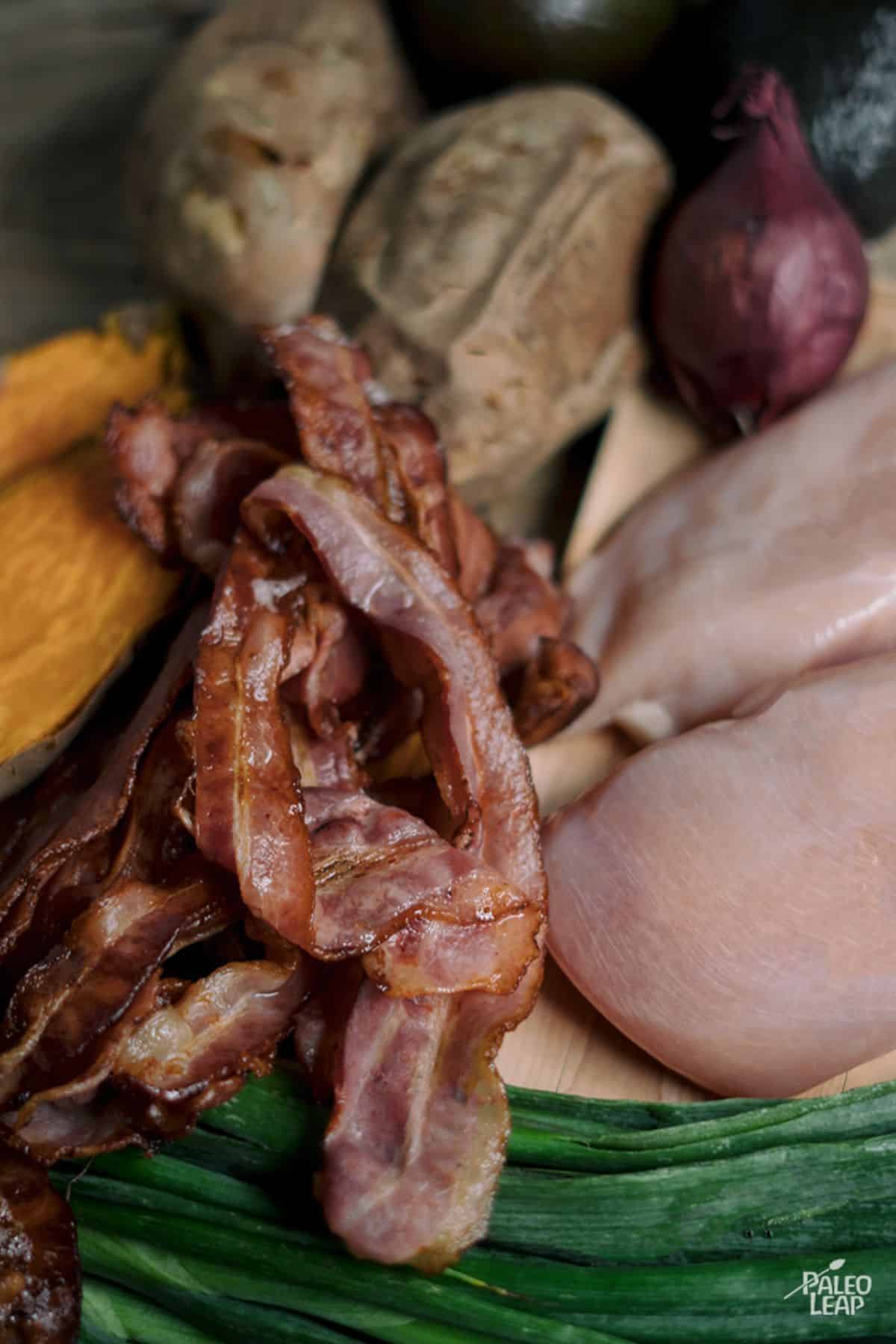 Preparation
Preheat oven to 400 F.
Poke the sweet potatoes with a fork and place them on a baking sheet.
Bake in the oven for 35 to 40 minutes or until tender.
Slice the potatoes lengthwise, scoop out the center of the sweet potatoes, and put them aside to use in a different recipe so it doesn't go to waste.
In a bowl, combine the oregano, paprika, onion powder, and garlic powder; add salt and pepper to taste.
Season the chicken strips with the spice mixture on all sides.
Melt some cooking fat in a skillet over medium-high heat.
Cook the chicken in the skillet, about 6 to 8 minutes per side, or until no longer pink.
Set aside and roughly chop or shred the chicken.
Fill the potatoes with the chicken, green onions, and bacon.
📖 Recipe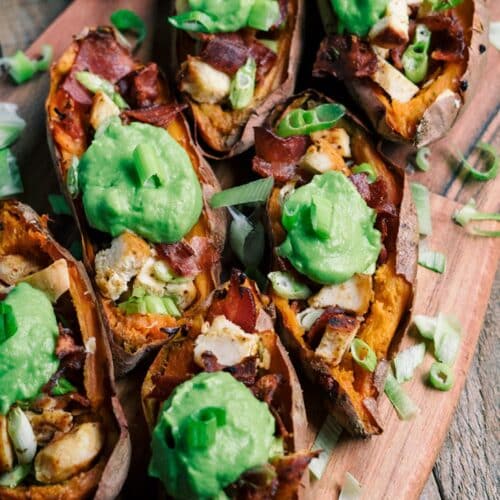 Loaded Sweet Potato Skins Recipe
Loaded sweet potato skins could possibly be the ultimate Paleo comfort food. Spiced chicken stuffed inside a crisp baked potato, tempting guacamole on top.
Instructions
Preheat oven to 400 F.

Poke the sweet potatoes with a fork and place them on a baking sheet.

Bake in the oven for 35 to 40 minutes or until tender.

Slice the potatoes lengthwise, scoop out the center of the sweet potatoes, and put them aside to use in a different recipe so it doesn't go to waste.

In a bowl, combine the oregano, paprika, onion powder, and garlic powder; add salt and pepper to taste.

½ tsp. dried oregano,

½ tsp. paprika,

½ tsp. onion powder,

½ tsp. garlic powder,

Sea salt and freshly ground black pepper

Season the chicken strips with the spice mixture on all sides.

Melt some cooking fat in a skillet over medium-high heat.

Cook the chicken in the skillet, about 6 to 8 minutes per side, or until no longer pink.

Set aside and roughly chop or shred the chicken.

Fill the potatoes with the chicken, green onions, and bacon.

4 bacon slices,

2 green onions,

Fresh homemade guacamole
Nutrition
Calories:
437
kcal
Carbohydrates:
48
g
Protein:
33
g
Fat:
12
g
Saturated Fat:
4
g
Polyunsaturated Fat:
2
g
Monounsaturated Fat:
5
g
Trans Fat:
0.03
g
Cholesterol:
88
mg
Sodium:
336
mg
Potassium:
1077
mg
Fiber:
8
g
Sugar:
10
g
Vitamin A:
32463
IU
Vitamin C:
7
mg
Calcium:
100
mg
Iron:
3
mg