When we come across a dish like this one, where our first reaction is usually, "Wait, will that work together?", it makes us so very happy. That's because there's no better way to stick to healthy dietary choices than by enjoying new things every so often.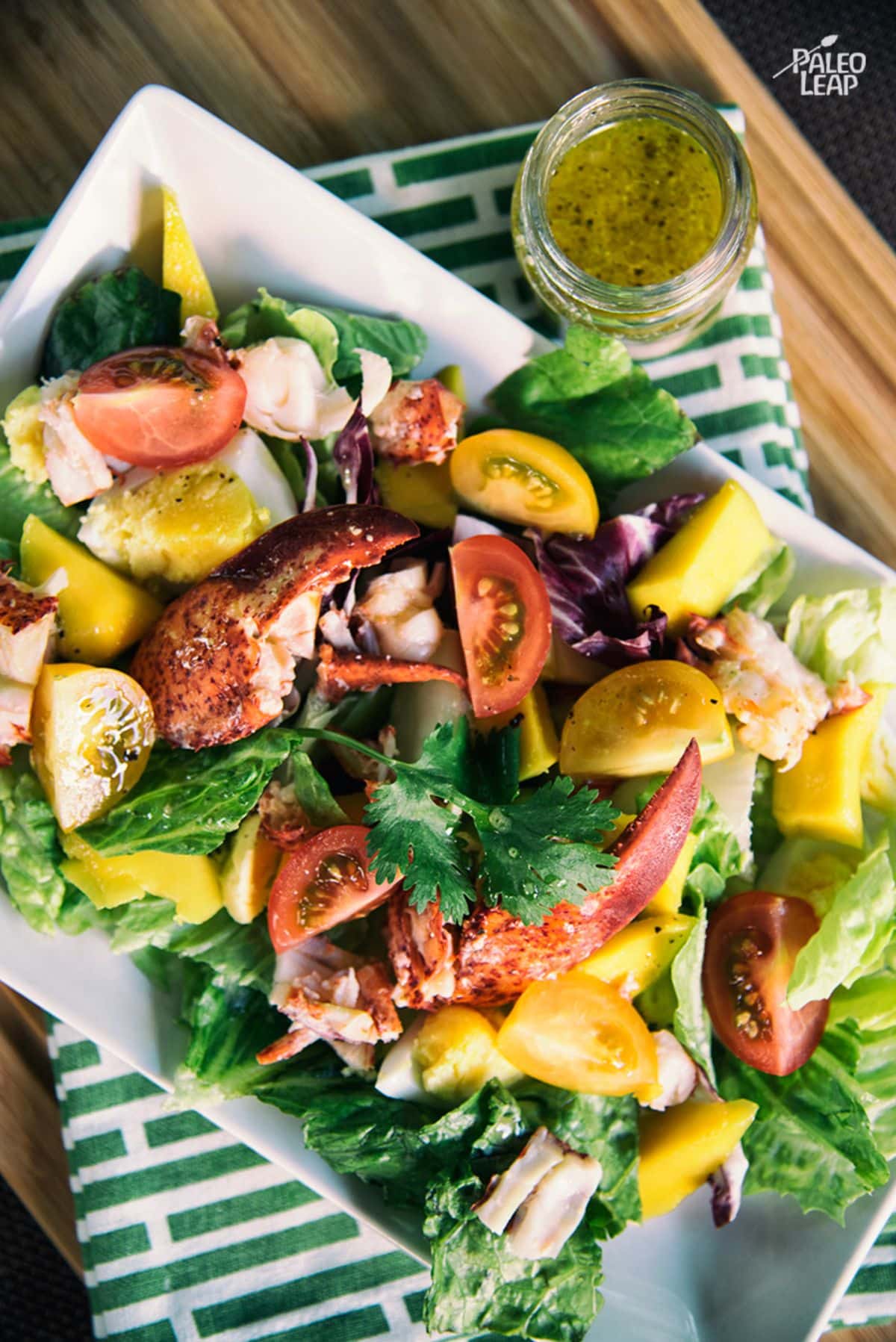 While the combination of lobster, mango, eggs, and tomatoes may not seem like the most obvious choice, the end result is amazing – not only will you get to enjoy the sweet and salty combinations of these ingredients, but you'll be reaping the micronutrients and other nutritional benefits of the above, all in one dish!
The best part, though? The use of pre-cooked lobster means your prep time is just as long as it takes for you to combine your ingredients, with no additional cooking required.
This dish also serves as a delicious example of how you can embrace a Paleo diet while choosing to abstain from meat. The pescatarian diet is one that allows for seafood but not other forms of meat proteins, like chicken and beef.
Since maintaining a Paleo diet is extremely difficult for those who abide by vegetarian standards, the pescatarian diet is a great way of working with Paleo while still following some of the same dietary guidelines of omitting meat altogether. While pescatarian Paleo isn't without its challenges, there are many seafood and egg-based recipes that work well under this umbrella.
This lobster and mango salad offer a balanced macro profile as is – we think it works perfectly as a one-dish lunch option. However, looking at this, we can't help but be reminded of that famed lobster pairing – biscuits!
Since traditional biscuits won't work for Paleo, check out these cauliflower "breadsticks" for a fun and creative way to harken back to a biscuit pairing.
Lobster and Mango Salad Recipe
Serves: 2 Prep: 15 min
Ingredients
6 oz. cooked lobster meat, chopped
1 mango, peeled and diced
2 hard-boiled eggs, chopped
½ cup grape tomatoes, halved
1 head romaine lettuce, chopped
Fresh parsley for garnish
Simple dressing ingredients
¼ cup extra-virgin olive oil
2 tbsp. apple cider vinegar
1 tbsp. fresh lemon juice
1 tsp. Dijon mustard
1 clove garlic, minced
Sea salt and freshly ground black pepper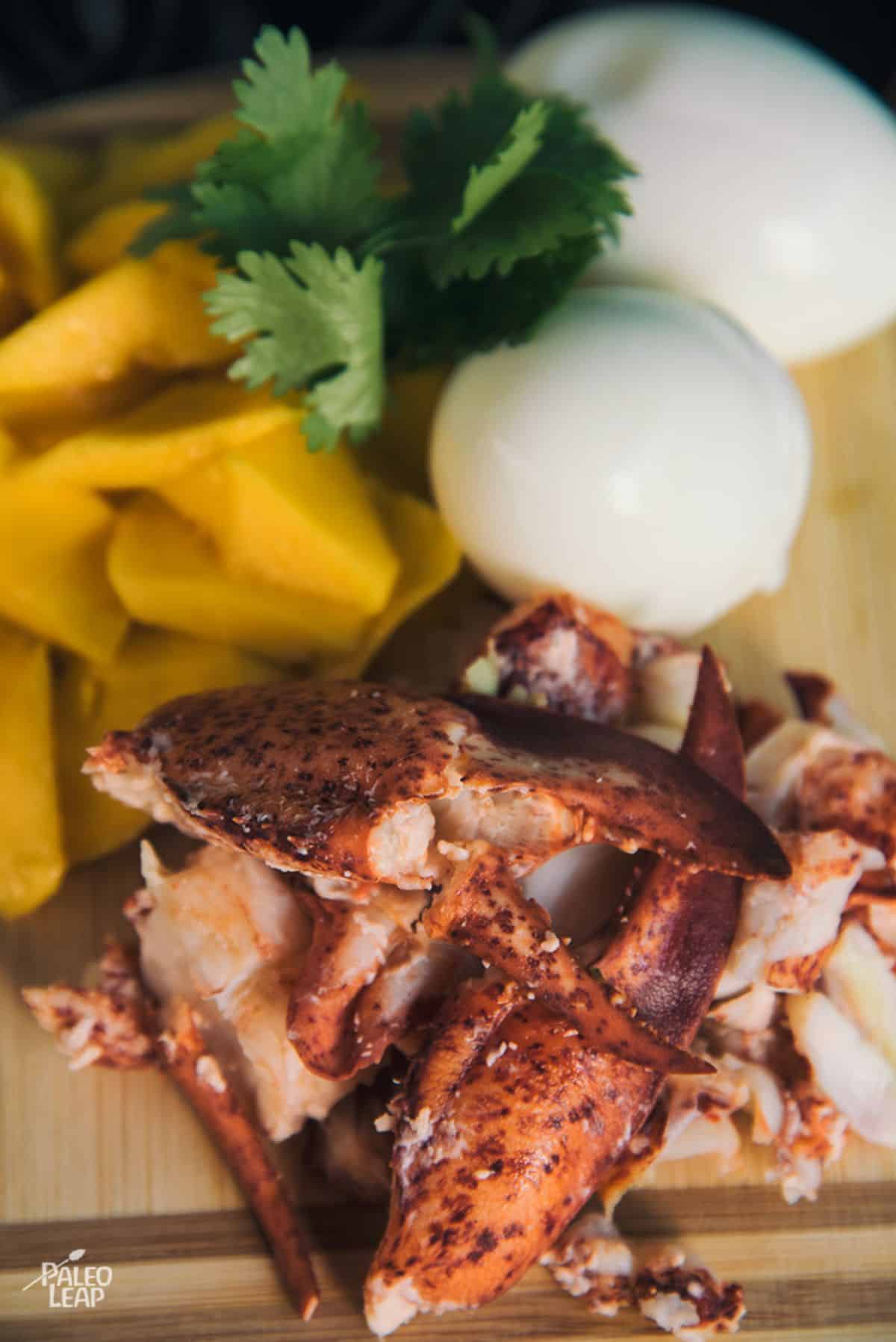 Preparation
In a bowl, combine all the ingredients for the dressing, season to taste with salt and pepper, and whisk until well blended.
Assemble the salad on two plates by topping the chopped romaine with the lobster meat, mango, boiled eggs, and grape tomatoes.
Drizzle the salad with the dressing, gently toss, sprinkle fresh parsley, and serve.
📖 Recipe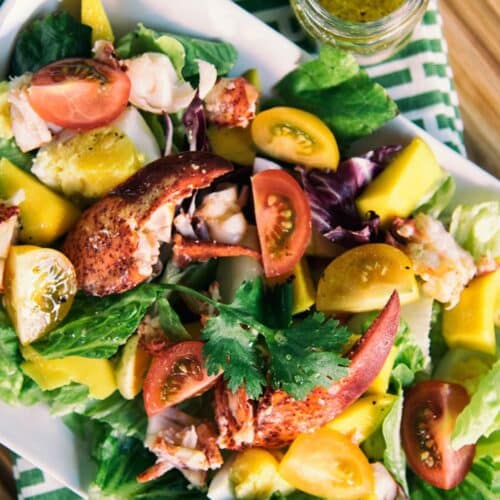 Lobster and Mango Salad Recipe
Try something brand new - this combo of lobster, egg, tomato, and mango is the sweet and savory lunch you've been craving!
Instructions
In a bowl, combine all the ingredients for the dressing, season to taste with salt and pepper, and whisk until well blended.

¼ cup extra-virgin olive oil,

2 tbsp. apple cider vinegar,

1 tbsp. fresh lemon juice,

1 tsp. Dijon mustard,

1 clove garlic,

Sea salt and freshly ground black pepper

Assemble the salad on two plates by topping the chopped romaine with the lobster meat, mango, boiled eggs, and grape tomatoes.

6 oz. cooked lobster meat,

1 mango,

2 hard-boiled eggs,

½ cup grape tomatoes,

1 head romaine lettuce

Drizzle the salad with the dressing, gently toss, sprinkle fresh parsley, and serve.

Fresh parsley for garnish
Nutrition
Calories:
464
kcal
Carbohydrates:
19
g
Protein:
22
g
Fat:
34
g
Saturated Fat:
6
g
Polyunsaturated Fat:
4
g
Monounsaturated Fat:
23
g
Trans Fat:
0.01
g
Cholesterol:
295
mg
Sodium:
454
mg
Potassium:
552
mg
Fiber:
3
g
Sugar:
16
g
Vitamin A:
2915
IU
Vitamin C:
46
mg
Calcium:
119
mg
Iron:
1
mg