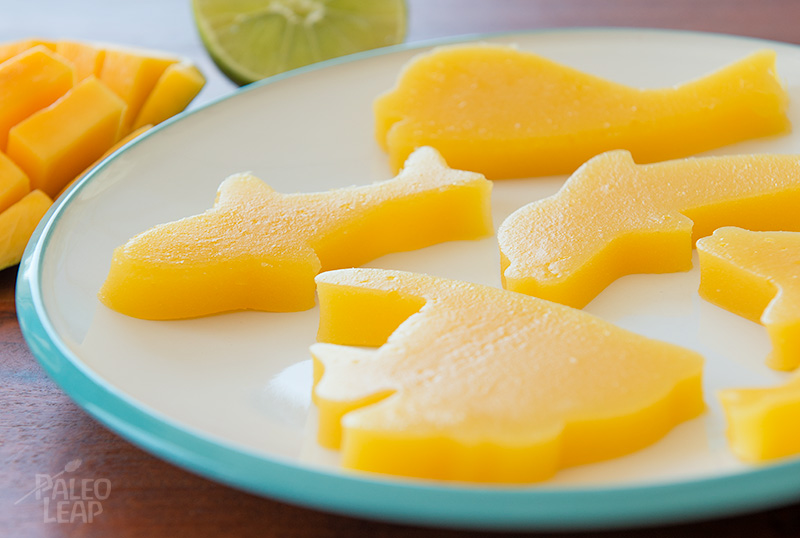 As we hinted about in our recent fruit juice gelatin recipe, using gelatin in desserts and treats opens the door to an array of fun and tasty ways to enjoy fruits and this recipe surely delivers. With just the right amount of tanginess and tropical feel from the mango and lime juice, these are perfect on a hot summer day. To top it off, they are simple and fun to prepare and a great way to involve the kids with the preparation.
Using gelatin here doesn't simply help create the gelatinous aspect, but also makes it a great way to consume more of that gut and joint-healing food that's derived from collagen. Again, as is usually the case with Paleo, it's a win-win situation where the food is both delicious and well as nutritious and healing at the same time. You should be able to find gelatin powder in the baking aisle of your  supermarket.
We chose to use some marine life cookie cutters to make these even more fun to eat and a treat that kids will flock to. They are also perfect to accentuate the tropical theme. You can of course prepare these with any fruits and create interesting combinations of color and taste. To replace the mango with a different fruit, simply use about 1 cup of fruit instead.
Mango Lime Gummies Recipe

SERVES: 4

PREP: 25 min. + 1h

COOK: 10 min.

Values are per portion. These are for information only & are not meant to be exact calculations.
Ingredients
1 large mango, peeled and cut into chunks;
1/3 cup lime juice;
1/3 cup water;
4 tbsp gelatin powder;
Preparation
Add the mango chunks, lime juice and water to a saucepan and place over a medium heat.
Stir occasionally until the liquid barely starts to simmer.
Blend the mixture using a blender or food processor until smooth.
Let the mixture sit in the uncovered bowl of your blender or food processor for about 10 minutes in order for it to cool down before adding the gelatin.
Add in the gelatin powder and blend again until fully incorporated.
Pour the gummy mixture into a glass dish and place in the refrigerator for about an hour.
When the gummies are set, you can cut them into small squares or use any cookie cutter to create fun shapes.