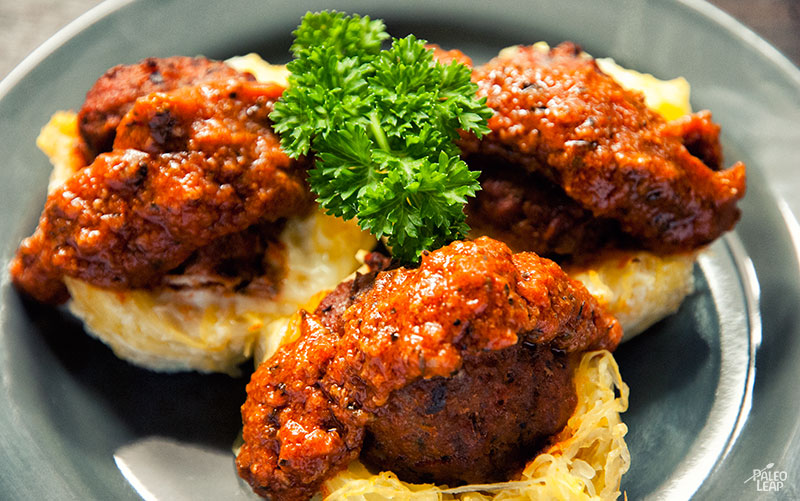 Tucked into a "nest" of spaghetti squash, these cute little meatball bites are a slightly different twist on Paleo pasta: they're great for kids, but even adults need a little change sometimes, and this is a quick way to perk up an old favorite. And it's pretty low-effort, too: hardly any more work than plain old spaghetti and meatballs, the same way you'd make them otherwise.
For the sauce recipe, you'll be "cheating" a little by using pre-made tomato sauce and jazzing it up with extra spices – hey, we can't all be Italian grandmas! You can typically find at least one or two options that aren't loaded with corn syrup and junk (especially with the organic brands). Of course, you could also make your own if there's a recipe you prefer. And if you want even more flavor from the sauce (or the meatballs), just substitute fresh herbs for the dried; the taste will be a little more intense.
If your muffin tin won't quite hold all the squash nests, you might have to cook two batches (or just put in two tins at a time, if you have them). No muffin tin at all? No problem; just make tin-foil cups and arrange them on an ordinary baking sheet. Then throw your meatball bites in the oven for a few minutes to let the flavors develop and mix together, and serve with roasted eggplant, a big salad, or any other favorite side for an easy and satisfying meal.
Meatball Bites with Spaghetti Squash Recipe
Values are per portion. These are for information only & are not meant to be exact calculations.
Ingredients
2 spaghetti squash, cut in half lengthwise and seeds removed;
1 lb. ground beef;
4 egg whites, whisked;
1 egg;
½ tbsp. dried parsley;
½ tbsp. dried basil;
½ tbsp. dried thyme;
Sea salt and freshly ground black pepper;
Ingredients for the tomato sauce
2 cups good quality tomato sauce;
1 garlic clove, minced;
½ tbsp. dried parsley;
½ tbsp. dried basil;
½ tbsp. dried thyme;
Sea salt and freshly ground black pepper;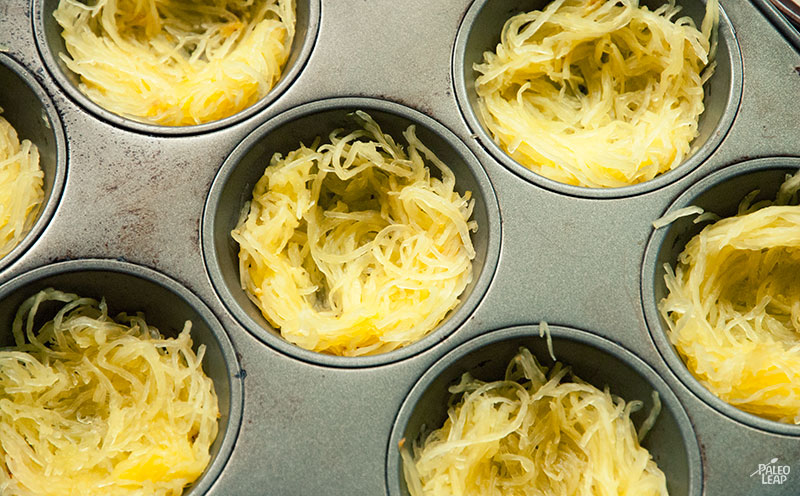 Preparation
Preheat your oven to 425 F.
Place the spaghetti squash on a baking sheet, cut side down, and bake for 25 to 30 minutes.
Combine the ground beef, dried parsley, dried, basil, dried thyme, and egg, and season to taste with salt and pepper. Mix everything until well combined.
Roll the meat into meatballs of about 1 inch in diameter.
In a bowl, combine all the ingredients for the tomato sauce and season to taste.
In a large skillet placed over a medium heat, sauté the meatballs until browned on all sides.
Add the tomato sauce to the skillet and cook for 7 to 10 minutes, or until the meatballs are cooked through.
Once the spaghetti squash is cooked, use a large spoon to scoop the stringy pulp from the squash and place in a bowl.
Lower the oven's heat to 350 F.
Mix the egg white with the spaghetti squash, and then fill each cavity of a muffin tin with the squash mix, pressing down in the middle to make a "nest" for the meatball.
Place one meatball on top of each muffin and place in the oven for about 15 minutes.
Serve with remaining sauce drizzled on top of each meatball bite.