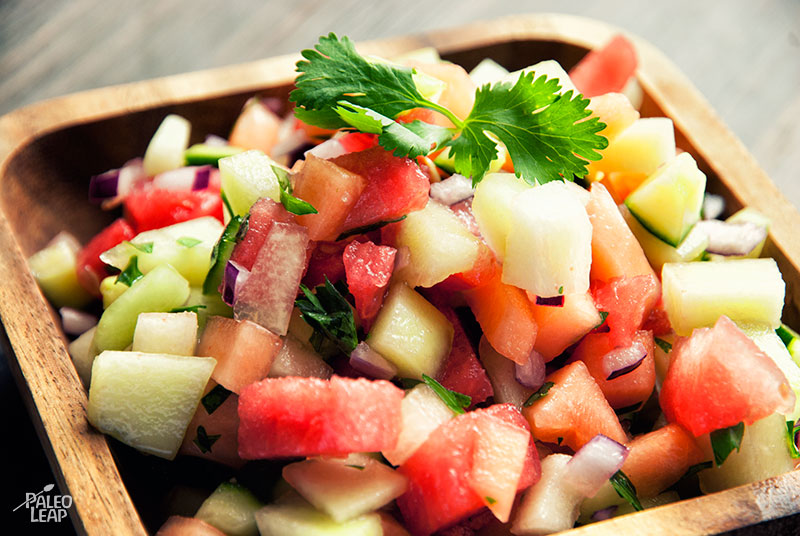 Crunchy and juicy, with just a little snap from the red onions, melon salsa is a refreshing topping for chicken or steak, or even piled over a burger. It's equally good on fish or other seafood; why not try it over some tuna steak or cod? Or maybe with shrimp? Salsa is also a perfect Paleo-friendly contribution for a potluck or a party. For one thing, it's really hard to find dressings and toppings that aren't full of junk fats and sugar, so if you bring your own, at least you can be sure of having one that's good. For another, salsa isn't just Paleo; it's everything. Low-fat, raw vegan, egg-free, and kid-friendly: there's not much here that isn't to like.
Melons have a reputation for being a kind of "fruit candy" full of sugar and nothing else, but this is actually completely undeserved. The mixture of melons in this salad contains plenty of B vitamins (pretty much everything but B12, which is only found in animal foods). It's also full of Vitamin C, copper, magnesium, and potassium: if that's candy, it's the most nutritious candy you'll find anywhere! Chop up a bowl the next time you want something juicy and sweet with your dinner, and enjoy!
Melon Salsa Recipe

SERVES: 4

PREP: 15 min.

Values are per portion. These are for information only & are not meant to be exact calculations.
Ingredients
1 cup watermelon, chopped;
1 cup cantaloupe, chopped;
1 cup honeydew melon, chopped;
½ cucumber, seeded and chopped;
¼ red onion, chopped;
½ avocado, chopped;
2 tbsp. cilantro, minced;
2 limes, juiced;
Sea salt and freshly ground black pepper;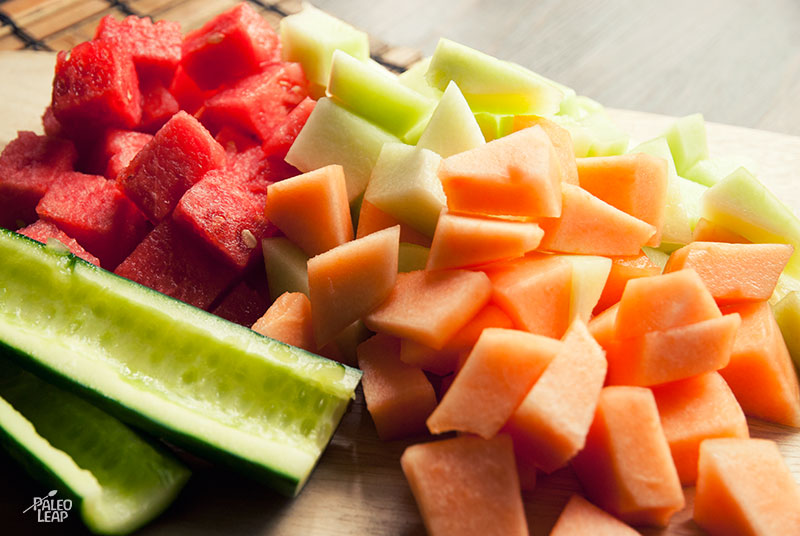 Preparation
In a large bowl, combine the watermelon, cantaloupe,  honeydew, cucumber, red onion and avocado.
Add the lime juice, cilantro, and season with salt and pepper to taste.
Give everything a good stir and serve.