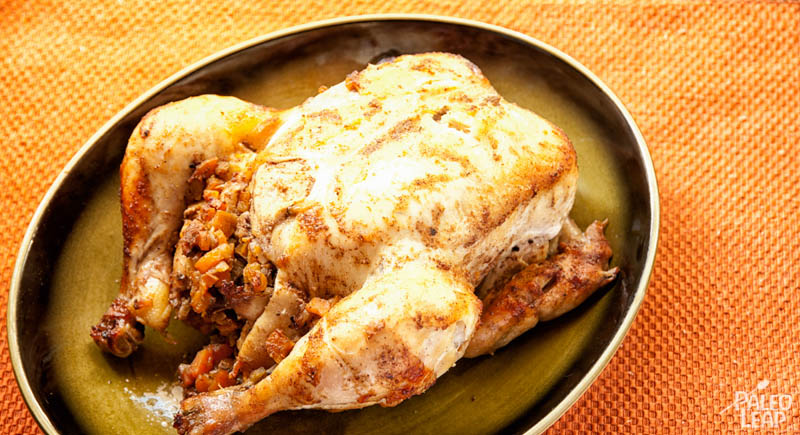 The humble chicken is one of the thriftiest Paleo meals around – much, much cheaper than buying just the breasts or the wings. For a family, it's dinner; for a single person, it's a hearty meal with plenty of leftovers for soup, salad, and broth. The typical way to prepare a chicken is to roast it, but it's all too easy to get stuck in a rut making the same roast chicken again and again, until you never want to see a bird again!
This recipe is an antidote to any roast chicken boredom that might have entered your kitchen. A colorful spice rub adds a warm, earthy flavor to the meat, and the dates in the stuffing balance out the heat of the spices with just a hint of sweetness. It's a little bit exotic, and a whole lot of delicious.
As an additional point in its favor, this recipe cooks a vegetable side dish right inside the bird, so you don't have to worry about making vegetables separately. So it's perfect for a busy evening when you can't find time to cook a vegetable side (and then clean up another set of pans). If you do want a little something extra to go with it, try a recipe that uses mint: roasted cauliflower with mint and pomegranate would be an excellent choice.
When you're cooking a chicken, you definitely don't want to overcook, or you'll lose that juicy tenderness and end up with dry, unappetizing meat. The recipe here is written for a 4 pound chicken, but especially if you're using a free-range chicken, your bird might be smaller (so it won't require as much cooking time). To test for doneness, simply pierce the chicken's thigh with a fork: when the fork slides in evenly, it's ready to eat.
Moroccan-Style Roast Chicken Recipe

SERVES: 4

PREP: 20 min.

COOK: 1h10 min.
Values are per portion. These are for information only & are not meant to be exact calculations.
Ingredients
4 lb. whole chicken, rinsed and patted dry;
1 onion, chopped;
1 zucchini, minced;
6 fresh or dried dates, pitted and roughly chopped;
2 cloves garlic, minced;
2 carrots, minced;
1 tbsp. fresh ginger, minced;
1/2 tsp. paprika;
3/4 tsp. ground cumin;
1/2 tsp dried oregano;
1/4 tsp. ground cayenne pepper;
1/4 tsp. ground turmeric;
1 cinnamon stick;
1 tbsp. extra-virgin olive oil;
Sea salt and freshly ground black pepper, to taste;
Cooking twine;
Ingredients for the spice rub
¼ cup extra-virgin olive oil;
¼ tsp. ground cinnamon;
½ tsp. cumin;
Sea salt and freshly ground black pepper to taste;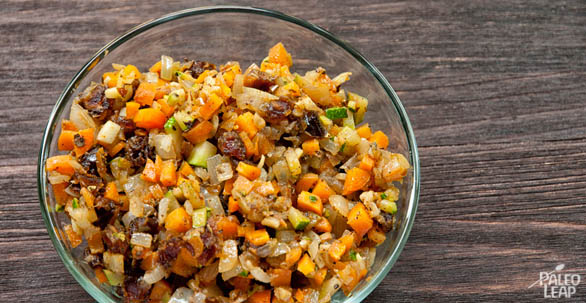 Preparation
Preheat your oven to 350 F.
Heat 1 tbsp. of olive oil in a skillet over a medium heat. Add the onion, carrots, and garlic, and cook until soft (2 to 3 minutes).
Add the zucchinis, dates, ginger, paprika, cumin, oregano, cayenne pepper, turmeric and season with salt and pepper to taste. Stir everything and cook for another 2 to 3 minutes.
Spoon the mixture into the chicken cavity and add the cinnamon stick. Tie the chicken's legs together with cooking string.
Place the chicken, breast side up, on rack in a roasting pan.
In a small bowl, combine all the ingredients for the rub, and rub it over the chicken.
Roast the chicken for 1 hour, basting every 20 minutes with the remaining rub mixture.