Mushroom lovers will absolutely adore this dish, so get ready to ladle it out in seconds! And as far as simplicity goes, let's just say, only a raw vegetable salad of strawberries, apples, and avocado is simpler.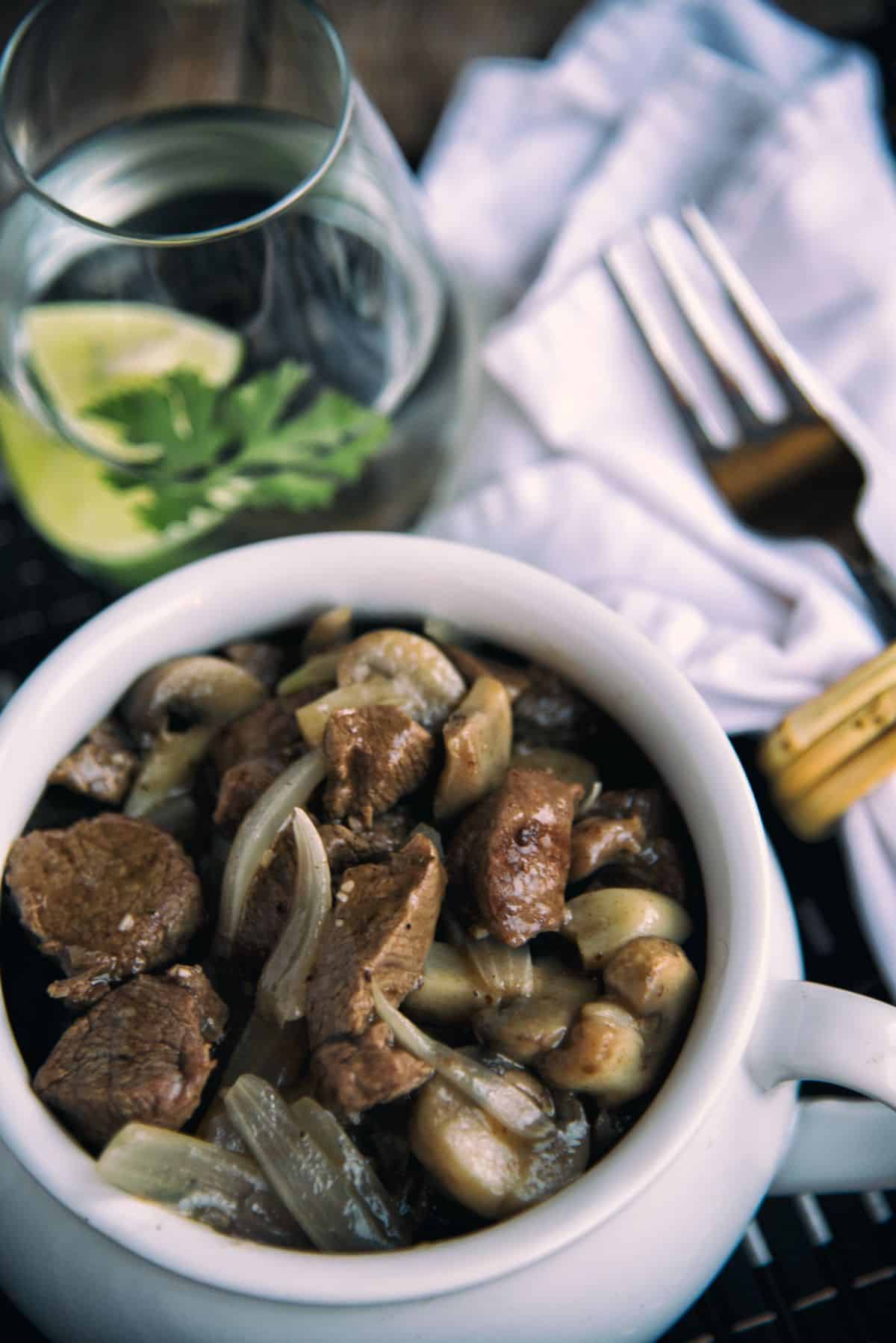 For a beginner cook, recipes like this are the way to go when you are just getting into the swing of embracing the Paleo lifestyle. A solid base of a few flavorful, go-to recipes provides the starting point to enjoy eating without gluten while giving up your craving for over-processed foods - and the rest is history, or so they say.
Back to the mushrooms and the beef, mushrooms first. The mushrooms you select for the stew are your choice alone.
Button mushrooms will do in a pinch, though as you explore the fung-abulous world, you'll branch out into the exciting arena of others as well: chanterelles, morels, shiitakes, oysters, creminis, enokis, portobellos, maitakes, French horns, black trumpets, hedgehogs, porcinos - just to name a dozen worth trying.
Then there is the element of beef. Choose a cut that is best for fast cooking, such as a New York Strip steak or ribeye.
If you are going to go all out with this dish, a generous piece of the tenderloin will impress the finest of diners.
All this meal needs is a fresh side salad, and you are in business; a creamy cucumber and chive salad is sure to hit the spot. Feel free to repeat this meal time and time again, till you are sure you've got it right.
Paleo Mushroom Beef Stew Recipe
Serves: 4 Prep: 15 min Cook: 25 min
Ingredients
2 lbs. beef cubes
2 cups fresh mushrooms, sliced
2 onions, sliced
2 cups beef stock
2 garlic cloves, minced
1 tbsp. tapioca or potato starch
Cooking fat
Sea salt and freshly ground black pepper
Preparation
Season the beef cubes to taste with sea salt and freshly ground black pepper.
Melt cooking fat in a dutch oven over medium heat and brown the beef cubes on all sides.
Add the onion, garlic, and mushroom; cook for 4 to 5 minutes.
Pour in the beef stock and, scrape the bottom of the pan, stir well.
Cover and cook on low for 15 to 20 minutes.
Adjust seasoning, and combine the starch with 2 tbsp. of water, then mix into the stew; stir well until the sauce thickens.
📖 Recipe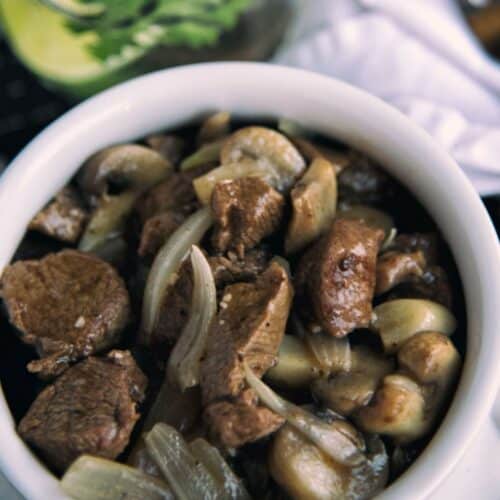 Paleo Mushroom Beef Stew Recipe
Don't skimp on the mushrooms! This mushroom beef stew is just as much about the shrooms as it is about the beef, choose your favorites of both.
Instructions
Season the beef cubes to taste with sea salt and freshly ground black pepper.

Sea salt and freshly ground black pepper,

2 lbs. beef cubes

Melt cooking fat in a dutch oven over medium heat and brown the beef cubes on all sides.

Add the onion, garlic and mushroom; cook for 4 to 5 minutes.

2 cups fresh mushrooms,

2 onions,

2 garlic cloves

Pour in the beef stock and scrape the bottom of the pan, stir well.

Cover and cook on low for 15 to 20 minutes.

Adjust seasoning, combine the starch with 2 tbsp. of water, then mix into the stew; stir well until the sauce thickens.

1 tbsp. tapioca or potato starch
Nutrition
Calories:
368
kcal
Carbohydrates:
9
g
Protein:
55
g
Fat:
12
g
Saturated Fat:
4
g
Polyunsaturated Fat:
1
g
Monounsaturated Fat:
5
g
Cholesterol:
141
mg
Sodium:
369
mg
Potassium:
1234
mg
Fiber:
1
g
Sugar:
4
g
Vitamin A:
1
IU
Vitamin C:
6
mg
Calcium:
69
mg
Iron:
5
mg