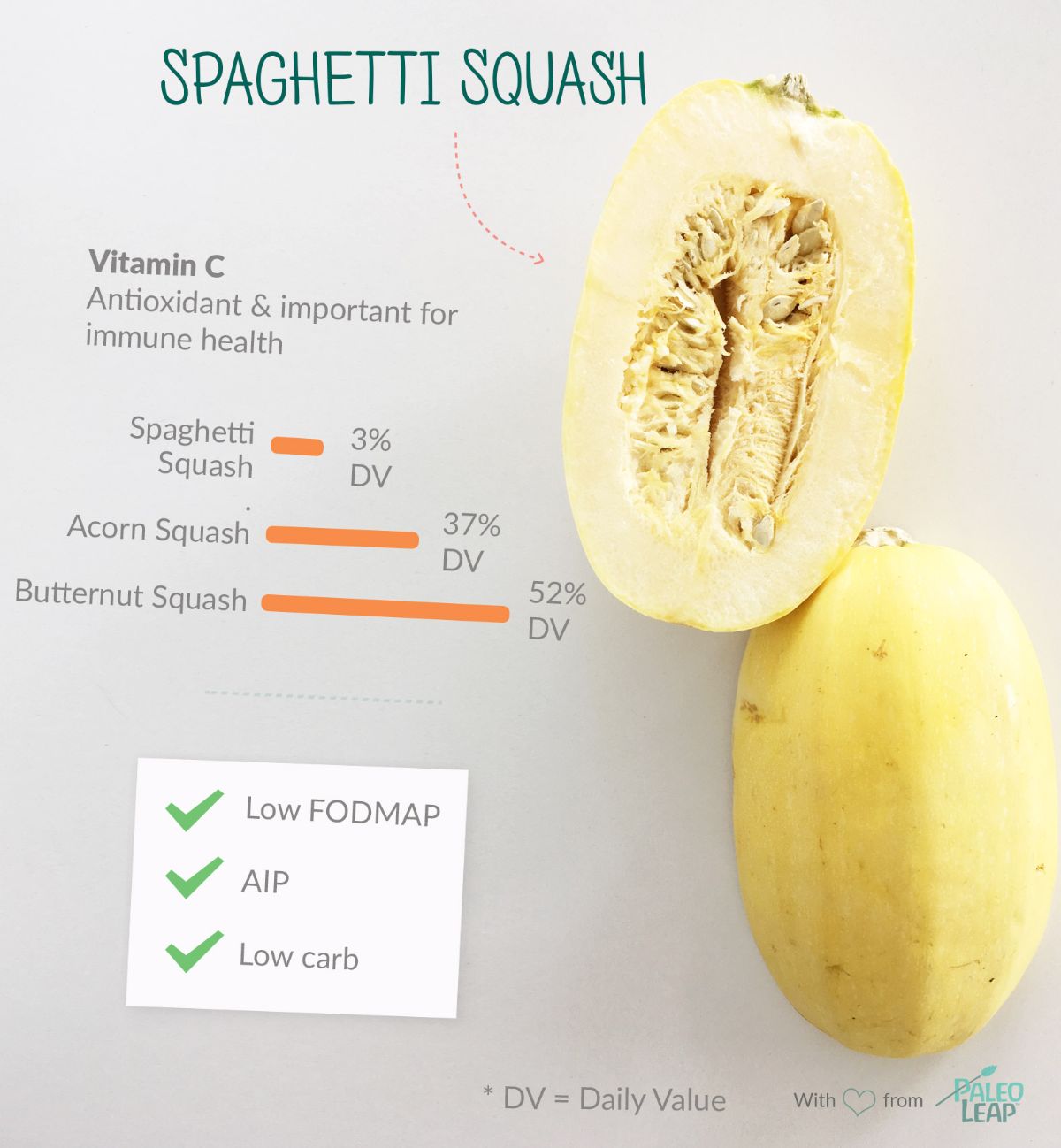 This oblong-shaped winter squash can weigh 2-4 pounds and has a pale yellow exterior skin. The inner flesh of a spaghetti squash looks like spaghetti and is mild tasting, just like pasta. Many Paleo and low-carb eaters use spaghetti squash as a substitute for noodles; just top with a pasta sauce and voila!
Easily prepare a spaghetti squash: cut the squash in half lengthwise down the middle, scoop out the seeds, then roast in the oven for 45-60 minutes.
Nutrition Details
Macros in Context
Here's how 1 cup of spaghetti squash stacks up in the context of a typical Paleo meal:
Blue bars show the typical range in grams for a Paleo meal. For example, a Paleo meal usually includes 30-60 grams of fat, but where you personally fall in that range will depend on your preference.
Orange dots show how 1 cup of spaghetti squash fits into the typical nutrient profile of a Paleo meal.

Buy It
PURCHASE: Be sure the spaghetti squash is firm, dry and blemish-free. Bruises and cracks will shorten the storage life.
SEASON: Peak harvest for spaghetti squash is late summer through winter.
STORAGE: Store spaghetti squash in a cool, dry area. They can be stored for many weeks, but check to be sure the skin is firm and blemish-free before cutting.
Cook It
BAKE
Swap out pasta for spaghetti squash and bake a lasagna dish.
FRITTERS
Mix together spaghetti squash, spinach and seasonings, then fry up a batch of fritters.
OPEN-FACED
Halve a spaghetti squash lengthwise and bake an open-face, sausage-stuffed spaghetti boat.
EGG NEST
Combine spaghetti squash, seasonings and an egg in a muffin tin. Bake to create a convenient egg nest.
Recipe Ideas