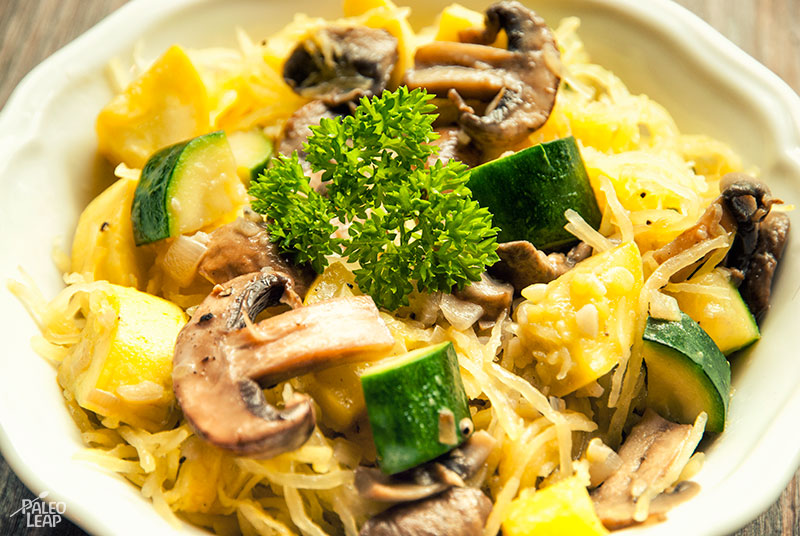 Tired of serving your Paleo noodles with the same old meatballs and tomato sauce? Here's a colorful new idea that brings out the heartier side of vegetables like zucchini and mushrooms with just a hint of creamy coconut milk for flavor.
Spaghetti squash plays the role of "pasta" in this dish – if you've never worked with this incredibly versatile vegetable, there's no better time to start! Once the flesh of the squash is baked, it separates from the skin in long, noodle-y strings, perfect for topping with anything you'd otherwise serve over a pile of spaghetti. To get the very best noodles, scrape the flesh out in horizontal lines across the squash (think about trying to follow the line where the squash's "belt" would be, instead of scraping head to toe).
This recipe would be perfect served as a side dish (some salmon, perhaps? Or maybe chicken is more your style?). Alternately, you can transform the pasta into a complete meal just by adding your favorite protein: try fresh steak slices, sausage, or strips of chicken breast. Almost anything would be tasty here because the basic dish is so versatile. Don't be afraid to experiment, and really make it your own; you never know what new favorite you might discover!
Zucchini Mushroom Pasta Recipe

SERVES: 2

PREP: 15 min.

COOK: 40 min.

Values are per portion. These are for information only & are not meant to be exact calculations.
Ingredients
1 spaghetti squash, halved lengthwise and seeded;
1 pound cremini mushrooms, sliced;
2 zucchini, chopped;
2 shallots, sliced thinly;
2 cloves garlic, minced;
2 sprigs thyme;
¼ cup coconut milk;
3 tbsp. olive oil;
Sea salt and freshly ground black pepper;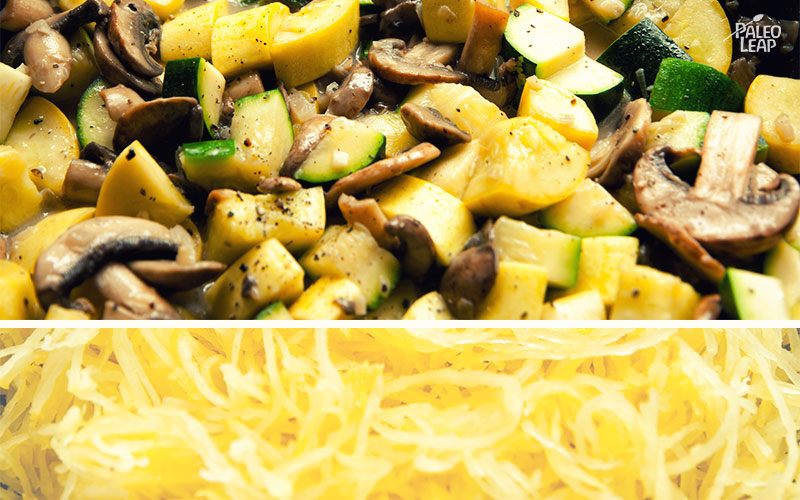 Preparation
Preheat your oven to 350 F.
Lightly oil the spaghetti squash with 1 tbsp. of olive oil and season to taste.
Place the squash, cut side down, on a baking sheet and bake 30 minutes, or until the flesh is soft.
Remove the squash from the oven and set aside until cool enough to be easily handled.
Use a large fork or spoon to scoop the stringy flesh from the squash and place it in a medium bowl.
Melt some cooking fat in a skillet placed over a medium-high heat.
Add the garlic, thyme, and shallots, and cook until soft and fragrant, about 3 to 4 minutes.
Add the zucchinis, and the mushrooms and cook until soft but still al dente.
Add the coconut milk. Stir well and remove from the heat.
Add the spaghetti to the skillet. Mix everything well, drizzle with the remaining olive oil, adjust the seasoning, and serve warm.