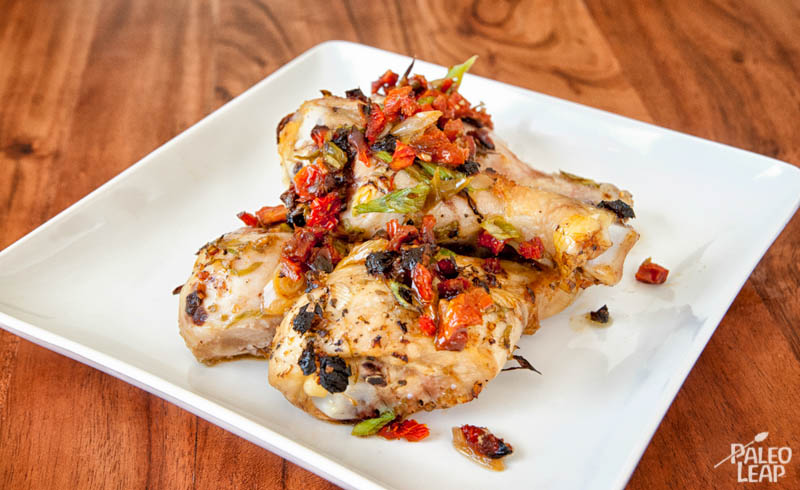 Sun-dried tomatoes and plenty of olive oil enhance these simple chicken drumsticks with a robust flavor, with a pleasant underlying tang from the balsamic vinegar. This is one recipe that makes for delicious comfort food, and like the best comfort food, it doesn't require you to spend hours in the kitchen to get it ready.
The reason why sun-dried tomatoes have such a rich taste is dehydration: with all the water gone, the flavor is more concentrated. Fortunately for Italian food lovers, this also means that the nutrients are more concentrated as well; compared to one ounce of ripe tomatoes, one ounce of sun-dried tomatoes has three times the Vitamin C, thirteen times the potassium, and twenty five times the iron. They're a real powerhouse of minerals, a perfect example of how our taste buds can sometimes steer us towards foods that are great for our health.
You can make your own sun-dried tomatoes quite easily, either in a dehydrator or by practicing some Paleolithic-era food preservation technology and literally using the sun to dry them out. Otherwise, they're simple enough to get in most grocery stores and several brands are Paleo-friendly. As always, check the label for a brand that's packed in olive oil rather than canola or soy. It's worth the time and effort to get a good brand, because once you get hooked on them, you'll want to enjoy them in all kinds of recipes, while laughing at your friends who think they're nothing but a pizza topping.
Sun-dried Tomato Chicken Recipe

SERVES: 4

PREP: 10 min.

COOK: 45 min.
Values are per portion. These are for information only & are not meant to be exact calculations.
Ingredients
4 lbs. chicken drumsticks, with or without the skin;
2 green onions, thinly sliced;
¼ cup olive oil.
¼ cup sun-dried tomatoes, chopped;
2 tbsp. balsamic vinegar;
1 tsp. dried oregano;
1 garlic clove, minced;
Sea salt and freshly ground black pepper to taste;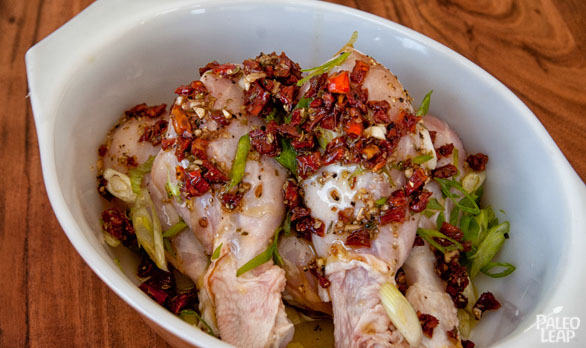 Preparation
Preheat your oven to 350 F.
In a bowl, combine the sun-dried tomatoes, balsamic vinegar, oregano, garlic, olive oil, and season with salt and pepper to taste.
Arrange the drumsticks in a single layer in a cooking dish, and pour the tomato mixture on top.
Sprinkle the green onions over everything in the dish, and bake for 45 minutes, or until the chicken is well cooked.