Creole jambalaya is a delicious, steaming one-pot meal of tomatoes, smoked sausage, and rice, with three must-have vegetables: onion, celery, and bell pepper.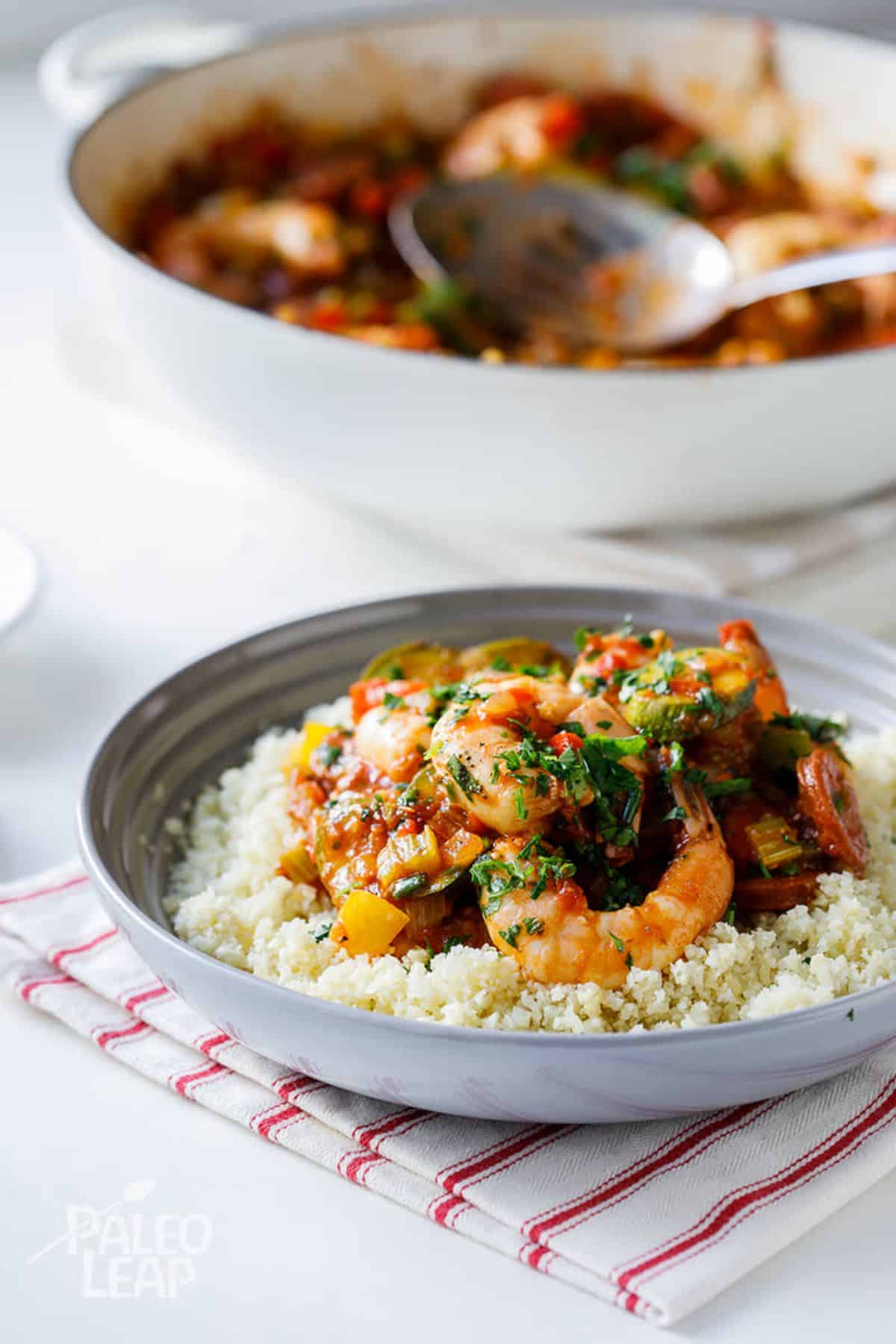 In the beginning, there may have been some saffron influence in there too, as it resembles a Spanish paella, but as saffron was not available at that time (in that part of the world), it is thought that red tomatoes were added instead for color and it became a city-French type of dish.
While the history is a bit fuzzy, it is true that no matter how many times you eat it, there is a pretty good chance that it will taste different with every batch because the variations of meat and seafood options are endless.
And here we are changing history since we are cutting down, even eliminating, rice from our diet. To Paleo-ize this dish, we are adding cauliflower rice as a healthy alternative to traditional white rice without losing flavor.
We have the jalapeño, cajun spices (garlic powder, paprika, onion powder, cayenne pepper, oregano, black pepper, red pepper flakes), and thyme for that.
Plus, the chorizo adds a bit of a kick as well, depending on how spicy it is to start with. Nick a bite from the pan as it is frying; it will let you know how much more heat to add.
Being neither a soup nor a stew, this dish is open to any green side dish or fresh lemonade to quench your thirst. And it is a wonderful meal to share with multiple friends around your lively table.
Paleo Jambalaya Recipe
Serves: 4 Prep: 20 min Cook: 25 min
Ingredients
1 tbsp. coconut oil
1 cup chorizo sausage, sliced
1 onion, finely chopped
2 celery stalks, finely chopped
2 bell peppers, finely chopped
3 garlic cloves, crushed
2 large zucchini, sliced
1 jalapeno, finely chopped
2 tsp. cajun spice
½ tsp. cayenne pepper (optional)
1 tsp. dried thyme
1 bay leaf
2 x 14 oz. cans chopped tomatoes
10 oz. shrimp, peeled and deveined
Salt & pepper to taste
Chopped chives to serve
Chopped parsley to serve
Cauliflower rice to serve
Preparation
Melt the coconut oil in a large frying pan, add the chorizo and fry until golden brown.
Remove the chorizo from the pan, leaving behind the golden oil.
Add the onion, celery, and peppers. Allow cooking for 5 minutes until they begin to soften.
Add the garlic, zucchini, and jalapeno, and cook for another 5 minutes.
Add the chorizo back into the pan.
Add the spices and stir to combine.
Add the tomatoes and shrimp and cook for 5-10 minutes until the shrimp are cooked through, and the sauce has thickened slightly.
Season to taste, then top with fresh chives and parsley. Serve over cauliflower rice.
📖 Recipe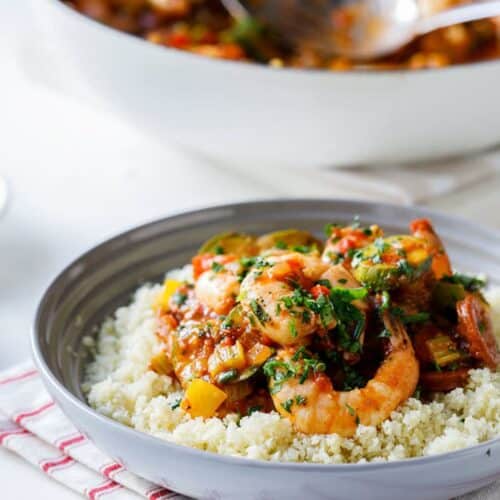 Paleo Jambalaya Recipe
You can almost imagine that you are dining in Louisiana when the wafting smells of Paleo jambalaya come your way - with chorizo, shrimp and all.
Instructions
Melt the coconut oil in a large frying pan, add the chorizo and fry until golden brown.

1 tbsp. coconut oil,

1 cup chorizo sausage

Remove the chorizo from the pan, leaving behind the golden oil.

Add the onion, celery, and peppers. Allow cooking for 5 minutes until they begin to soften.

1 onion,

2 celery stalks,

2 bell peppers

Add the garlic, zucchini, and jalapeno, and cook for another 5 minutes.

3 garlic cloves,

2 large zucchini,

1 jalapeno

Add the chorizo back into the pan.

Add the spices and stir to combine.

2 tsp. cajun spice,

½ tsp. cayenne pepper,

1 tsp. dried thyme,

1 bay leaf

Add the tomatoes and shrimp and cook for 5-10 minutes until the shrimp are cooked through, and the sauce has thickened slightly.

2 x 14 oz. cans chopped tomatoes,

10 oz. shrimp

Season to taste, then top with fresh chives and parsley. Serve over cauliflower rice.

Chopped chives to serve,

Chopped parsley to serve,

Cauliflower rice to serve,

Salt & pepper to taste
Video
Nutrition
Calories:
448
kcal
Carbohydrates:
21
g
Protein:
64
g
Fat:
16
g
Saturated Fat:
8
g
Polyunsaturated Fat:
1
g
Monounsaturated Fat:
0.4
g
Cholesterol:
850
mg
Sodium:
2805
mg
Potassium:
901
mg
Fiber:
6
g
Sugar:
12
g
Vitamin A:
4127
IU
Vitamin C:
127
mg
Calcium:
420
mg
Iron:
11
mg