Duck breast has a rich, distinctive flavor, so it's the perfect meat to pair with freshly made pesto and peppery arugula – the duck can stand up to all the other flavors where chicken breast might be overwhelmed.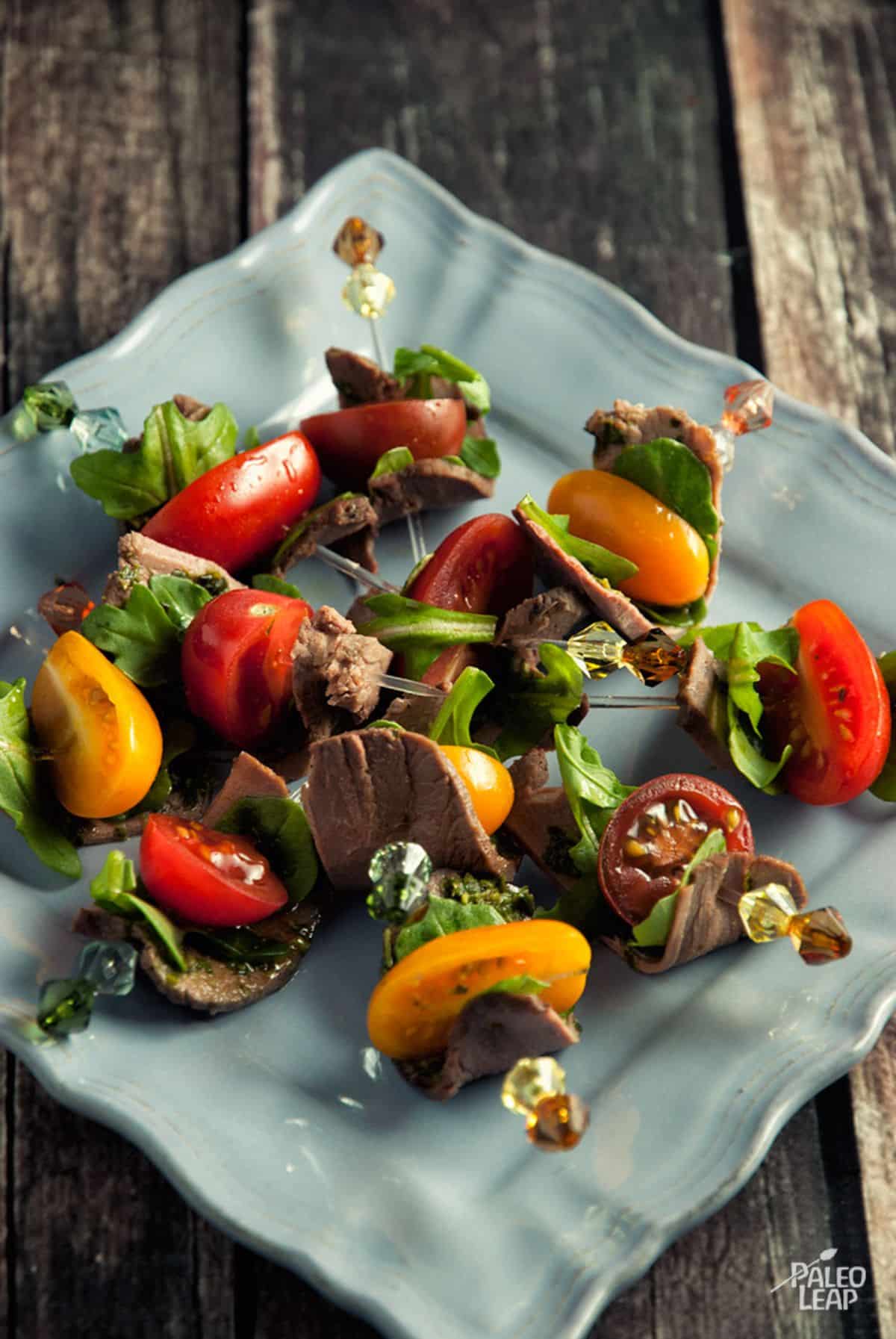 Magret isn't just a duck, though; it's a specific type of duck breast from a particular breed, Moulard ducks. Meat from these ducks is even richer and tastier than the more common White Pekin ducks (also known as Long Island ducks; if you buy a duck in the US and it's not specifically labeled, it's this breed).
In the United States, unfortunately, it's fairly difficult to find Moulard ducks; you might have to find a small farmer or order online.
Without going into all the ethical details, Magret also traditionally refers to meat from ducks that have been deliberately over-fed to make foie gras. You can decide for yourself whether that's an ethical problem for you (here's an interesting article in defense of it if it's done right) and choose your duck accordingly – it's very possible to get Moulard ducks that weren't fed that way if you'd rather.
All the talk about ingredients makes the recipe sound like it's going to be something really complicated and obscure, but actually, it's pretty simple: blend up the pesto, spread it over the duck breast, and arrange everything on toothpicks or skewers.
The skewers make great appetizers or party picks, especially if you're looking to try something new: you can experiment with a new kind of meat without committing to it as a main course, and if you like it, try some spiced duck breast next time!
Pesto and Tomato Duck Skewers Recipe
Makes: About 20 PREP: 25 min
Ingredients for the duck
1 lb. duck magret, pre-cooked
2 tsp. homemade pesto (ingredients below; directions here)
12 red cherry tomatoes, halved
1 cup baby arugula
Sea salt and freshly ground black pepper
Ingredients for the Pesto
2 cups packed fresh basil leaves
2 cloves garlic
¼ cup pine nuts
⅔ cup extra-virgin olive oil
Sea salt and freshly ground black pepper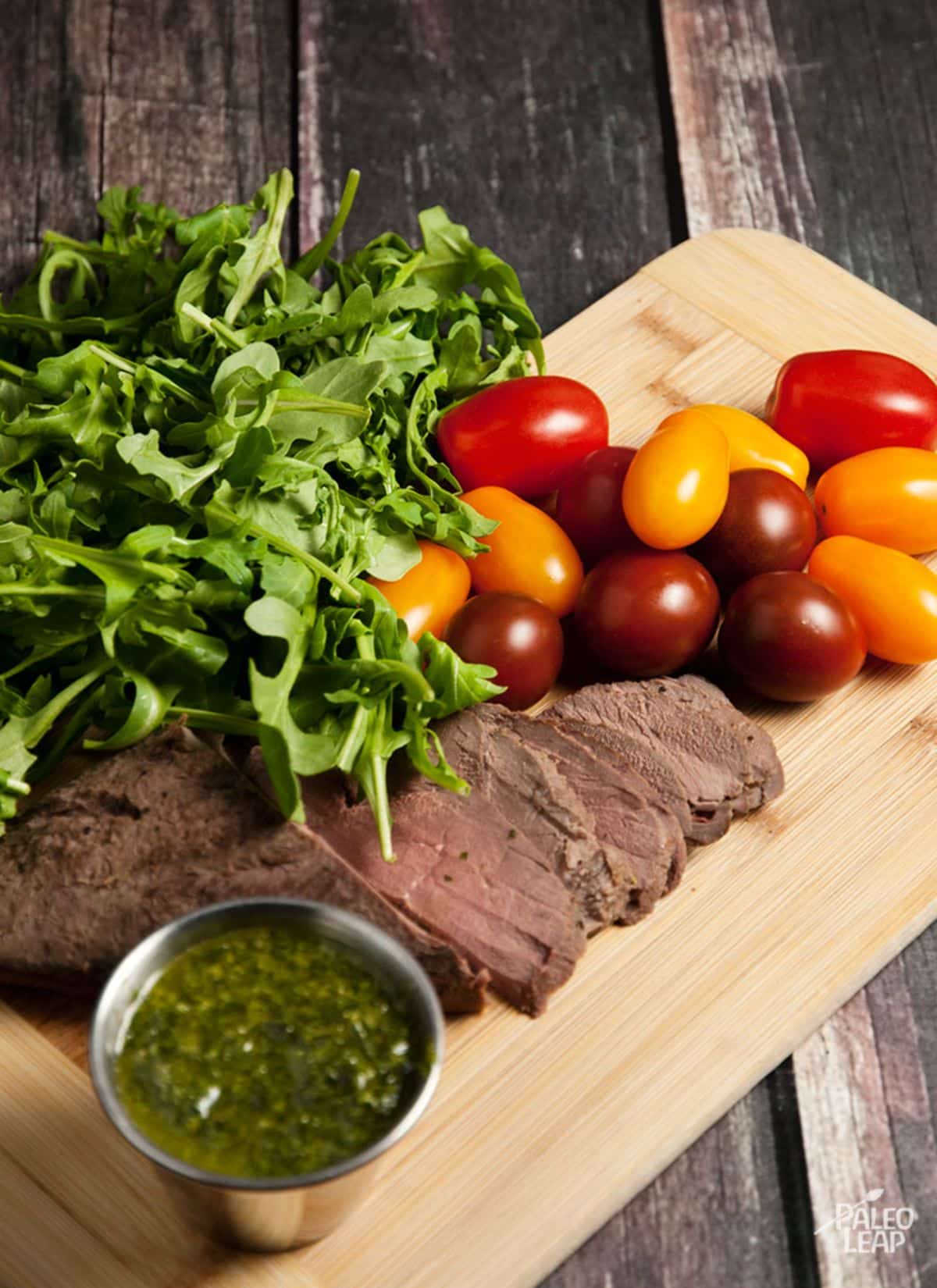 Preparation
Combine the basil, pine nuts, and garlic in a food processor.
Pulse until the mixture is coarsely chopped; add the olive oil and process until smooth. Season to taste.
Slice the duck magret thinly.
Place slices of duck on a work surface.
Spread about 1 teaspoon of pesto on all the slices.
Arrange each slice of duck with a tomato half, and some arugula leaves on a toothpick or small skewer.
📖 Recipe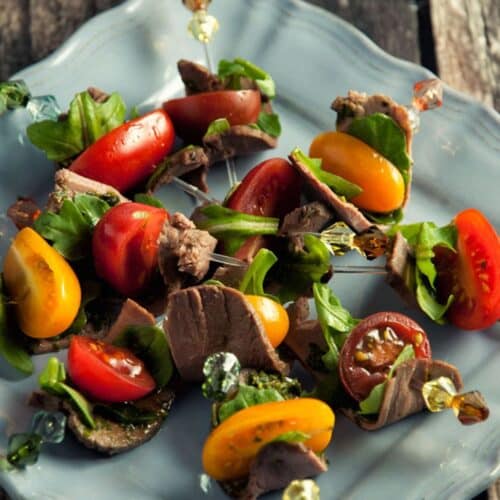 Pesto and Tomato Duck Skewers Recipe
An appetizer for the foodies: duck breast and fresh homemade pesto with tomatoes and arugula.
Ingredients
1

lb.

duck magret

pre-cooked

2

tsp.

homemade pesto

ingredients below; directions here

12

red cherry tomatoes

halved

1

cup

baby arugula
Ingredients for the Pesto
Instructions
Combine the basil, pine nuts, and garlic in a food processor.

2 cups packed fresh basil leaves,

¼ cup pine nuts,

2 cloves garlic

Pulse until the mixture is coarsely chopped; add the olive oil and process until smooth. Season to taste.

⅔ cup extra-virgin olive oil,

Sea salt and freshly ground black pepper

Slice the duck magret thinly.

Place slices of duck on a work surface.

Spread about 1 teaspoon of pesto on all the slices.

Arrange each slice of duck with a tomato half, and some arugula leaves on a toothpick or small skewer.

12 red cherry tomatoes,

1 cup baby arugula,

Sea salt and freshly ground black pepper
Nutrition
Calories:
860
kcal
Carbohydrates:
4
g
Protein:
15
g
Fat:
88
g
Saturated Fat:
21
g
Polyunsaturated Fat:
13
g
Monounsaturated Fat:
49
g
Cholesterol:
86
mg
Sodium:
103
mg
Potassium:
453
mg
Fiber:
1
g
Sugar:
2
g
Vitamin A:
1244
IU
Vitamin C:
18
mg
Calcium:
53
mg
Iron:
4
mg