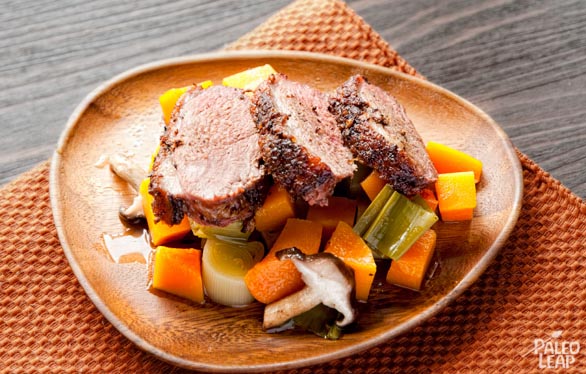 With spices freshly ground in a mortar and pestle and the rich, gamey taste of duck, this recipe brings back the Medieval days of jousting tournaments and wandering minstrels. If you've never eaten duck before, it tastes almost like the dark meat of a chicken leg, but even more flavorful – served over mushrooms, leeks, and butternut squash, it's a dinner fit for a king. If you're not a fan of butternut, you could use kabocha (Japanese pumpkin) instead; they both work fabulously.
The fat in the duck is one of the keys to this recipe's depth of flavor. Duck fat is quite healthy (about 35% saturated, 52% monounsaturated, and only 13% PUFA ), and even a small amount of meat will produce some of this "liquid gold." Don't throw it out – save it to make confit or add that finger-licking duck fat taste to any kind of roast vegetables.
The other feature of this dish is, of course, the spices. Star anise is a traditional ingredient in all kinds of Asian duck recipes; it adds a powerful note of licorice to the dish and complements the richness of the meat. One star doesn't look like much, but resist the urge to add more: the flavor of anise is very strong, and it's easy to overdo it.
To get the richest taste from the duck, it really is better to marinate it at least 1-2 hours before cooking. If you're in a hurry, you can skip this step but you will lose some of the flavor. When you're cooking the breasts, treat them like any red meat, and cook to your taste. The recipe gives directions for medium-rare; if you like your duck still quacking, shave a few minutes off the roasting time, and if you like it well done, add a few.
Spiced Duck Breast Recipe

SERVES: 4

PREP: 1h15 min.

COOK: 45 min.
Values are per portion. These are for information only & are not meant to be exact calculations.
Ingredients
4 duck breasts, skin-on;
14 oz. butternut squash, cubed:
8 shiitake mushrooms, thinly sliced;
2 small leeks, cut into 1-inch slices;
½ cup of duck stock;
1 star anise
½ tsp. black peppercorns;
1 tsp. sea Salt;
2 tbsp. extra-virgin olive oil;
Sea salt and freshly ground black pepper to taste;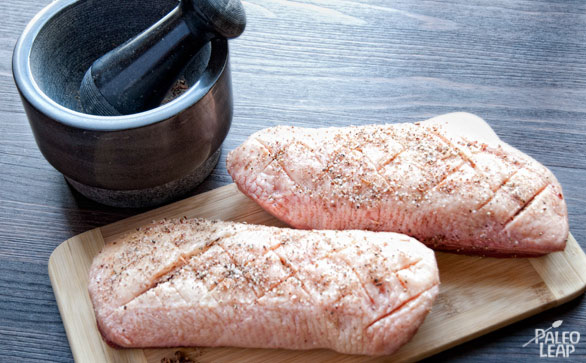 Preparation
Score the duck skin in a crisscross pattern.
Crush and grind together the star anise, black peppercorn, and sea salt in a mortar and pestle.
Rub the ground spices on the duck skin, and place the duck in a small container with the skin side up.
Add the duck stock, cover, and marinate for at least an hour or two.
Preheat your oven to 350 F.
Place the shiitake mushrooms, the leeks, the cubed butternut squash, and 2 cups of water in a roasting pan, and season to taste.
Cover and cook in the oven for 30 minutes or until the butternut squash cubes are soft.
In a skillet, over a high heat, sear the duck, skin side down, until browned.
Place the duck breast onto a rack set over a roasting pan, skin side up, and roast for 15 to 20 minutes for a medium-rare result.
Place the duck breast in the oven under a broiler for a minute or two to crisp-up the skin.
Serve the duck breast sliced over the vegetable mixture.