It's officially summer, so why not cool down with a glass of grapefruit lemonade? It's a perfect way to jazz up the classic summertime beverage. As a bonus, you get to eat a fruit that you may not get eat that often and use it in a way other than sprinkled with sugar, or in a salad.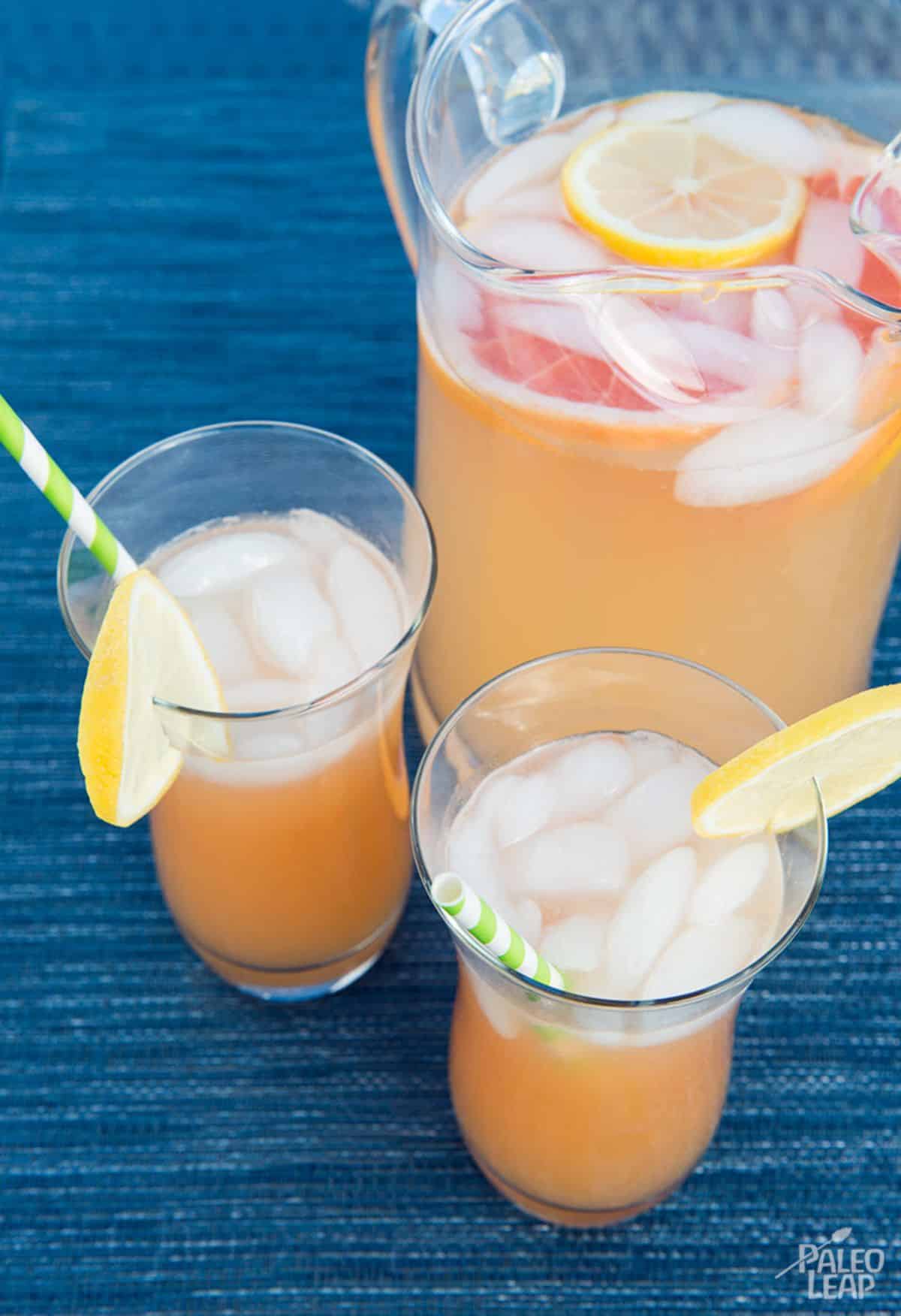 Pink Grapefruits are high in vitamin C, lycopene, and potassium. Add that to the Vitamin C from the lemons, and you get a pretty nutritious thirst quencher.
The recipe is simple and quite versatile. It calls for 1⁄4 cup of honey, but you can adjust that amount to your liking. You can also adjust the juice ratios if you want to make it stronger in grapefruit or lemon flavor.
Juicing the citrus is the most involved part of this recipe, but it goes rather quickly if you have a citrus juicer. The aroma of the fruits in the house will leave you feeling refreshed and uplifted.
If you're unsure about the added honey or the elbow grease used to get the juice, you can go with a much simpler route by making pink grapefruit and lemon-infused water.
All you have to do is thinly slice one grapefruit and a few lemons, place them in the bottom of the pitcher and add water. Refrigerate for at least 2 hours to let the flavors infuse, then strain to remove the fruit. Serve the water chilled in a pitcher with fresh grapefruit or lemon slices.
If you're looking for new Paleo drink options, this is a great contender.
Pink Grapefruit Lemonade Recipe
SERVES: 4 PREP: 10 min COOK: 5 min
Ingredients
1 1⁄4 cups freshly squeezed lemon juice (about 6-7 lemons)
1 1⁄4 cups freshly squeezed pink grapefruit juice (about 2 grapefruit)
1⁄4 cup honey
1 3⁄4 cups water
Ice
Lemon or grapefruit slices, optional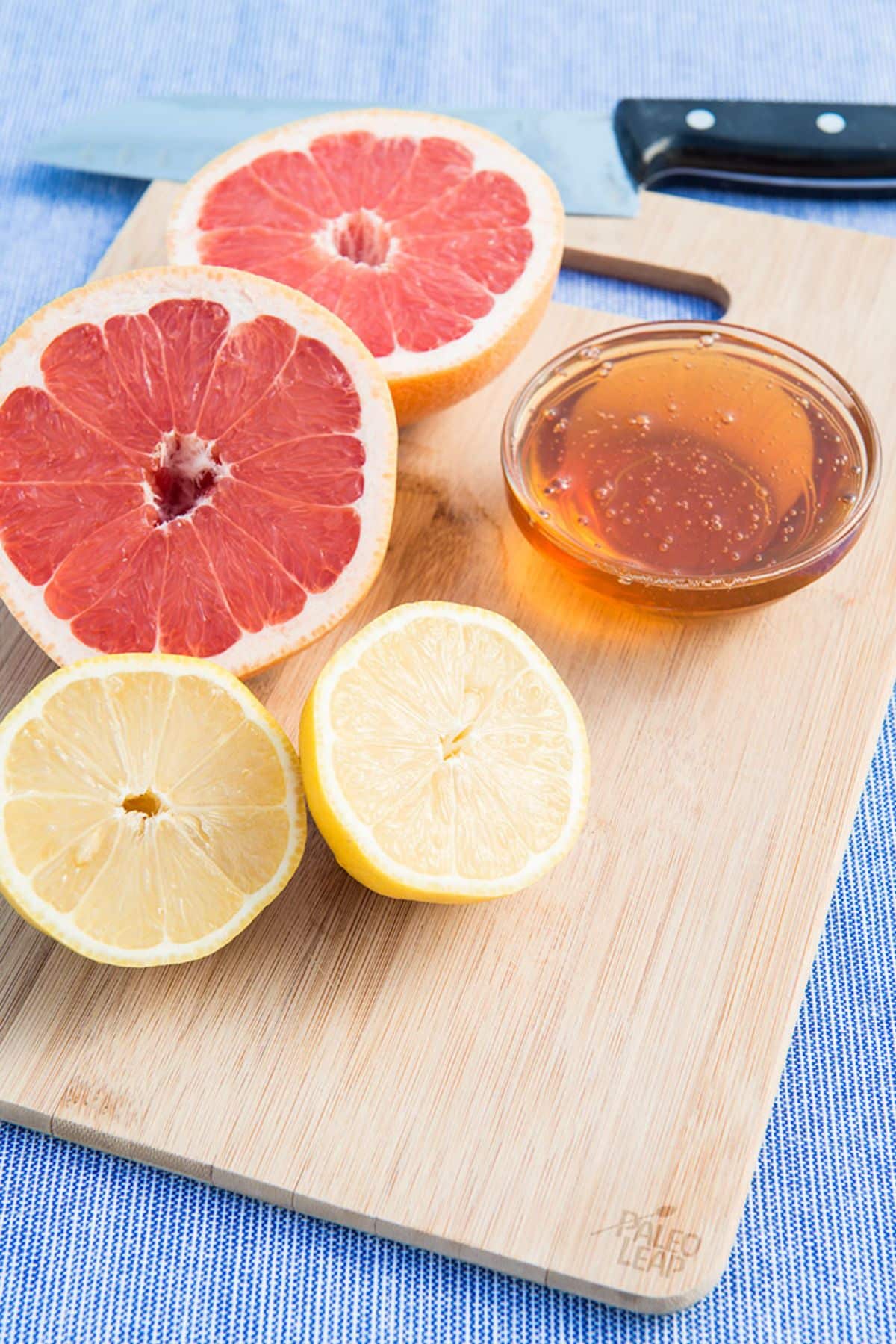 Preparation
In a small saucepan, combine the honey and water and heat over medium heat until the honey is fully dissolved.
Mix together the honey water, lemon juice, and grapefruit juice into a medium size pitcher and stir well.
Add additional lemon or grapefruit slices to the pitcher if using. Fill the rest of the pitcher with ice and serve.
📖 Recipe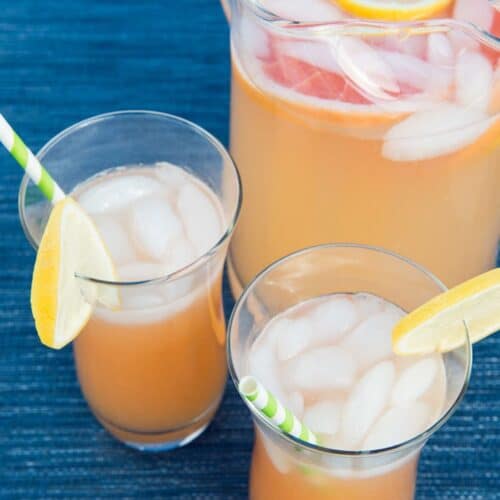 Pink Grapefruit Lemonade Recipe
A refreshing summertime drink with grapefruits and lemons. A great way to quench your thirst with something healthy.
Ingredients
1 1

⁄4 cups freshly squeezed lemon juice

about 6-7 lemons

1 1

⁄4 cups freshly squeezed pink grapefruit juice

about 2 grapefruit

1

⁄4 cup honey

1 3

⁄4 cups water

Ice

Lemon or grapefruit slices

optional
Instructions
In a small saucepan, combine the honey and water and heat over medium heat until the honey is fully dissolved.

1 ⁄4 cup honey,

1 3 ⁄4 cups water

Mix together the honey water, lemon juice, and grapefruit juice into a medium size pitcher and stir well.

1 1 ⁄4 cups freshly squeezed lemon juice,

1 1 ⁄4 cups freshly squeezed pink grapefruit juice

Add additional lemon or grapefruit slices to the pitcher if using. Fill the rest of the pitcher with ice and serve.

Lemon or grapefruit slices,

Ice
Nutrition
Calories:
4
kcal
Carbohydrates:
1
g
Protein:
0.1
g
Fat:
0.04
g
Saturated Fat:
0.01
g
Polyunsaturated Fat:
0.003
g
Sodium:
0.2
mg
Potassium:
16
mg
Fiber:
0.04
g
Sugar:
1
g
Vitamin A:
1
IU
Vitamin C:
6
mg
Calcium:
1
mg
Iron:
0.02
mg