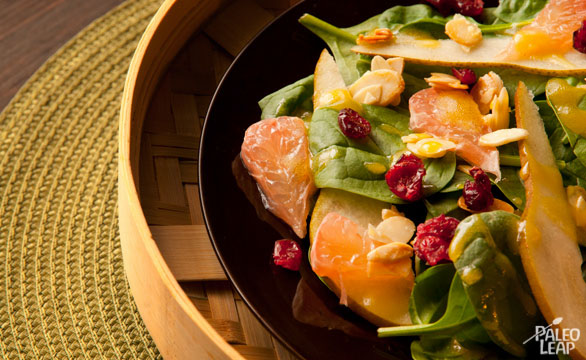 I came home late again one night and didn't feel like cooking something very elaborate. When I feel like this, I usually go for a quick salad. Salads are always a good way to get creative and try all kinds of new ingredients you might have on hand. In this salad, I use a combination of fruits, nuts and greens and the end result turned out to be very fresh tasting. The combination of grapes with pears is just incredible. You'll be hooked on this salad after only one bite. It's always important, especially when preparing a simple salad, to choose fresh ingredients. If you can find local or organic produce it'll be even better.
The grapefruit makes this salad quite different. It has somewhat of a bitter taste, but it works great in this Paleo salad. If you don't enjoy the taste of grapefruits, you can always go for blood oranges, which makes for a nice and colorful variation. Blood oranges have an amazing taste and their color makes every meal stand out. If you can't find any blood oranges, especially when it's off-season, you can always go for regular oranges.
I chose to use baby spinach simply because I enjoy the smaller leaves in a salad like this. Spinach, like many green leafy vegetables, is a good source of iron, calcium and magnesium. Spinach is a great vegetable to try and buy organic, mainly because conventionally produced spinach is much less nutritive and loaded with chemicals. For their part, grapefruits are an excellent source of vitamin C as well as many other antioxidants. It's also, like many fruits, a good source of potassium.
I've included some honey-roasted almonds in this recipe, but again, even though the amount of honey in the recipe is very minimal, just use the raw honey if you feel comfortable with your daily sugar intake. You can always roast the almonds naturally without the honey and it'll be just as good. Some people also do better when completely avoiding almonds and other nuts in their diet, because even if they are a good source of minerals like manganese, copper and magnesium, they also contain high levels of omega-6 polyunsaturated fat as well as phytic acid.
This salad can be served as a main dish for a small meal, keeping in mind that not all your dishes need to contain meat. It's also a great choice as a side to a larger meal. A delicious piece of salmon like the salmon with cherry tomato salsa and asparagus is a great choice to go along this salad.
Grapefruit spinach Salad Recipe
Values are per portion. These are for information only & are not meant to be exact calculations.
Ingredients
½ cup baby spinach;
1 Bosc pear;
1 large grapefruit;
¼ cup dried cranberries;
½ cup slivered almonds;
1 tbsp raw honey;
Simple olive oil vinaigrette
2 tbsp rice wine vinegar;
1 tsp Dijon or homemade mustard;
½ cup extra-virgin olive oil;
Sea salt and freshly ground black pepper to taste;

Preparation
Preheat your oven to 300 F.
In a bowl, combine the sliced almonds with the raw honey, if using.
Take a cooking sheet and put a parchment paper to prevent the ingredients from sticking and place the almonds mixture over it.
Place in the oven and cook for 15-20 min. until they are nice and brown.
While the almonds are roasting, in a bowl combine all the ingredients for the vinaigrette and whisk well.
Cut the pear into thin slices and the grapefruit into large pieces.
In a large bowl combine the baby spinach, pear slices, dried cranberries and the grapefruit.
Add the vinaigrette and combine well.
Serve on a plate and sprinkle the honey-roasted almonds on top.