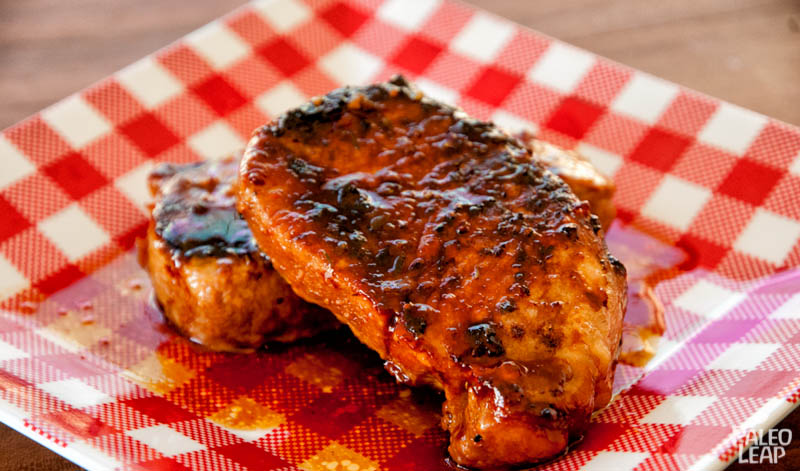 Cooking a perfect pork chop can be a challenge for the chef, because the meat is so lean that it's easy to end up with dry, tough, and tasteless chops instead of the savory dinner you were anticipating. Here, the pork is briefly seared on a skillet to get that caramelized outer layer, and then coated in sauce and baked in the oven to preserve the tenderness of the meat. The result: perfectly juicy pork chops with a big All-American taste that would fit right in at the county fair.
The sauce in this recipe uses a lot of Paleo pantry staples that are always good to have on hand, so if you're making or buying them for the pork chops anyway, you might want to make double or triple for later. First of all, you'll need some homemade ketchup; if you don't already have a batch of this in your fridge, it's quick and simple to make. Another ingredient is the chicken stock. This is by far the tastiest and most nutritious if you make it yourself, but store-bought stock will work in a pinch; just read the label carefully for any unsavory additives.
The sauce also calls for coconut aminos – these are a Paleo-friendly substitute for soy sauce, with no wheat or soy ingredients but the same savory taste. You can find them at Whole Foods and most other health food stores, or order online. The raw honey is another ingredient that you might not have in your cabinets. Unlike the pasteurized honey that you buy in the little plastic bears, raw honey looks cloudy, and it's more of an off-white than a yellow color. If you can get hold of some, it's worth the trouble, as the raw version is equally tasty but more nutritious and much less likely to be adulterated or contaminated (a serious problem with supermarket honey).
With a few "make-ahead" ingredients, this recipe isn't a great choice to decide on at 5:30 for a 6:30 dinner. But if you jot down the coconut aminos and the raw honey for your next grocery store run, you'll be able to use them in dozens of other Paleo recipes as well – after you're finished impressing everyone with your amazing pork chops.
Pork Chop in Sweet Sauce Recipe

SERVES: 4

PREP: 10 min.

COOK: 1h.

Values are per portion. These are for information only & are not meant to be exact calculations.
Ingredients
4 pork chops (with or without the bones);
¼ cup chicken stock;
1/8 cup coconut aminos;
2 tbsp. homemade ketchup;
2 garlic cloves, minced;
1 tbsp. raw honey; (optional)
Sea salt and freshly ground black pepper, to taste;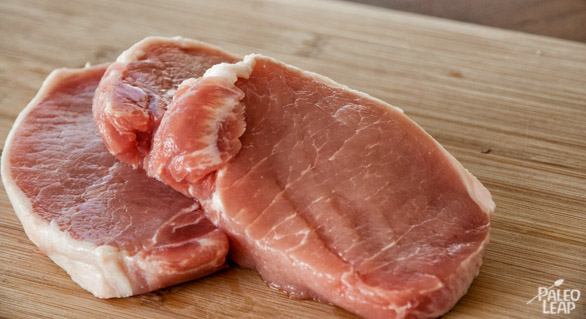 Preparation
Preheat your oven to 350 F.
Warm the cooking fat in a skillet over a medium high heat.
Brown the pork chops on each side in the skillet (about a minute per side), and remove.
Grease a casserole dish and lay the browned pork chops in it.
In a small bowl, combine all the remaining ingredients and mix well.
Add the sauce to the pork chops, place the casserole dish in the oven, and cook 1 hour, uncovered.