Pumpkins have started appearing at the grocery store, and there are all kinds of ways to enjoy them that don't involve pie! Here's just one: a Paleo twist on sloppy Joes with a pumpkin-flavored beef chili served inside roasted sweet potatoes.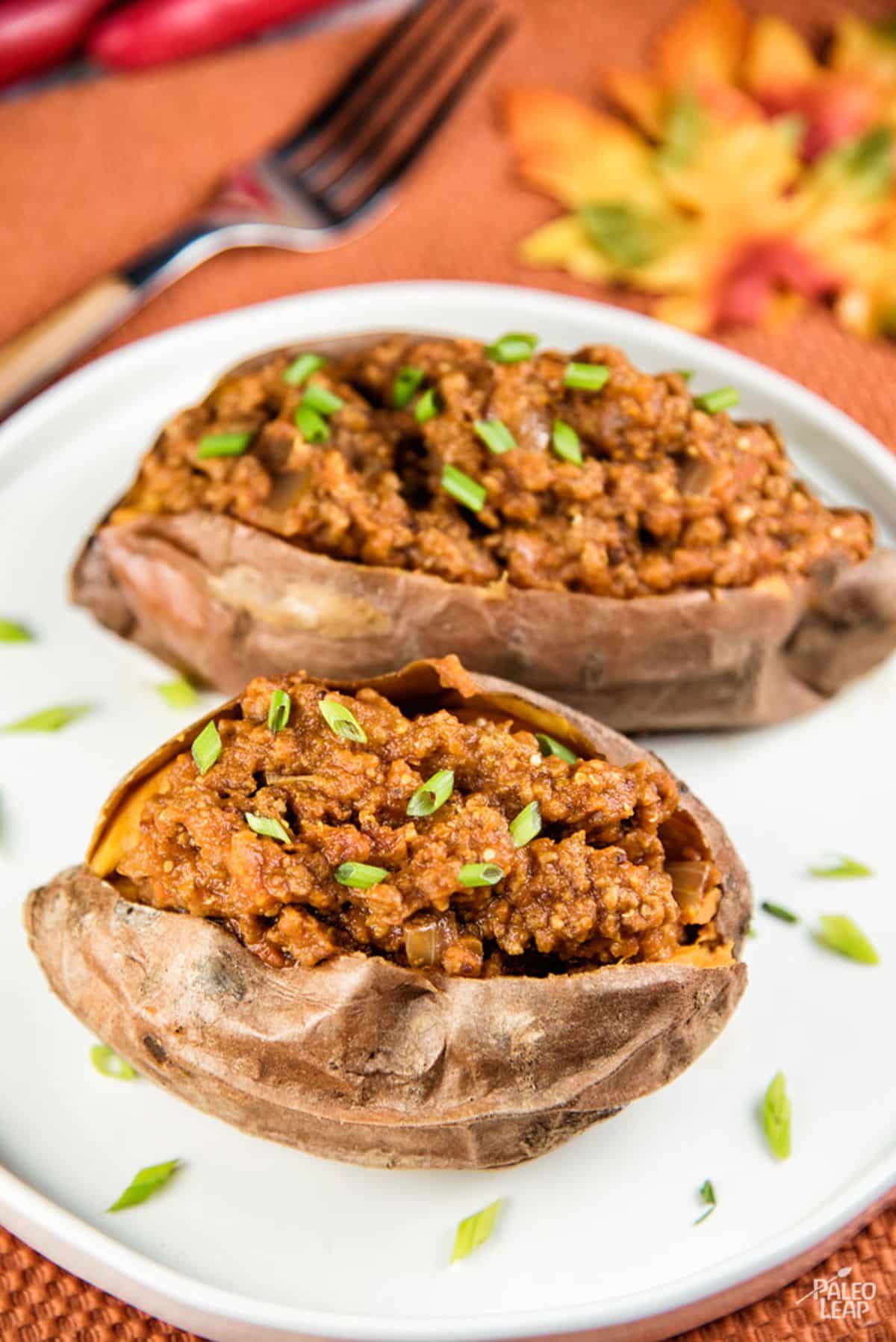 It's just on the line between sweet and savory, and the allspice, cloves, and chili powder give it depth with just a pinch of heat.
This is also a great recipe for kids, especially if you've been saying no to a lot of pumpkin cookies and muffins (and scones, gummy candies, granola, and breakfast cereal…) lately. Let them give you a hand in the kitchen with it – maybe wrapping up the potatoes or stuffing them when everything is done.
Or if you're trying to keep the carbs a little lower, you could serve the chili over squash or even salad. If you have any leftovers, throw them in your eggs and make a fall-flavored breakfast for the week.
Pumpkin Sloppy Joes Recipe
SERVES: 4 PREP: 15 min. COOK: 20 min
Ingredients
1 lb. ground beef;
1 onion, chopped;
1 garlic clove, minced;
1 cup pumpkin puree;
1 cup tomato sauce;
2 tbsp. raw honey; (optional)
2 tbsp. Dijon mustard;
1 tbsp. chili powder;
¼ tsp. ground allspice.
4 sweet potatoes;
Sea salt and freshly ground black pepper;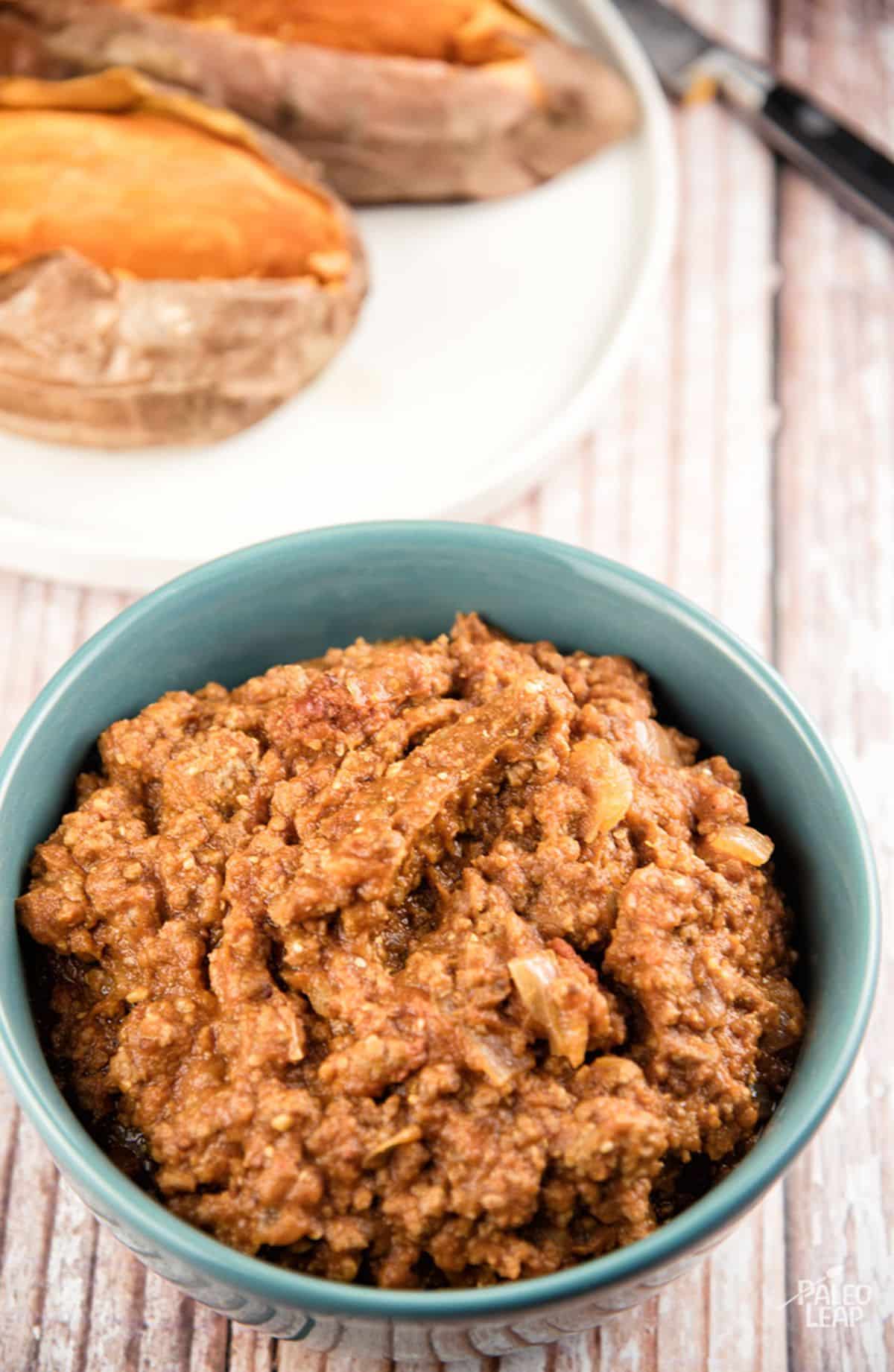 Preparation
Preheat your oven to 425 F.
Wrap the sweet potatoes in foil, and bake in the oven for 30 to 40 minutes.
Heat a skillet over medium-high heat.
Melt in some cooking fat, add the garlic and onion and cook until soft.
Add the ground beef and cook until brown.
Stir in the pumpkin, tomato sauce, mustard, honey, allspice, and chili powder.
Give everything a good stir, and cook for 10 to 12 minutes.
Season to taste, and serve stuffed with sweet potatoes.
📖 Recipe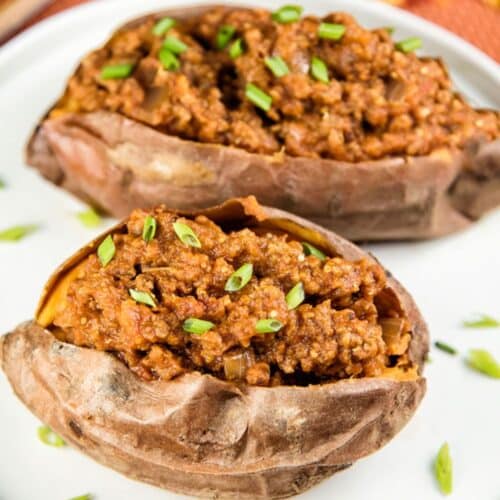 Pumpkin Sloppy Joes Recipe
Cozy up to a big pile of this pumpkin-flavored sloppy joes chili with a sweet potato standing in for the bun.
Instructions
Preheat your oven to 425 F.

Wrap the sweet potatoes in foil, and bake in the oven for 30 to 40 minutes.

Heat a skillet over a medium-high heat.

Melt-in some cooking fat, add the garlic and onion, and cook until soft.

1 onion,

1 clove garlic,

1 tablespoon Cooking fat

Add the ground beef and cook until brown.

Stir in the pumpkin, tomato sauce, mustard, honey, allspice, and chili powder.

1 cup pumpkin puree,

1 cup tomato sauce,

2 tablespoon raw honey,

2 tablespoon Dijon mustard,

¼ teaspoon ground allspice,

1 tablespoon chili powder

Give everything a good stir, and cook for 10 to 12 minutes.

Season to taste, and serve stuffed in the sweet potatoes.

Sea salt and freshly ground black pepper
Nutrition
Calories:
521
kcal
Carbohydrates:
47
g
Protein:
24
g
Fat:
27
g
Saturated Fat:
9
g
Polyunsaturated Fat:
3
g
Monounsaturated Fat:
11
g
Trans Fat:
1
g
Cholesterol:
81
mg
Sodium:
558
mg
Potassium:
1150
mg
Fiber:
8
g
Sugar:
20
g
Vitamin A:
28840
IU
Vitamin C:
12
mg
Calcium:
103
mg
Iron:
5
mg