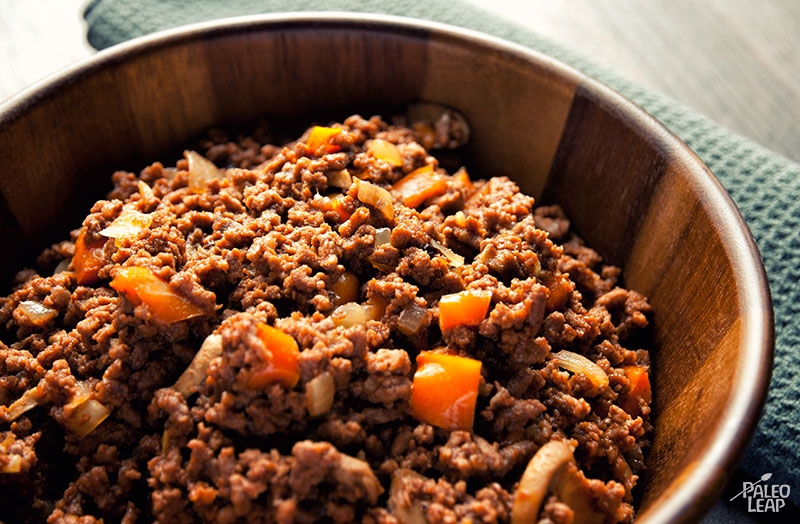 Nobody knows for sure who made the first Sloppy Joe, but over the years they've become a favorite picnic lunch, campfire dinner, and hollow-leg-filler for anyone with a powerful appetite. So here's a Paleo recipe for enjoying that perfect mix of meat and tomato sauce, minus all the junk that you'd otherwise get in the ketchup and the barbecue sauce (not to mention the bread).
You won't be eating Paleo Sloppy Joes between two buns, but that doesn't mean you have to just eat the beef mixture out of the bowl! Of course, you could just serve your meat on top of a pile of coleslaw and dig in – but if you're looking for something a bit more traditional, here's a list of Paleo-friendly serving ideas:
Spoon the beef over a roasted Portobello mushroom cap (or roasted eggplant rounds) to make open-faced "sandwiches."
Stuff bell peppers, tomatoes, or other vegetables with the beef mix, and roast until the outer vegetable is soft and tender.
Serve a generous helping of beef over some sweet potato fries or butternut squash fries.
To make a satisfying meal without the bread, I've added more vegetables than usual to the meat, but you can modify this in either direction, depending on what you're hungry for. If you can't get enough of the veg, just add some more: carrots, celery, and zucchini would all be good options. On the other hand, if you're in a more carnivorous mood and just want the meat, you can leave out the vegetables entirely. However you make it – and however you serve it – it'll scratch that itch for something thick and hearty, Paleo-style.
Slow Cooker Sloppy Joes Recipe

SERVES: 4

PREP: 15 min.

COOK: 4 to 6 h.

Values are per portion. These are for information only & are not meant to be exact calculations.
Ingredients
2 lbs. ground beef;
1 medium onion, chopped;
1 bell pepper, chopped;
1½ cups mushrooms, sliced;
1 can tomato sauce;
½ cup ketchup;
2 tbsp. coconut aminos or homemade Worcestershire sauce;
½ tbsp. Dijon mustard;
½ tbsp. prepared mustard
1 tbsp. chili powder;
1 tbsp. pure apple cider vinegar;
2 clove garlic, minced;
Sea salt and freshly ground black pepper;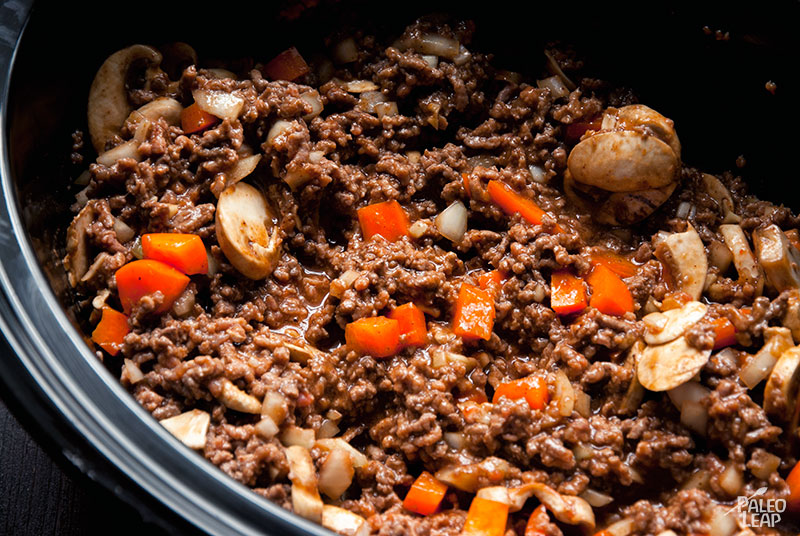 Preparation
In a skillet placed over a medium-high, brown the ground beef with the onion and the garlic together until the beef is cooked through.
Drain off a good amount of the rendered fat.
Place the beef in the slow cooker and add all the remaining ingredients.
Season to taste and stir until well combined.
Cover and cook on low for 4 to 6 hours.
Serve over a mushroom cap, roasted eggplant, homemade fries, or as desired.